The city of Westport has issued an emergency order to close motels, vacation rentals and beach access points after thousands of people converged on that beach town and others over the sunny weekend. The city of Long Beach closed its beach approaches as well. Ocean Shores and Grays Harbor County are expected to follow suit on Monday.
"Our beaches have been bombarded with visitors. We typically love visitors but now isn't a good time," said Vickie Raines, a Grays Harbor County commissioner. "It's as though the governor has ordered a six-week break from school and people have decided to go on vacation. That's very challenging for us here. We're a rural community and we don't have the health care resources like in other communities."
The beaches remain open as they are part of the state highway system. Beach closures would need to come by a state order.
People were photographed crowding together in locations across the state. The Rattlesnake Ledge Trail near North Bend overflowed with hikers. In Snohomish County, cars lined the approach to the Wallace Falls trailhead. In Seattle, young people played basketball and climbed on playground equipment and adults filled up tennis courts and played soccer, despite an order from Seattle and King County on Friday that closed recreation areas in parks, including sport courts, playfields, tennis courts, playgrounds and picnic shelters.
Public health officials said it doesn't matter if you're outside, you can contract the coronavirus through what are known as "touch points" – tennis balls, soccer balls, metal gates, playground equipment – anything that's shared.
"If we're using shared equipment of any sort, that's not good," said Dr. Howard Leibrand, Skagit County public health officer. "Those touch points – if they've been touched by other people they likely have COVID germs on them, and you can acquire it that way. You touch the railing, you touch the chain, and then you touch your face and then you've got COVID."
Maintaining supplies is another problem for overcrowded beach towns. The mayor of Ocean Shores said their Ace Hardware store was inundated with out of town visitors buying up cleaning supplies and other essentials.
"We have limited means out here to take care of people. They're stopping in our grocery stores, and we have big shortages," said Mayor Crystal Dingler. "The amount of people who showed up here over the weekend was horrifying. There was just no sense that (a pandemic) was going on. It was like they were on a holiday."
On the Olympic Peninsula children created handmade signs with messages for tourists: "Tourist go Home," "Our lives mean more than your vacation," and "Olympic Peninsula is Closed #stayhome."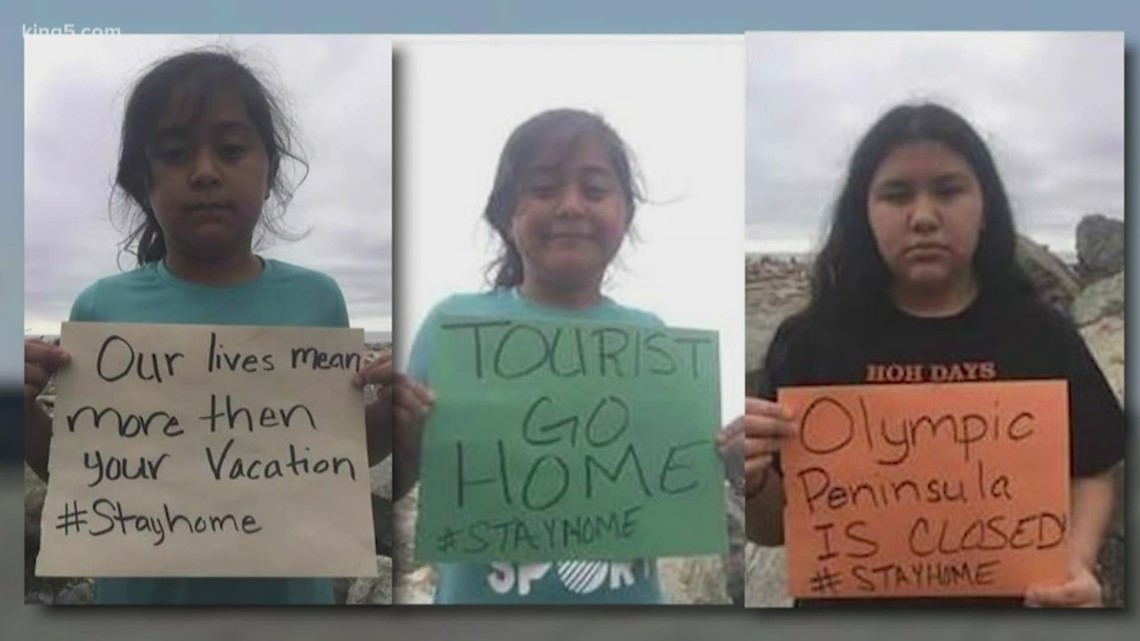 In Westport, beaches were packed with people flying kites, riding horses and renting bikes and mopeds.
"It seems very irresponsible. It doesn't matter if you don't like the politics of the governor or mine. It's the time to protect one another and to protect one another's health," said Commissioner Raines.
As for keeping 6 feet away from each other – even outside – public health officials said it is still essential.
"And the reason for the 6-foot distancing is that in normal conversation we all spit," said Dr. Leibrand. "It sounds gross, but that's just the way it is. And that spit goes 2 or 3 feet. And if you're talking face to face with somebody it's quite likely that your germs are going to get onto them."