AUSTIN, Texas — Editor's note: This blog is no longer active. For the latest updates, check out our new blog here.
KVUE is keeping you updated with the latest coronavirus and COVID-19 news in the Austin area.
Scroll down for the top headlines and latest updates in KVUE's Oct. 13 live blog.
Texas: More than 795,100 cases have been reported in the state, and more than 16,500 people in Texas have died, according to the Texas Department of State Health Services.
Central Texas counties:

Travis County: At least 30,398 cases have been reported and at least 442 people have died. At least 29,192 people have recovered from the virus.
Hays County: More than 6,030 confirmed cases have been reported and at least 55 people have died. At least 5,019 people have recovered from the virus.
Williamson County: More than 9,000 cases have been reported in the county and at least 145 people have died. More than 8,715 people have recovered from the virus.
GRAPHS: Texas coronavirus data Oct. 11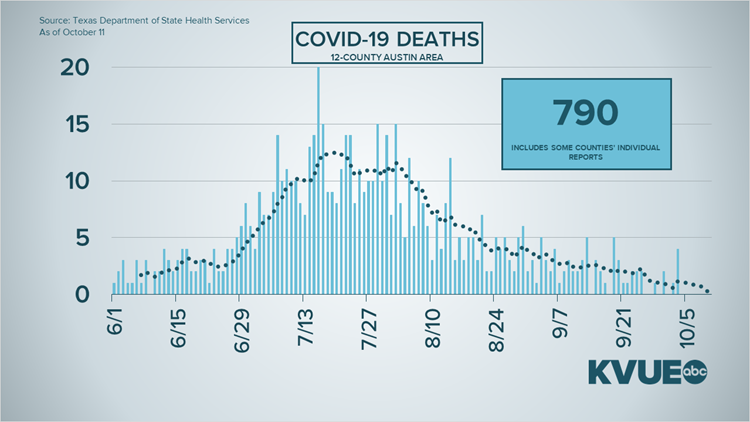 6:10 p.m. – Williamson County reported another 40 confirmed cases of COVID-19 on Tuesday, bringing the total to 9,043 cases and 145 deaths since the start of the pandemic. At least 8,715 people have recovered from the virus.
Williamson County currently has 26 people hospitalized from COVID-19, with eight in the ICU and seven on ventilators.
5:40 p.m. – Del Valle ISD welcomed 44% of its students back to campuses today. The district started the year with remote learning. For the fall semester, parents determined the best learning option for their students through a survey completed in September.
5:30 p.m. – The City of Austin says Austin-Travis County COVID-19 case numbers will be delayed today because Austin Public Health staff is working through an issue caused by external laboratory submissions. It will update data once the issue is resolved. The City hopes to have a resolution by tomorrow.
All other dashboard numbers, such as hospitalizations, will be updated today.
5 p.m. – Hays County reports 47 new lab-confirmed COVID-19 cases, four new hospitalizations and 121 additional people now considered recovered. The county has had 6,084 total lab-confirmed cases, 889 of which are still active. There have been 354 total hospitalizations, eight of which are current; 5,140 total recovered cases; and 55 coronavirus-related deaths.
11:30 a.m. – Austin Public Health announced Tuesday it has launched a high-risk worker hotline to promote the safety and well-being of the vulnerable workers in our community. The hotline, which is operated by Austin Voices for Education and Youth, provides information and referral services for front line staff who need assistance due to COVID-19.
The hotline can be reached at 512-493-4288 and is open from 8 a.m. to 8 p.m. Monday through Friday. It will be operational through mid-December and is available in any requested language.
For the hotline, a "high-risk worker" is defined as a worker who is one of the following:
Is over 65 years of age
Lives in a household with a resident over 65 years of age
Has a health condition
Is unable to work from home
Has an income below 200% of the federal poverty level
Is Black or Hispanic/Latinx
Has been diagnosed with COVID and has not recovered or is still within the 14-day quarantine.