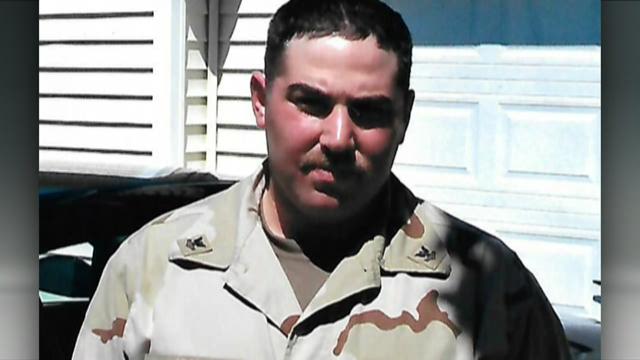 Being "fit to serve" is measured across all branches of the Military. In the Navy, failing to physically measure up can have devastating consequences. 
According to the Navy Times, more than 15-hundred sailors were thrown out last year for failing to make weight -- including Scott Voss of Marysville. 
He joined right out of high school. It was all he ever wanted to do.
And from day one he knew one of his biggest battles would be his weight. He was a pound over from day one.  And from there, he kept gaining despite following the navy's prescription of diet and exercise.
Over his 18 years in the Navy, he packed on more than 60 pounds all while desperately trying to lose weight. The very things the Navy prescribed to help him keep his job, may have in fact cost him his career. 
With just one year and 4 months to retirement. He was out and his career over.
After years of doing what he was told -- ramping up his exercise and restricting calories -- Scott went looking for answers. Why had his weight continued to climb?
Dr. Emily Cooper saw Scott after he was discharged and came by KING 5 to talk about what he and many other service members were going through.
JOYCE: You see many patients not just in the Navy -- dealing with the issue of not being able to make and maintain their weight -- and their jobs are on the line. that has to be stressful.
DR COOPER: I've seen dozens of sailors who've repeatedly cut their calories and dramatically ramped up their exercise for months before the weigh-ins. This causes them an enormous amount of stress and even compromises their health. 
Deprivation diets can force the body to lose weight in the short term, but research shows that by six months into a diet the metabolism slows 36%, making it nearly impossible to maintain that weight loss. 
This is why the majority of dieters gain the weight back: each time they diet losing less and gaining more. So it's unrealistic to think that a sailor like Scott could keep the weight off by repeating this cycle over an entire career. 
In the past four years 2,400 sailors have been kicked out for not making weight. The Navy tells us 315 active duty sailors were separated or discharged within five years of retirement just like Scott.
JOYCE: If you look closely, you can see the highest percentage of failures is due to not passing the BCA or Body Composition Assessment.  How accurate is the Method?
DR COOPER: This protocol was developed almost 35 years ago. Scientific reports have reported that the tape testing method produces 'an unacceptable error' compared to accurate methods of body composition testing. This is concerning when so much is on the line. 
JOYCE: We also asked how the Navy deals with weight regain that is going to happen because of the exercise they have prescribed.
Response from the Navy: "The intent of these changes is to strike a better balance between health and physical readiness. An exercise and diet program is critical to success in maintaining body weight. Nutrition is the focus along with physical activity."
So they don't seem to have a specific way to address the weight regain.. for someone like scott with metabolilc dysfunction.
Why is it so tough for sailors like Scott to receive medical diagnosis and treatment? 
DR COOPER: Though even the AMA now recognizes obesity as a disease, there is still a knowledge gap between the scientific evidence and prescribed treatment. 
Unfortunately, although rates of obesity and metabolic syndrome are really increasing, most physicians lack training in metabolic dysfunction. It's going to take major efforts across the board to get to the point where everyone can have effective science-based evaluation and treatment for metabolic conditions like obesity or prediabetes. 
JOYCE: We also wanted to know if the Navy thought it was dangerous for sailors to be restricting food. 
Their response: "Sailors take advantage of nutrition counseling they may receive as part of this process, and with that expect to he a tailored nutritional plan that will direct their eating habits, with an emphasis on activity and responsible consumption."
So they keep turning to the nutritional plan - Is repeated food restricion and exercise dangerous? Did this cause problems for Scott?
DR COOPER: Repeated food restriction especially in the setting of high exercise loads, not only slows metabolism but is also detrimental to health. We all should eat healthy, nutritious foods and be physically active – that's healthy – but cutting calories and ramping up exercise can make underlying metabolic problems worse. 
The Navy's focus was on Scott's body size, but the real concern for Scott is his health. People at any weight, even normal weight, can have metabolic syndrome – a triad of high blood pressure, high cholesterol and prediabetes. Having extra weight is just another symptom that many people have. So rather than focusing on the extra weight, we are focusing on the underlying metabolic dysfunction that is the cause. 
JOYCE: How is Scott doing now? 
DR COOPER: Scott is off to a good start and making progress. His LDL-cholesterol, which was in an extremely high risk range, is improving dramatically already - and his weight is beginning to drop. He does need to start a blood pressure medication but that should be temporary. 
But it has been a struggle obtaining approval from the VA for all of the necessary lab testing and medication he needs so we are still working on that.