SEATTLE — There's no such thing as something for nothing, right?
And giving away something for free on the streets of Seattle is so strange, it attracts the authorities. A policeman walked up to Michael Barrie as he was handing out free gifts recently near Westlake and asked if he had a permit. Not to worry, the policeman was a friend of Barrie's who was joking.
"We're makers from Amazon Handmade and we're giving out free gifts today!" Barrie exclaimed as he handed out wrapped packages with his brother Ryan.
"I'm a maker, my brother and I are here, we're from Hardmill, and we're sellers on Amazon Handmade. And we're out here today just giving away free gifts from a variety of makers."
Seattle-based Hardmill makes the aprons you see at Starbuck's Reserve Roastery, knife rolls used by top chefs like JuneBaby's Edouardo Jordan, and other covetable leather goods. All from a small shop in the U-District.
This small business went big with a boost from Amazon Handmade: a growing group of artisans from all over the US, and 65 other countries, selling things they make by hand, with a helping hand from America's biggest online store.
All items are 'factory free' and made with love. And during an early November promotion, some of these makers are sharing that love by handing out their wares no strings attached.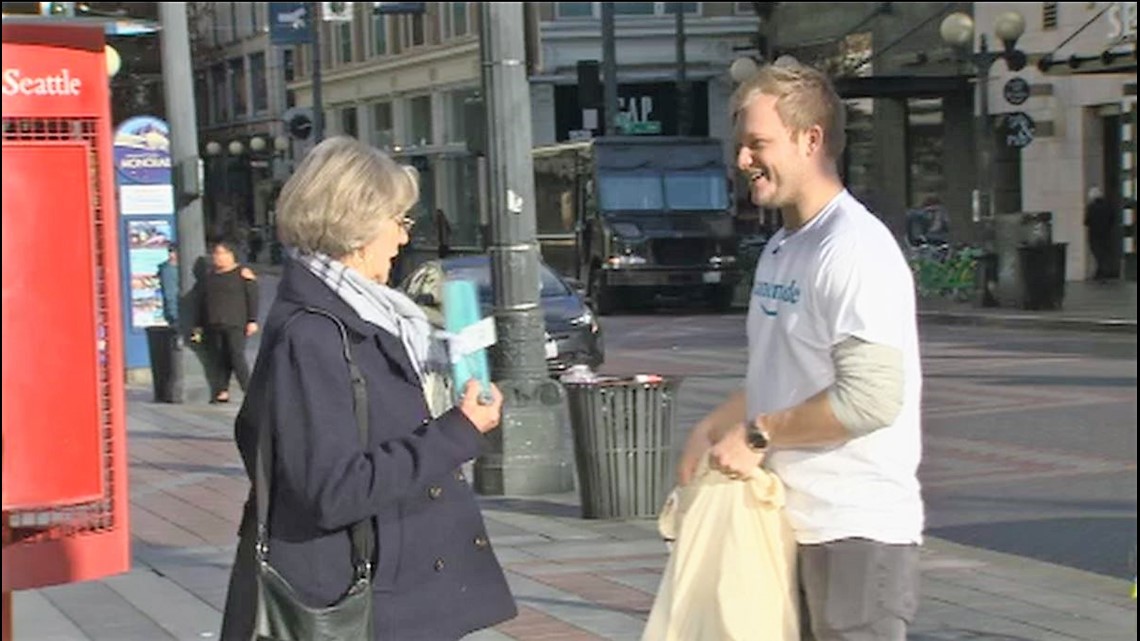 "It's really great just seeing people open a free gift and have there be nothing else to it, it's just free. It's a great experience!" Barrie said.
Not everyone 'gets' this giveaway. Some people walk away from the proffered packages.
"Some are little reluctant to talk to somebody on the street, but for the most part it's been pretty great," said Barrie.
The people who accept these gifts get far more than a scented candle or bar of homemade soap.
They also get a human connection, as something handmade passes into another pair of hands.