SEATTLE — It's been 29 years since a 14-year-old girl was found dead near Seattle's Capitol Hill neighborhood. It's still unclear who killed Tanya Frazier or why.
Frazier went missing on July 18, 1994. Her body was found by a man walking his dog just 11 blocks from where she was last seen, leaving Meany Middle School.
According to Tanya's mother, Theresa, she was taking summer classes at Meany and was on the way to her part-time job at the Chicken Soup Brigade. She never made it.
Tanya's sister, Teara, was 12 years old when her sister went missing.
"Well, I remember her not coming home when she was supposed to," Teara Frazier said.
Teara Frazier said she slept with her window open all night hoping her sister would come home.
"Even though she had never, ever snuck out or not come home, I couldn't fathom that anything could happen to her," Teara Frazier said.
Teara Frazier remembers the moment she learned her sister had been killed.
"I remember, I remember I was downstairs playing the Nintendo and my mom came down and just looked at me and…it was like, the most numbing feeling," Teara Frazier said. "A lot of the rest is a blur after that."
Teara Frazier said the pain she felt that day hurts just as much today.
"I can function, but the moment anybody says anything about her or I see somebody that I went to middle school with, it makes me cry," Teara Frazier said. "I love talking about her, but it makes me cry every single time. It hurts. It hurts immensely."
The Frazier family went to Saint Clement's Episcopal Church in the Mount Baker neighborhood. Those church members knew the young girl and honored her after her death by marching the streets of Seattle.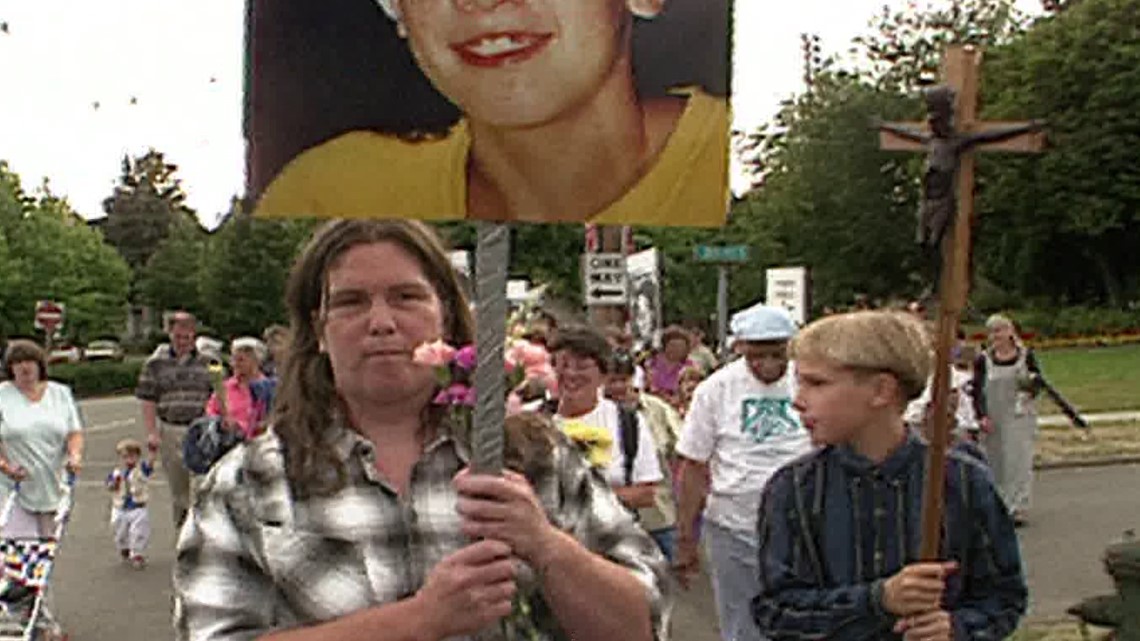 The Frazier family is working with a private investigator, Rose Winquist, who believes this case is solvable. She has been on the case since the week Tanya went missing.
"I've done a lot on this case actually," Winquist said. "I've got a couple of banker boxes full of stuff. I've followed up on different leads that have come in."
Winquist sends every credible lead to the Seattle Police Department.
"Essentially what [the police] told Theresa and Teara is, you'll hear from us when we make an arrest and that's pretty disconcerting," Winquist said.
One key detail still stands out to detectives
Seattle Police Detective Rolf Norton has been the lead investigator on the case since June 2016.
"There's a lot of persons of interest and until we reach a conclusion in this case, no one is going to get a pass," Norton said. "Until we finish this, until we can prove it, everyone's still on the board."
There is one key detail that stands out to Norton.
"Tanya Frazier was last seen by friends and students at the intersection of 21 and East Thomas, that morning at about 11 a.m.," Norton said. "Several of her classmates and friends described her as talking to an unknown individual. Was that person involved? Maybe."
Teara Frazier and her family still believe they will find justice.
"I am hopeful," Teara Frazier said. "I can't imagine this just never being solved and never having that closure so I'm hopeful that it will be."
Watch the full interview with Teara Frazier below:
Teara continues to honor Tanya in every way possible
Teara Frazier remembers her sister as sweet, funny and sometimes just a little scruffy.
"We were very much tomboys back then," Teara Frazier said.
Teara Frazier said her sister was just days away from receiving her first paycheck from her job at the Chicken Soup Brigade. Tanya Frazier had exciting plans for the money, which included buying pagers for each other.
"She was a generous, loving and responsible person," Teara Frazier said.
"Everybody who knew her loved her," Teara Frazier said. "She was just such an amazing soul and human being and she made my life better and so many other people's lives better and joyous. She didn't do anything to hurt anybody. She was a very innocent kid, a loving kid."
Remembering Tanya Frazier
These missing person cases, murders and other mysteries are solvable. To submit a tip to the KING 5 Unsolved Northwest team, click here or fill out the form below.