THURSTON COUNTY, Wash. — Two Thurston County women are still working to find out who killed their mother 16 years ago.
The body of Karen Bodine was discovered on Jan. 22, 2007, near Littlerock Road in Olympia.
"The site where they laid my mother after killing her is a road I've driven many times as a kid," said Taylor Bodine, Karen's daughter. "It is forever marred as a site next to the city dump where someone left a nude body."
Karen Bodine was 37 years old when she was killed and her body was dumped on the side of the road. When her body was discovered, detectives told KING 5, "It seems whoever dumped her did little to conceal the crime."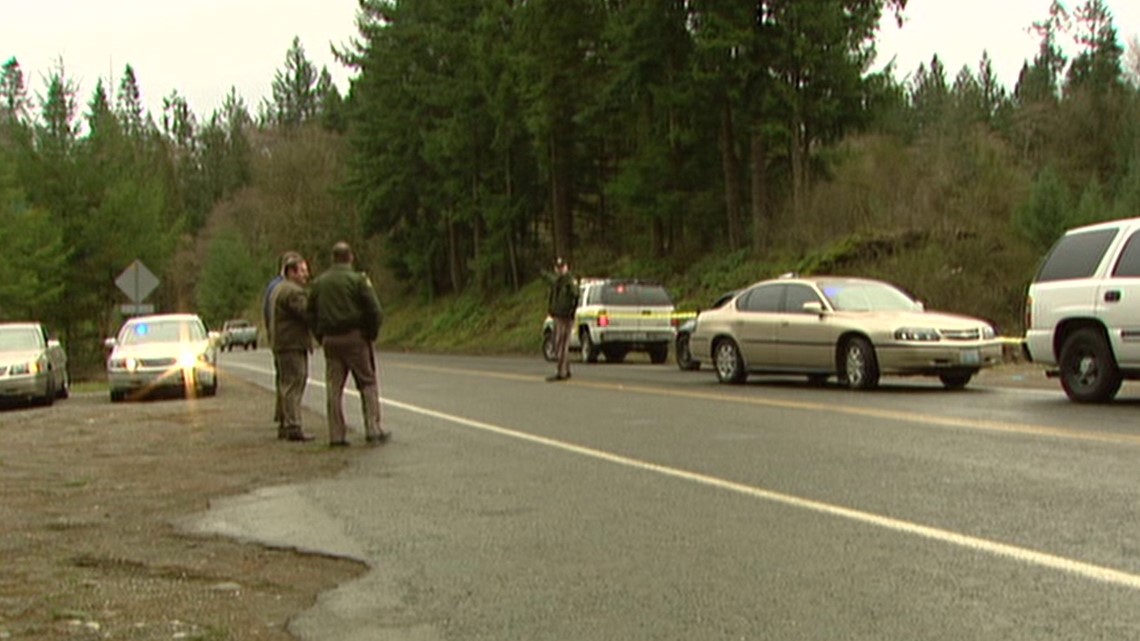 Taylor was only 15 years old when her mother died.
"Looking back, there's no way you can really sugarcoat anything like that. So it was a really raw pill to swallow," she said. "I went through a lot of emotions that no 15-year-old should be going through and that none of my friends were going through. So it was a pretty lonely place to be in."
Taylor's sister Karlee was 18 at the time. She was a senior in high school and remembers how excited she was for her mother to attend her graduation, but instead, Karlee went to her funeral.
"She was there for everything," Karlee said. "She talked to me before prom, and she knew about my dress, and she was my best friend no matter what."
Karen even dyed the ends of her hair pink for Karlee.
"That was pretty cute. She did that because I had had mine pink and I got in trouble at school. So it was a fun thing," Karlee said.
Unsolved Northwest: Who killed Karen Bodine?
It was also the pink strands of hair that made Karen instantly identifiable to detectives when she was discovered.
Where Karen was last seen
Detectives know Karen was last seen alive on Jan. 22, 2007, at 3 a.m. at a home in Thurston County.
"The house she was last known at, there were a lot of people there," Karlee said. "It was kind of a party house. People were in and out all hours of the night."
Lacey Police officers also spoke with Karen nearly 24 hours before her body was found. Officers were called for a welfare check after it was reported she was walking down the street in the cold without a jacket. Officers spoke with Karen and she assured them she was fine.
"My mom, being like myself, I can say a feisty lady, will not be talked down to," Taylor said. "And she, based on the evidence that night, was put through some physical abuse and obviously a lot more later."
She was found with bruising, cuts and ligature marks around her neck. She had no clothing or belongings with her.
'We're going to be relentless in finding you'
Thurston County Sheriff Derek Sanders recently took over Karen's case.
"The make or break for this case is going to be someone's going to remember something," Sanders said. "They're going to come forward and say, 'Hey, I actually know a guy' or 'Hey I saw this' and that's going to be that small piece of information that bridges the gap between a solved and unsolved homicide."
The Thurston County Sheriff's Office claims it is facing two additional obstacles: they are understaffed and underfunded.
Sanders says the lack of staffing gets in the way of making the progress he hopes for.
"We just physically don't have the actual staffing to handle this stuff," Sanders said. "So what instead happens, and it's not the service that I want to provide to the citizens, but it's what we can offer is essentially each of our detectives on top of their already massive caseload, basically gets a cold case assigned to them as a part-time thing to look back on occasionally."
However, that doesn't diminish the passion he has for solving Karen's cases and others.
"The Sheriff's Office won't stop pursuing you. I mean, we're going to be relentless in finding you, capturing you, and sending you off to prison," Sanders said.
Karlee and Taylor also recognize the work Sanders is putting into solving their mom's case.
"They don't have a lot of detectives, especially for homicides or missing persons, but the fact that they're trying this hard after this long gives us renewed hope," Karlee said.
Remembering Karen Bodine
It's been a long 16-year road for Karlee and Taylor as they do everything they can to get answers. In the meantime, the road where their mother's body was discovered is now a place where their mother's memory lives on.
The sisters have kept up a memorial that features signs, with photos and decorations, that ask for tips.
"We've done our best to memorialize it, to remind people who travel that road every day that we update it," Taylor said. "We keep it fresh, that we haven't forgotten about this, and we hope that you don't, either."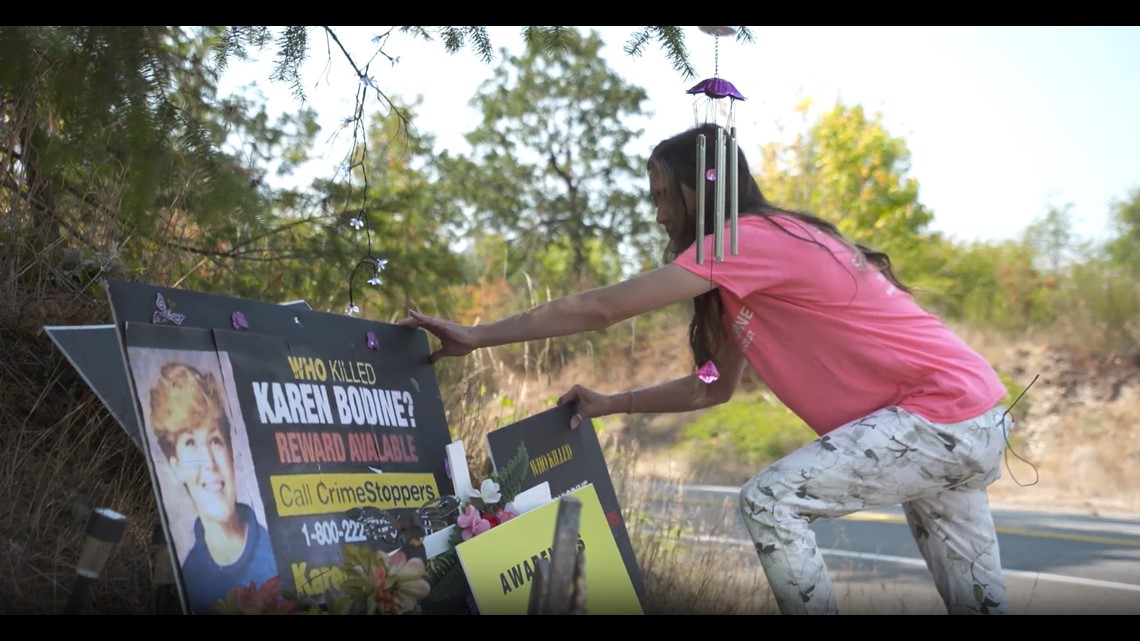 Karlee and Taylor believe the person responsible for killing their mother still lives in the area. They have a message for their mother's killer.
"You're not slick," Taylor said. "And I know you're not that smart because you really picked the wrong family."
"I hope you see my face and I hope it haunts you," Karlee said. "We are going to come and get you. The end."
Do you want to hear more about Unsolved Northwest? Text the word UNSOLVED to (206) 448-4545 to get messages from the team about the latest cases and updates on past stories, or to send them your questions.