SEATTLE — The Seattle Police Department (SPD) responded to five different shootings around the city within about 11 hours Thursday into Friday morning. A sixth shooting was reported late Friday night.
A 29-year-old man and a 15-year-old girl were seriously injured in two of the shootings, according to an SPD Blotter post. A 38-year-old man was taken to Harborview following the sixth shooting, police said.
According to police, the first shooting happened around 4:30 p.m. Thursday near Garfield High School in the city's Central District.
When officers arrived, they found shell casings near a door on the school's campus and more nearby, which indicated two people had likely exchanged gunfire. Evidence found at the scene showed about three dozen gunshots had been fired in the incident, according to police. Police found bullet damage in a nearby home and two vehicles.
Witnesses told police they saw teenagers running from the scene, and that a male suspect fled east on East Jefferson Street. No one was injured.
SPD is meeting with Seattle Public Schools to "ensure the safety of students and faculty on campuses."
Seattle Public Schools released the following statement Friday:
"The safety and security of our students and staff is the top priority of Garfield High School and Seattle Public Schools every day.
We were deeply concerned to learn that gunfire erupted near the Garfield campus late yesterday afternoon, causing the school to issue a shelter-in-place order for 20 minutes. Students and staff were at school conducting sports practices and after-school activities. We are grateful that no one was hurt or injured.
While this was not a school incident, it is unacceptable that this criminal activity and violence occurred anywhere near our schools. The risk and trauma to our students, families and staff is even more intolerable.
As a result, SPS has increased our security presence at Garfield today and plans for the same next week. Additional SPS security will also be provided at all district-wide, home games tonight.
The Seattle Police Department email released today tragically points out, gunfire is a city-wide issue. We are extremely appreciative of our partnership with Seattle Police and the City of Seattle, and we look forward to working together to emphasize safety and security at all our schools and throughout the city and beyond."
The second shooting happened around 8:15 p.m. on State Route 509 near the 1st Avenue Bridge. Police said a driver called police after a suspect fired at them from a black sedan in an apparent road rage incident. Police said no one was injured in the shooting.
Police responded to a report of a shooting about 45 minutes later at 9 p.m. near the intersection of 3rd Avenue and Pike in downtown Seattle. No victim was found when police arrived, but a 29-year-old victim arrived at Harborview Medical Center with serious injuries shortly after the shooting took place.
The fourth shooting took place about 10 minutes later in Rainier Beach when police said a passenger of a grey sedan opened fire at another driver. No one was injured.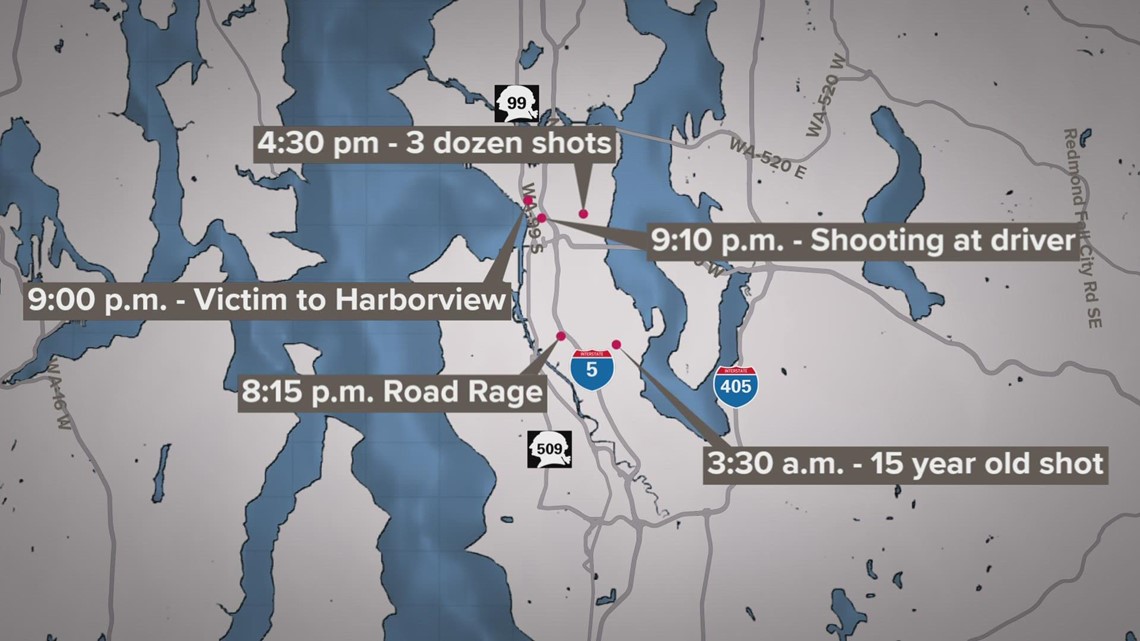 SPD said the final shooting took place at 3:30 Friday morning. Police responded to the 4200 block of South Eddy Street and found a 15-year-old girl with gunshot wounds to her legs inside a "stolen, bullet-riddled Jeep."
SPD said the 15-year-old and another teenage girl were in the stolen Jeep and were "evasive" about what had taken place. A ski mask, bulletproof vest and a "large stack of cash, with an apparent hole from a bullet" were found in the stolen vehicle.
More than two dozen shell casings were found at a shooting scene several blocks away from where the 15-year-old girl in the stolen vehicle was located. A gun was also found near the shooting scene, police said.
The sixth shooting was reported near 6th Avenue and Yesler Way near 11:30 p.m. Friday. Police said a 38-year-old man was taken to Harborview in serious condition. According to police, conflicting witness statements are complicating the shooting investigation in Seattle's International District.
Anyone with information about any of the shootings is asked to call the SPD Violent Crime Tip Line at 206-233-5000.