EDMONDS, Wash. — Nagendiram Kandasamy had the soft smile of a loving father, a man dedicated entirely to providing for his wife and children.
"That's the reason he worked 80 hours a week, minimum. Family is the most important thing in his life," said Kandasamy's nephew, who asked for anonymity because he fears for his family's safety. "When the police asked me if he had any hobbies I told them his main focus in life was his family. That's what makes the events of last Friday so hard to absorb."
The 64-year-old convenience store clerk was working another 16-hour day Feb. 21 when a suspect, described only as a white man in his 20s, stormed into the store, jumped onto the counter and opened fire.
The shooting happened around 5 a.m. at the 7-Eleven located at the corner of Highway 99 and 238th St. SW in Edmonds.
Police don't have a motive. They say nothing appears to have been stolen.
RELATED: New photos of suspect in deadly Edmonds 7-Eleven shooting released
Born in war torn Sri Lanka, Kandasamy came to Edmonds to give his two children a better life.
His nephew says Kandasamy was putting both kids through college. His daughter is just a year and a half away from becoming a doctor.
"He was building his life around work so he could support his children and help them chase some of the dreams he wasn't able to follow," Kandasamy's nephew said.
Police still have no solid leads in the case. This week they released close-up photos of the kind of black and white gloves and sneakers the suspect was wearing, as well as a white 4-door sedan believed to be the getaway car and driven by someone else.
Photos: 7-Eleven shooting suspect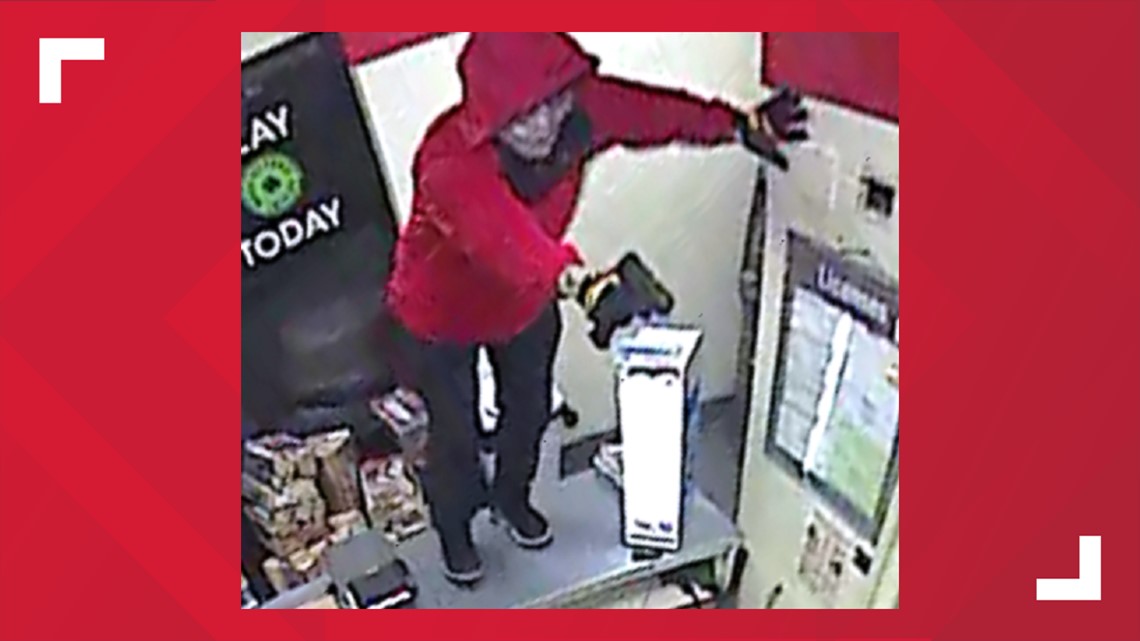 "The suspect vehicle fled east on 238th into the residential neighborhood and is known to have made its way to 76th Ave. West before turning east onto the Snohomish/King County Line," said Edmonds Police Sgt. Josh McClure.
Detectives asked residents to check their home surveillance systems from Feb. 21 between 4:45 a.m. and 5:05 a.m. and contact them if they have any footage that may help the investigation.
"These people are a danger to other people, whether it's in this area or another area," said the nephew. "We want them brought to justice as soon as possible."
RELATED: Suspect may have robbed Everett store twice in 9 days, police say
Relatives from as far away as Toronto, New York and Germany have flown to Edmonds to comfort the Kandasamys.
On Saturday there will be a community gathering to mourn and show support for the family. It's happening from noon to 2 p.m. at Edmonds Lutheran Church at 23525 84th Ave. West. An email announcing the gathering stated, "It will be a potluck and open space for people to share. Please try and attend. Bring a poem, prayer, or verse of sacred text to share if you wish."
An $11,000 reward is offered for information leading to charges in the case. You can remain anonymous. Edmonds police: 425-771-0212 or policetips@edmondswa.gov. Crime Stoppers: www.P3Tips.com or 1-800-222-TIPS (8477).