EDMONDS, Wash. — Police released new information and photos of a suspect in connection to a deadly shooting of a 7-Eleven clerk in Edmonds.
Store surveillance footage from the Feb. 21 shooting shows the suspect in a red hooded jacket rush into the store, jump on the counter, and immediately point a weapon at 64-year-old Nagendiram Kandasamy before opening fire.
A customer found Kandasamy unresponsive and bleeding around 5 a.m. Kandasamy was dead when police arrived at the store in the 8100 block of 238th St. Southwest.
Police said whatever happened inside the store was over in less than 30 seconds and nothing appears to have been stolen.
The suspect is described as a white man, possibly in his 20s. He was last seen wearing black shoes, black pants, and a red and black jacket. His jacket hood was up, obscuring his face.
RELATED: $11,000 reward offered for information on killing of Edmonds 7-Eleven clerk
Detectives with the Edmonds Police Department said Thursday that the suspect fled the 7-Eleven to a white, 4-door vehicle that was waiting outside. The make and model of the vehicle remain unknown. Police said it is unclear if there were other people in the suspect vehicle but encouraged the driver and any possible passengers to come forward with any information.
Photos: 7-Eleven shooting suspect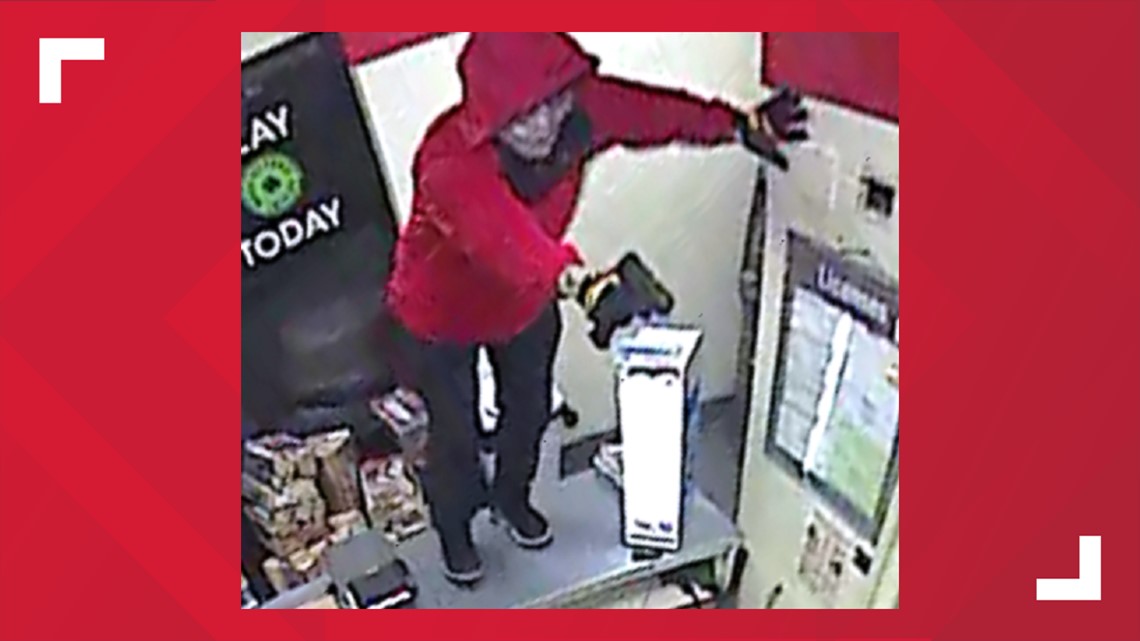 Police said the suspect vehicle fled east on 238th into a residential neighborhood. The vehicle then made its way to 76th Ave. W. before turning onto to Snohomish/King County line, police said. Detectives are asking residents that live in the area to check their home security cameras from Feb. 21 between 4:45 a.m. and 5:05 a.m. for any footage that can help with the investigation.
A K9 track to find the suspect was unsuccessful. Edmonds Police Sgt. Shane Hawley said catching the suspect is their top priority. Authorities consider the suspect a "serious threat" to the public due to his brazen actions.
Crime Stoppers of Puget Sound and the 7-Eleven corporation have partnered together to offer an $11,000 reward for any information leading to charges against the person or people responsible for the death of Kandasamy.
If you think you see the suspect, call 911 and do not approach. Anyone with information is urged to call the Edmonds Police Department at (425) 771-0200 or submit a tip online. Anonymous tips can be submitted to Crime Stoppers of Puget Sound by calling 1-800-222-TIPS (8477). Anonymous tips can also be submitted by downloading the P3 Tips App or by going to www.P3Tips.com.
"We consider him to be a significant danger to the public," said Edmonds Police Sgt. Shane Hawley. "He's gotta be pretty desperate. Then you throw in the fact that he's killed someone. We need to get him off the street."
While co-workers looked on in stunned silence, customers came to drop off flowers after the shooting. Kandasamy was described as "quiet" and "polite." Friends said he was working 60 to 70 hours a week between two jobs to put his two kids through college.
"That's crazy," said customer Doug Nelson. "Just seen him yesterday. That's unbelievable. I feel for his family. My heart goes out to his family."
"I'm hurting," said customer Josh Swalwell. "He was just a helpless guy doing his job."
Police said they still don't have a motive and worry about what more the killer may be capable of.
"That's why we want to catch this guy and make sure he doesn't show up and do this to some other random stranger," said Hawley.
A GoFundMe account has been established for Kandasamy's family by the 7-Eleven corporation.