WATCH: Full episodes of 'Facing Race'
KING 5's "Facing Race" examines race, social justice and racial inequality in the Pacific Northwest. Watch the full episodes below.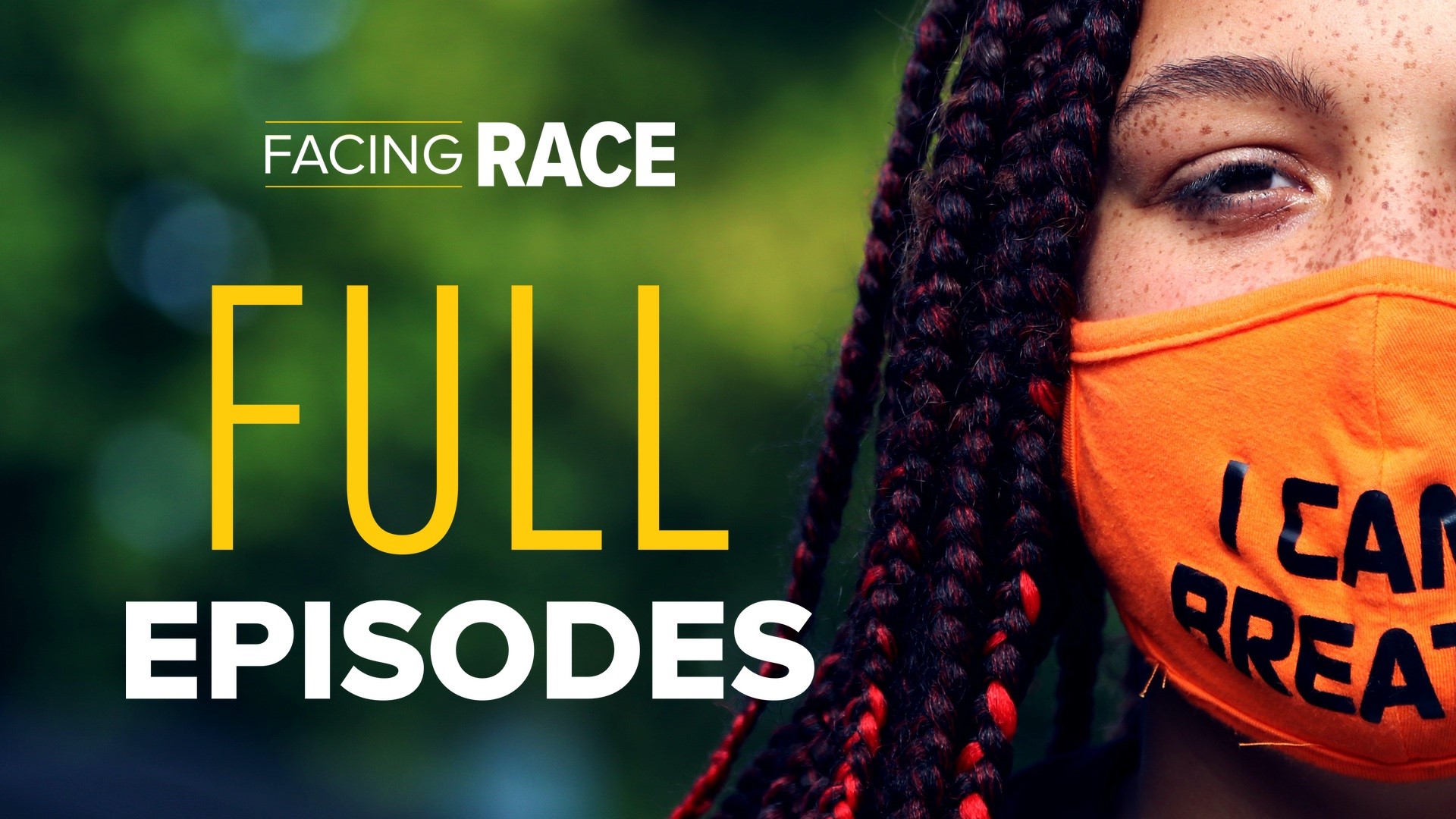 As America grapples with racial injustice and inequity, we're talking about race. In the series "Facing Race," we're having real, frank conversations and answering questions you may be too embarrassed to ask.
KING 5's "Facing Race" examines race, social justice and racial inequality in the Pacific Northwest. Watch the full episodes below or on the KING 5 YouTube channel.
Episode 1
:
Racism and privilege explained
In episode 1, we examine how we arrived at this point in American history and explain why race and white privilege matter. Seattle author Ijeoma Oluo, who wrote the bestseller "So You Want to Talk About Race," talks about why she believes this moment is unlike any other in history and what she hopes will happen next.
Watch episode 1 with closed captioning here.
Episode 2
:
Fighting racism
In episode 2 of "Facing Race," we examine the most effective ways to fight racism. Many race educators say it takes more than just protesting to make real change. They say the first steps include just talking about race and understanding our own implicit biases. Ibram X. Kendi, the author of "How to Be An Antiracist," also weighs in on the best ways to fight racism.
Watch episode 2 with closed captioning here.
Episode 3
:
Race and policing
In episode 3 of "Facing Race," we examine policing, which has become part of the national conversation on race and racial justice. Confidence in police fell to a record low this summer, according to a Gallup poll, and there's a stark difference between how white and Black Americans view police. The poll found just 19% of Black adults have high confidence in police versus 56% of white adults.
We hear from people of color about the fears they have during encounters with police and what one police department in Washington is doing to find the best officers possible.
Dr. Alexes Harris, a sociology professor at the University of Washington, also weighs in on how to rebuild trust between police and communities of color.
Episode 4
:
Policing and communities of color
In episode 4 of "Facing Race," we examine the impact of policing on communities of color, including the Native American and Asian communities in western Washington.
Bowling Green State University Criminologist Phil Stinson, who's tracked police crime cases since 2005, explains why a small percentage of police officers who use deadly force are charged with a crime. He also shares a vision for rebuilding trust between police and the community.
Police officers share their perspective on recent racial justice protests, and former Seattle Police Chief Carmen Best opens up about her departure from the department after the Seattle City Council approved sweeping police budget and personnel cuts.
Watch episode 4 with closed captioning here.
Episode 5
:
Teaching kids about racism
In episode 5 of "Facing Race," we examine how to teach kids to be antiracist and how to help kids of color navigate racism.
Several studies show babies can notice racial differences, and by the time a child starts kindergarten, they have the same beliefs as adults around them. Race educators say parents must start talking about race early.
Robin DiAngelo, author of "White Fragility," explains why it's crucial for white families to discuss race with their children from a young age and shares tips for parents starting those conversations.
Watch episode 5 with closed captioning here.
Episode 6
:
Race and education
In episode 6 of "Facing Race," we examine the educational system and what we can do to give kids a fair shake.
The so-called school to prison pipeline funnels mostly kids of color out of classrooms and into courtrooms, and it starts with discipline. In Washington, 52.5% of students are white, and 4.4% are black, according to state data. However, in the 2018-19 school year, 8.3% of Black students were suspended or expelled for a discipline-related incident, which is more than twice the rate for white students (3.4%).
Watch episode 6 with closed captioning here.
Episode 7
:
Politics and policy
In episode 7 of "Facing Race," we examine how race shapes politics and policy. In Washington, 72% of state lawmakers are white, according to the National Conference of State Legislatures. The state population makeup is 67.5% white, according to census data. However, just 3% of lawmakers are Latinx, compared to 13% of the population who identify as Hispanic; 2% of lawmakers are Black, compared to 4.4% of the population.
While our lawmakers are slowly getting more diverse, national polling shows the divide between Democrats and Republicans is growing deeper and wider. Central Washington University Political Science Professor Todd Schaefer explains how politicians on both sides of the aisle are making the problem worse and what voters can do to turn that trend around.
Watch episode 7 with closed captioning here.
Episode 8
:
Land equity and environmental racism
In episode 8 of "Facing Race," we examine land ownership in Washington. Laws used to make it impossible for people of color to buy property, and that affects land equity and wealth today.
Dr. Mustafa Santiago Ali, vice president for environmental justice, climate and community revilatization at the National Wildlife Federation, shares solutions for environmental racism, which is the disproportionate impact of environmental problems, like pollution, on communities of color.
Watch episode 8 with closed captioning here.
Episode 9
:
Immigration
In episode 9 of "Facing Race," we examine negative stereotypes that immigrants face. In Washington, one in seven people are immigrants. Of that group, 77% are documented, nearly half are naturalized citizens and 38% have a college diploma.
We break down what Latinx means, and Mexican American immigrants in Washington share how racism has impacted them. Dr. Jane Lee, an assistant professor at the University of Washington School of Social Work who studies health disparities and immigrant communities, explains how Latino immigrants are coping during the current political climate.
East African immigrants in Washington face different challenges and share their perspective on the Black Lives Matter movement.
Episode 10
:
Toll on mental and physical health
In episode 10 of "Facing Race," we examine the physical and mental toll of racism.
People of color have higher rates of heart disease, diabetes, cancer and asthma than white people, and the Center for American Progress blames systemic racism and lack of access to quality care.
With regard to mental health, people of color may face race-based traumatic stress, which is a mental and emotional injury caused by encounters with racial bias, ethnic discrimination, racism and hate crimes, according to Mental Health America.
Dr. Neeru Bakshi, a Bellevue psychiatrist, also explains the impact that absorbing racist information can have on your brain no matter the color of your skin.
Episode 11
:
Discussing race over the holidays
This holiday season topics that are usually considered taboo around the dinner table, like race and policing, will be top of mind. We examine systemic racism and white privilege and explain how they impact families of color.
If these topics do come up at family gatherings, mediator Ken Cloke also gives suggestions to engage someone in conversation who may think differently than you do.
Episode 12
:
Fighting institutional racism
In episode 12 of "Facing Race," we examine ways to fight institutional racism through legislative action and changes to policies in the workplace.
Nate Miles, vice president of strategic initiatives at Eli Lilly, shares where he thinks corporations are going wrong when it comes to diversity and how they can fix it.
Episode 13
:
Race and identity
In episode 13 of "Facing Race," we examine race and identity, including the complications that come with being multiracial. How people identify can depend on more than just ethnic and racial background. It can vary depending on how they look, what family members they're close to and who raised them.
In the next 40 years, the number of people who identify as multiracial is expected to triple.
Shayla Zartman of Gig Harbor, who is the cousin of George Floyd, shares her identity journey as a biracial person.