Costco letting its customers know that if they don't like Seattle's new sugary drink tax, they are more than welcome to shop at its warehouse stores outside the city.
Jason Mercier from Washington Policy Center, which opposed the tax, shot a photo from inside a Seattle Costco that showed the price for a Gatorade 35-bottle variety pack was $15.99. That is until you add the new tax, which bumps it up by $10.34 for a total of $26.33.
Costco also posted an explainer of the new tax, saying it adds 1.75-cents per ounce on "sugar sweetened beverages with added 'caloric sweeteners' or syrups. Then the store posted a reminder that shoppers can go to their Tukwila and Shoreline Costcos to avoid the tax.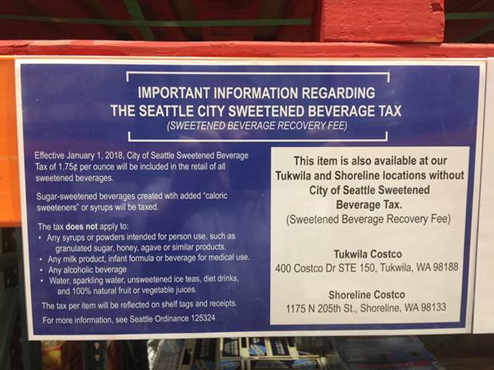 The city says the tax is expected to raise $15 million in its first year.