TACOMA, Wash. — "I'm going to be brutally honest with you right now and this is hard for me to say: As we sit now the Jive is broke. If we don't meet our goal we will not be able to open our doors again."

This is the cry for help Bob's Java Jive den mother Jenna Schrenk posted to Facebook from the famous dive bar she manages.

"This pandemic just broke us," she says. "Completely broke us"

The nearly 100-year-old building already had electrical and plumbing issues.

"Leaks everywhere," says Schrenk.

That was before pandemic restrictions cut off cash flow. How long, Schrenk wondered, could the Jive stay alive?

"We can't lose this one," says Girl Trouble drummer and frequent visitor Bon Von Wheelie. "This one is very special and I say if we lose this, we lose Tacoma."

Built in 1927 as a roadside attraction on Pacific Highway, the large coffee pot shaped building became a cultural landmark when Bob Radonich bought it in the '50s.

"The entire place is filled with memories," says Schrenk, "And if the walls could talk it would be just amazing to listen."

You'd hear house bands like The Ventures and The Wailers playing. You might hear Radonich's son Bobby Floyd playing his piano, which he did nightly for decades. On the dance floor, Granny GoGo might be showing off her moves.
"We have the autograph of Ace Frehley from Kiss up on that wall," says Schrenk.
It overlooks the pool table where Keanu Reeves and River Phoenix planned a murder in "I Love You To Death." And when singer Neko Case tended bar here, she tried to get Radonich to get Girl Trouble and an up and coming band called Nirvana booked to play a gig here.
"And old Bob said 'I don't want that loud noise in my place no way'", laughs Von Wheelie. "The rumor is Nirvana played here but the story is that Nirvana got rejected here."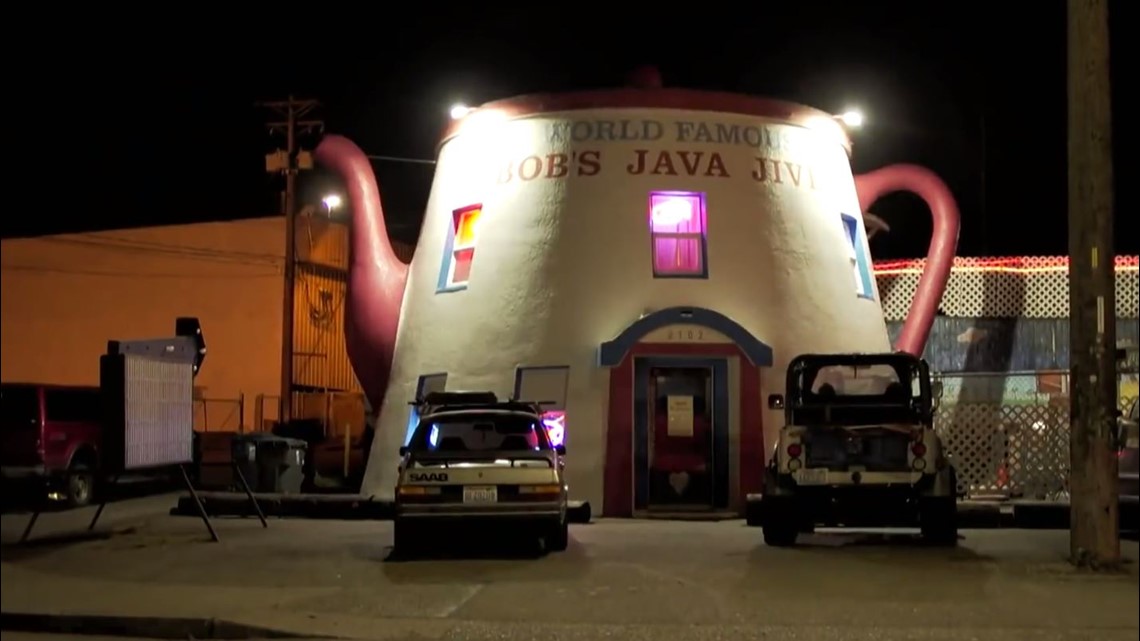 The Java Jive did have a lively karaoke scene recently until things got dead quiet.
"It has been quiet," says Schrenk. "Has been quiet."
So quiet Schrenk wasn't sure anyone would hear her cry for help. Until she checked her post the next day.

"Within 24 hours she pretty much had the 10 thousand bucks she needed," says Von Wheelie.

"I literally was in tears," says Schrenk. "The outpouring wasn't just from Tacoma but from around the United States. Even from people out of the country."

"It meant that everybody felt the same that we did," says Von Wheelie.
Some donated money. Some offered labor. Jenna Schrenk now sees hope for the Java Jive.

"I feel like she is going to survive," she says.