WINSTON-SALEM, N.C. (WFMY) – Nothing has been able to stop 51-year-old Catherine Barksdale from earning her degree, not even the tumor she was diagnosed with in 2009.
But it hasn't been easy.
"The journey has been long," shared Barksdale, a mother of a set of twins: Reggie and Ronald.
It all started while she worked at AT&T. Barksdale was on the phone with a customer and realized she couldn't understand what he was saying.
"It was because I was having a seizure," she explained. "They said I had a brain tumor and that if I didn't get an operation I would die."
So, she did, which forced her to take a break from pursuing her Bachelor's degree at Salem College until she recovered.
"After I stayed out for recovery, then I went back to work and I came back to school," Barksdale said.
She remembers the frustration of her condition not leaving her exactly where she left off, but her determination to reach her goal was still the same.
"I didn't want to stop," she shared. "Even though it seemed like that was something that would stop me, it didn't stop me."
Barksdale completed the requirements to earn her Bachelor's degree this Spring, but that wasn't the end of her battle with her health.
A few complications didn't allow her to attend Salem College's commencement.
Salem College Graduate Absent From Commencement Gets Her Moment To Shine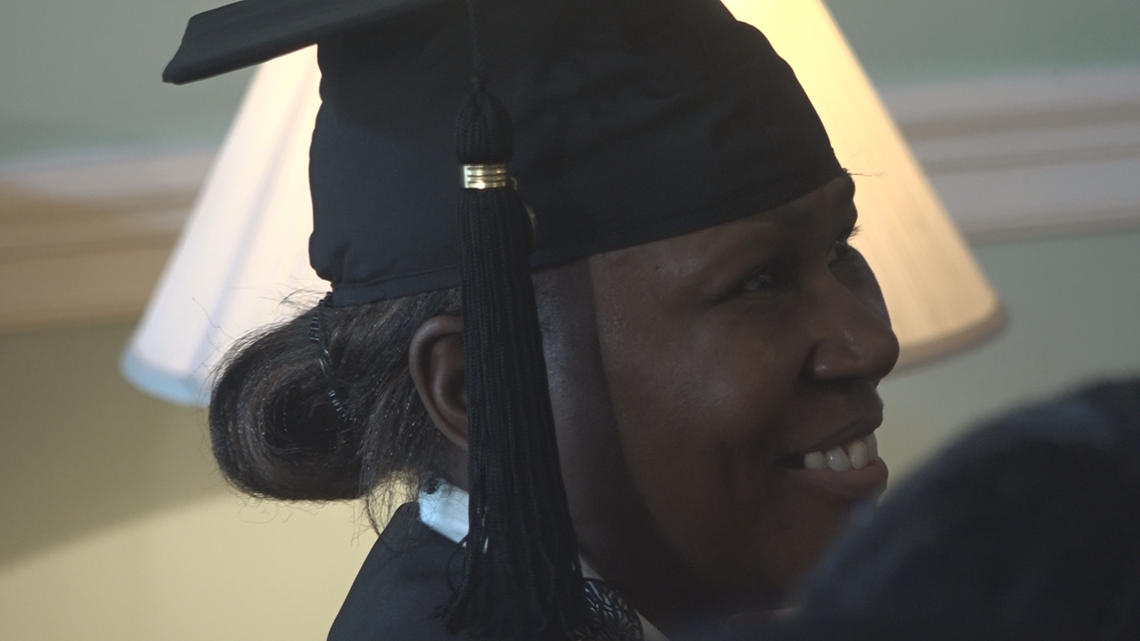 "When she reached out to me and called to find out should she come pick [her diploma] or would it be mailed, I put the stops on every department and said 'Please, don't give it to her!" said Betty Telford, Director of the Martha J. Fleer Center for Adult Education.
That's because she had another plan.
Telford had reached out to the rest of the administrators and they agreed to hold a small commencement ceremony for Catherine and her family so she got the proper attention her hard work deserved.
"Even though it's not an official commencement, per se, we were going to do a program in the lobby here in Main Hall on Wednesday," Telford explained.
"When she called me to say, you know, they were gonna do this, I was just overjoyed," Barksdale said tearfully. "I didn't expect it."
Just like the rest of her fellow graduates, Barksdale was called to the 'stage' and was awarded her degree and hooded by faculty in full regalia.
"Giving up is not an option," Barksdale said.