WOODINVILLE, Wash. — Harvey the Husky is enjoying his first week at home in Woodinville.
The Lankston family had been considering adopting another dog for a while and when Sherry Langston spotted Harvey online it was love at first sight.
Harvey was a featured post on social media. Sherry said she saw the post shared by the San Diego Department of Animal Services and it mentioned that Harvey was an example of the adult dogs and cats that are often overlooked and passed up at shelters.
"I got excited and told my husband that I found our second dog! Then I realized he was in San Diego," she said.
They ended up making the drive. Sherry said it was daunting but seemingly well-timed as her kids had a week off of school for winter break.
Something about Harvey spoke to Sherry.
"I saw his smile and just melted," she said.
Harvey has a facial deformity from what veterinarians assume was an injury in his early days.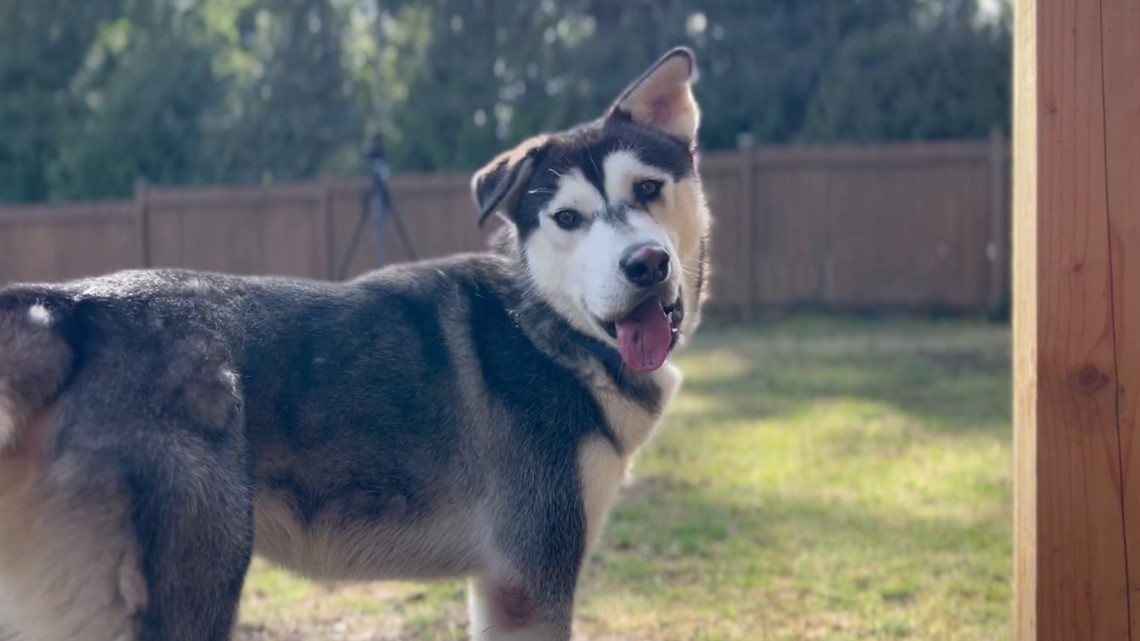 "He just has an adorable crooked smile and even though Huskies can be a handful, we were smitten," says Lankston.
It might be Harvey's Husky nature to run wild that led to his extended shelter stay.
The dog was discovered wandering in the San Diego sand dunes by some ATV riders who say Harvey was one of several dogs hiding in some brush. Harvey refused to leave the scared companions behind. He reportedly led the scared pack for miles and they survived.
"They say Harvey was the only reason those other dogs were lured out," says Sherry.
The Lankston family drove more than 2,500 miles to make their family complete.
"We knew he needed to be good with our boys and some dogs just aren't comfortable with kids so we just decided to go and meet him," she said.
The drive was long but smooth and Sherry says they even got the star treatment in Los Angeles.
"We didn't even hit traffic in LA! That's a miracle for anyone who's driven through LA!" She said.
The Lankston family met Harvey at the shelter and he quickly warmed up to the boys before meeting River, the family's 4-year-old lab. They were fast friends and the family knew it was destined to be.
The family wants to give full credit to the San Diego Department of Animal Services for their tireless dedication to the animals.
Sherry says they are enjoying their first week back home with Harvey and truly hope their story encourages more people to consider finding a new best friend who may be waiting at their local shelter.
"You don't need to drive 2,600 miles to find your best friend," she said.
The family also hopes the heroic Harvey will inspire more people to consider adopting adult animals who may otherwise be passed up for puppies or kittens at shelters.
"There are wonderful and fantastic animals who just need a chance," she said.