CHARLOTTE, N.C. -- The world became a whole lot brighter to a little boy on Easter Sunday.
What meets the eye when meeting Xavier McCoury is a blond 10-year-old wearing a bright yellow shirt. His enthusiasm and good manners are contagious as he happily hops on his trampoline. What's isn't apparent is what meets Xavier's eye... and it is much different.
The 4th grader is completely color blind, a genetic trait that was passed down from his grandfather.
Color blindness isn't uncommon. According to the National Eye Institute, as many as eight percent of men and .5 percent of woman have some form of color blindness. However, Xavier's condition is much more rare, as he can the world in black, white and gray.
Xavier's mother, Melissa, knew there was a possibility he could be color blind.
"It was at age three, I remember we were talking and he wasn't sure what color a bunny was," Melissa says.
Fast forward seven years later.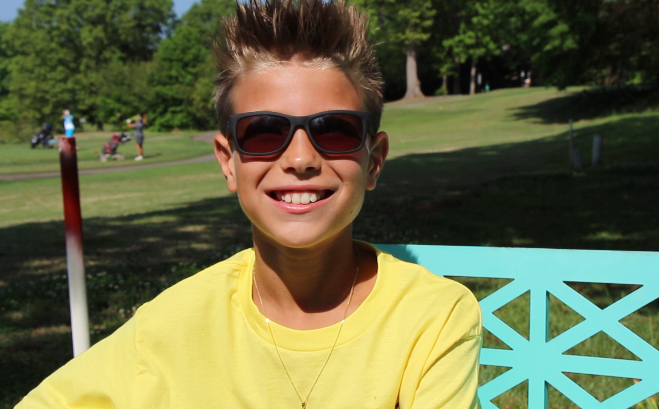 With the aptly titled slogan, 'Glasses for the blind,' EnChroma glasses were discovered by Don McPherson who has a Ph.D in glass science.
"Clinical trials of early prototypes revealed that the lenses had benefits serving as an optical aid to the color blind," the EnChroma website states.
In short, the glasses allow color blind to see the world as we do, with all the bright colors.
Xavier's aunt Selena first heard about the glasses. But after a running Xavier's stats through the website's compatibility test, they weren't sure they would work for him.
"We've been praying for this for a long time, looking for answers and doing research in the past but nothing was out there that really seemed to be working," Melissa says.
Melissa and Selena decided it was worth a shot and surprised Xavier with the glasses as an early birthday gift.
Selena facetimed the family from Ohio as Xavier opened his gift. When she explained what they were, Xavier's mouth dropped.
And the shock continued as he put the glasses on.
"I didn't know this is what humans really see... my thought was, 'Is this color, because if it is, it's awesome," Xavier recalls.
"Waiting for him to put them on and seeing his reaction and the huge smile that came across his face and then he started crying, it was just amazing because you could tell they worked," Melissa says. "There wasn't a dry eye in the place."
"There's so many beautiful Carolina sunsets and you just have to walk him through but he has no comprehension of what it is, the fact that he can see those now and all the beauty the world has to offer, it's just priceless," Melissa says.
Xavier loves wearing the EnChromas glasses. He notices things he didn't see before, such as all the different shades of every color and the fact that fire hydrants are both yellow and red. As for his favorite color...
"Yellow's my favorite color because when I was color blind it was dark and now I can see it, it's bright and stands out," Xavier says.