SEATTLE — The new Hyatt Regency has opened in Downtown Seattle welcoming out-of-town guests, tourists, and possibly becoming your new "staycation" destination. With over 1,000 guest rooms and suites, the Hyatt is the Pacific Northwest's largest hotel and is home to Andare Kitchen + Bar, a casual Italian-style trattoria offering seasonal menu's as well as lunch, happy hour, and dinner.
Andare Kitchen + Bar at the Hyatt Regency Seattle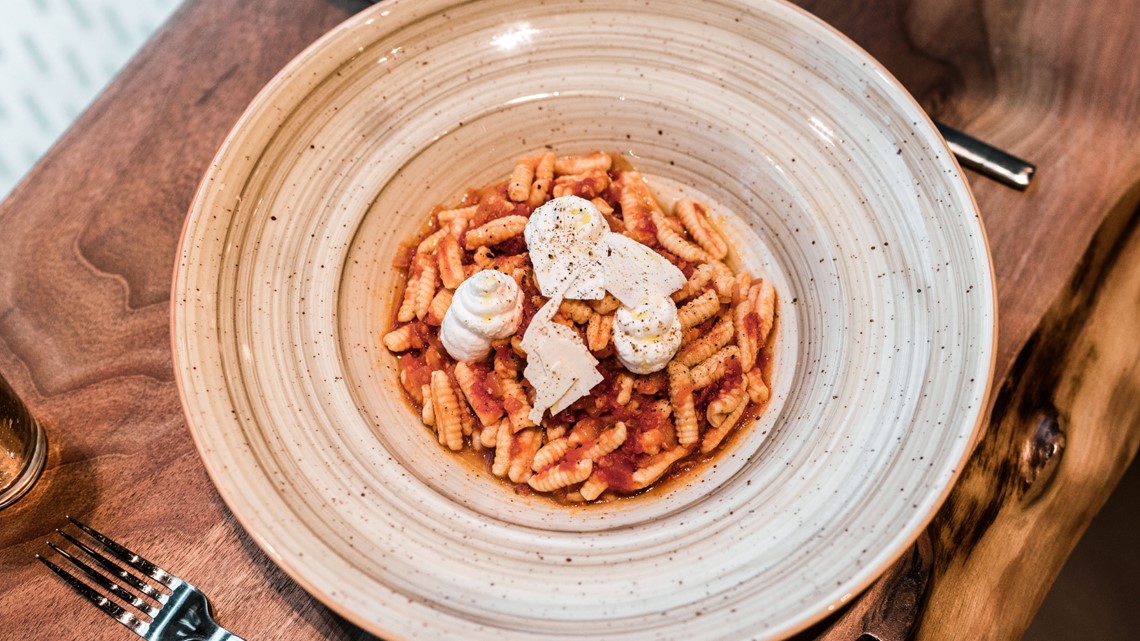 From their cocktails to their kitchen equipment, Andare strives to incorporate elements native to the Pacific Northwest. "I really wanted us to feature and be all about fresh ingredients and simple cooking," says Executive Chef John Pivar.
The restaurant and hotel are proud of their strong partnerships with local companies, like Macrina Bakery, Beecher's, Uli's Sausage, Hama Hama Oyster Company and Charlie's Produce. Even their Woodstone pizza oven was locally acquired in Bellingham.
Executive Chef Pivar shared some of Andare's signature dishes and demonstrated how they cook their Signature Cavatelli. He even shared the recipe so that you can try it at home!
Andare's Signature Cavatelli
7 oz. Cavatelli pasta (See recipe below)
4 oz. Tomato Sofrito (See recipe below)
2 Oz. Whipped ricotta cheese (in piping bag optional)
Pinch of cracked black pepper
Olive oil to taste
Pinch of micro basil
Ricotta Cavatelli Pasta
2 cups Flour, sifted
1 Egg, whole
6 oz. Ricotta Cheese
¼ tsp Salt
¼ cup whole milk
Black pepper to taste
Combine all ingredients in a mixing bowl. Knead together. If the dough is sticky, add more flour. Cover and allow to rest 20 mins.
Roll the dough into long strips about 1/2" wide. Cut into 1/2" pieces. Roll into balls and form shape using gnocchi board. Dust with semolina and freeze tightly wrapped on a sheet pan.
Tomato Sofrito Sauce
1 yellow onion, diced
4 tomatoes grated
¼ confit garlic smashed
1/8 tsp fresh thyme
1 bay leaf
3 Tbsp olive oil blended
Salt & Pepper to taste
8 oz canned tomatoes, drained
Place onion in sauté pan. Cover with olive oil and cook until translucent. Add tomato and herbs. Cook on low heat for 20 MIN, stirring occasionally. Remove from heat – combine with cooked pasta.
Hyatt Regency Seattle & Andare Kitchen + Bar | 808 Howell Street, Seattle
This segment is sponsored by Hyatt Regency Seattle. Watch New Day Northwest 11:00 weekdays on KING-TV Ch.5 or streaming live on KING5.com. Connect with New Day via Facebook, Twitter, Instagram.