SEATTLE — During the holidays, creative energy runs rampant and just about anything goes. That includes the annual Northwest traditions of "ugly Christmas sweaters," artistic gift-giving and decking the holiday halls. What better way to soak up that spirit than "thrifting" through a wonderland of affordable holiday trinkets, treasures, bits and baubles?
Katherine Boury, Communications Manager at Seattle Goodwill, gave us some tips for elevating holiday art and décor in sustainable ways – without overspending. She showed us what you can find at Goodwill stores and how to turn your treasures into unique gifts or projects – including making your own outrageously ugly Christmas sweater.
"We've got some great ideas for décor," Katherine said. "You can find a lot of ways to decorate your home, and it's very budget-friendly. Part of shopping at Goodwill is that it's treasure hunting, too. So, you never know what you're going to find."
Goodwill stores work hard at creating a holiday experience on par with standard retail outlets. Numerous shelves overflow with ornaments, toys, gift-wrapping supplies, and new or recycled gifts items. You'll also find Christmas trees that are considerably less expensive than purchasing one at full retail cost.
Their low prices give you the option to replace well-worn Christmas decorations with ones that are fresh and new to you. Because you get more items for less money, you really can "Deck the Halls" with unique retro pieces like a vintage Santa with a bag of presents slung over his back or a glittery "NOEL" sign for only $1.99. They've got brand-new, too, like high-end tree ornaments, or "funny socks" you can use as stocking stuffers. Tins, baking sets, rolling pins – they've got it all.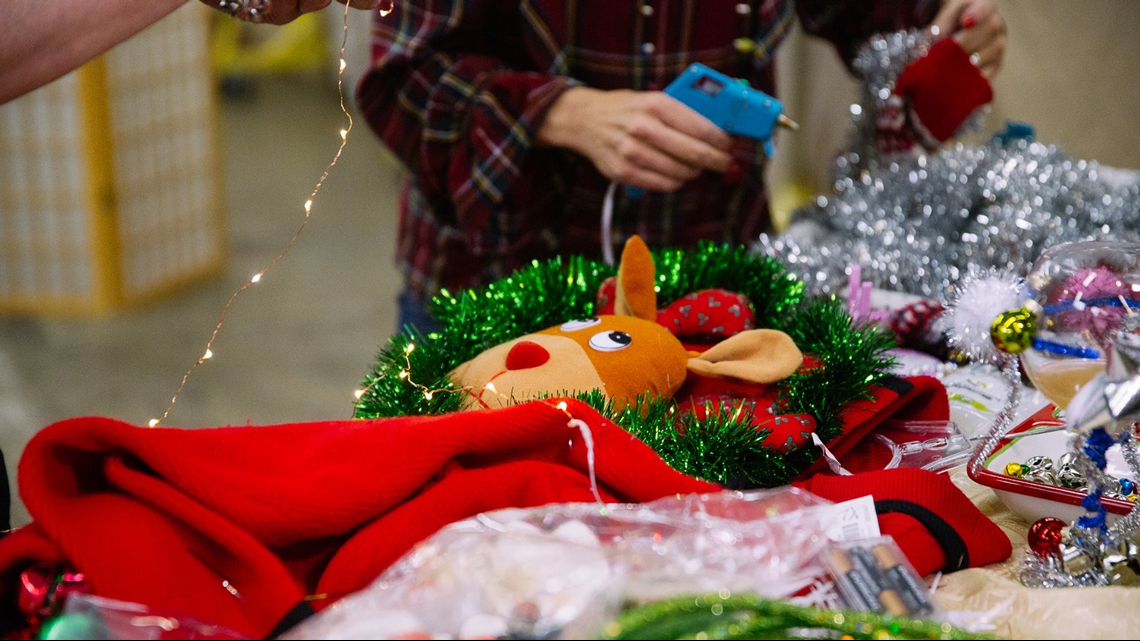 Christmas Crafts: DIY an 'Ugly Holiday Sweater'
The infamous "ugly holiday sweater" is subject to the eyes of the beholder. It takes a top slot on the list of Northwest holiday traditions – and for good reason. It's fun, creative, tongue-in-cheek, and painfully reminiscent of teenage Christmases past.
Putting your own creative twist on the holiday sweater is all about the "flair." Katherine showed off a particularly quirky finished sweater, embellished with a gaudy oversized hairpin, a men's necktie, lots of jingly bells, ornaments and oven mitts, all of which are typical at Goodwill stores.
To make your own, start with a sweater. You can thrift one, or use an old one hanging in your closet. Katherine recommended choosing a solid color to help the decorations pop-and-shock those who dare to gape at your walking piece of art. Use glue guns, hand stitching and safety pins to affix your embellishments.
You'll be in good company when shopping at a Seattle Goodwill stores as holiday thrift-store foraging is increasingly popular. "Thrifting for the holidays is not the same thing as re-gifting," said Katherine, "There is a very famous Seinfeld episode from 1995 with the label maker and re-gifting – but this is not re-gifting. It is making a deliberate choice to find gifts at a thrift store like Goodwill."
Dozens of Goodwill stores in the Seattle area make the holidays affordable and fun. You can also shop for thrift-store treasures online by visiting the Goodwill website.