We here at New Day love trying new recipes, and we were recently joined by chef Sandra Rocha Evanoff, who shared her recipe for a delicious Brazilian Cod Stew, Moqueca Baiana.
Sandra immigrated from Brazil and landed in our very own Poulsbo, Washington. Sandra would cook as a hobby for fundraisers and various events, gaining some notoriety among the Kitsap County public. She talked with Amity about how she grew that hobby into a small business.
Moqueca Baiana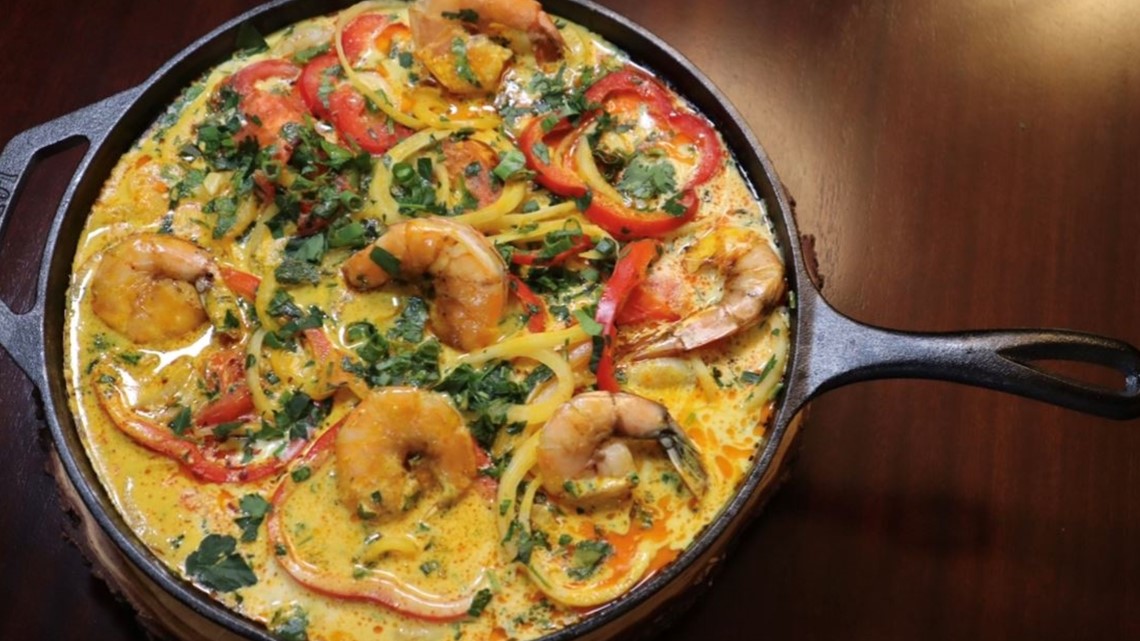 2 pounds codfish cut into large pieces (1 inch thick)
1/2 pound raw shrimp, peeled
5 large shrimp with skin (to decorate)
Juice from 1 lime
1 pinch salt, ground black pepper, and cumin to a taste
1 pinch of red crushed red pepper
½ Tbsp of turmeric
½ Tbsp of coriander
2 tablespoons of palm oil (you can find it online)
1 Tablespoon olive oil
1 large tomato chopped
2 large tomatoes seedless tomatoes sliced into rounds
1 small onion chopped
1 large onion sliced into rounds
3 cloves of minced garlic
1 yellow pepper sliced into rounds
1 red pepper sliced into rounds
2 cups of unsalted coconut milk (canned)
1 bunch of chopped cilantro (optional for taste)
¼ cup of chopped green onion
1 fresh red chili pepper chopped for garnish (if you like spice)
Combine codfish, with half lime juice, salt, and pepper in a large bowl. Marinate in the refrigerator for 15 minutes.
Combine the fish with half of the lime juice, salt, and pepper.
Combine the peeled shrimp with half lime juice, salt, and pepper in a bowl Marinate in the refrigerator for 10 minutes.
With the other half of the lime juice, salt, and pepper.
Sauté the 5 shrimp with olive oil, salt, garlic, and black pepper and reserve for decorating.
Heat 1 tbsp of palm oil in a large skillet over medium heat. Add the chopped tomatoes, chopped onion, minced garlic, cilantro, parsley, and green onion. Sauté for 2 minutes after adding 1 cup of coconut milk.
Lay the fish evenly over the mixture. Place the yellow pepper, red pepper, onion slices, and uncooked shrimp over the fish. Sprinkle with the spices. Repeat the layers ending with the shrimp.
Add the remainder of the coconut milk and cook covered for about 15 minutes until the fish is tender.
Top with cilantro, large cooked shrimp, and red chili pepper to decorate.
We serve the moqueca with white rice and farofa. (See the recipe below)
2 cloves garlic, chopped
¼ chopped onion
Kosher salt according to a taste
1Tbsp of palm oil;
2 cups coarsely ground manioc flour (cassava flour)
½ tablespoon butter
Black pepper according to a taste
¼ cup of water
1 Tbsp parsley or cilantro
1 Tbsp green onion
Sauté the garlic and onion with the palm oil, until come golden and brown, add the water, bring to a boil. Remove from the stove and wait until cool. Add the cassava flower, green onion, cilantro, and black pepper. (You can also add bacon if you are not serving fish).
1 cup of jasmine rice
2 cups of water (if you need more just add)
½ onion
1 clove of garlic
1 Tbsp olive oil
½ Tbsp of salt
Wash the rice for two minutes. Bring a medium saucepan to low heat, add the olive oil, add the onion and garlic, and saute for two minutes. Add the rice and stir well to wrap all the grains with the olive oil for about 1 minute.
Measure 2 cups of water and pour into the rice pan. Season with salt, mix well, and increase the heat to medium. Stir if needed but avoid stirring more than two times. Wait for the rice to be ready in about ten minutes. Cover and wait five minutes before serving.
ABOUT CHEF SANDRA ROCHA EVANOFF:
Sandra Rocha Evanoff is from Brazil. She immigrated to the U.S with her husband eight years ago. He is a doctor and they live in Poulsbo, WA. For many years Sandra worked in retail, but she always loved to cook as a hobby. Her cooking became pretty well known around Kitsap County because she would cook her Brazilian food for various fundraisers/auctions. She kept being asked to do more and more fundraisers. Finally, she decided that she would turn it into a business. Brazil Comes to You was born three years ago. Its mission is to inspire others to eat fresh and healthy food without wasting food. It's not traditional catering because she cooks at her customer's house (on-site) and talks about her culture while she does it. A lot of the money she makes goes back into the community because she also donates/delivers meals to the local shelter. Brazil Comes to You goes anywhere even — on the camping grounds at the motor homes.