ELLENSBURG, Washington — The Wild Horse Wind Facility just east of Ellensburg can generate enough electricity to power 70,000 homes a year.
It also generates plenty of curiosity - this is one of the only wind farms in the nation that lets people get close to the 220-foot tall turbines.
"People are just enthralled to be this close to them," said Andrea Nesbitt, Environmental Education Coordinator for Puget Sound Energy. "They like the sound that they make, and the views are definitely probably the first thing people notice."
Puget Sound Energy owns this wind farm, and they share this 10,000 acres of windy, shrub-steppe desert with all kinds of recreation seekers.
"People do a lot of hunting, hiking, horseback riding, even biking," said Nesbitt. "There's a lot of different activities you can do out here."
The renewable energy center is free, and about 20,000 people a year visit.
The dramatic landscape with the turbines adding a visual twist, never gets old.
"This is my 6th year, and I still find myself gawking at them as I drive up the hill," said Nesbitt. I'm always excited to get back here."
Steve St. Clair, the manager of renewable assets for P.S.E., agrees.
"I have to say that I think what we've done here with this visitor's center, it's just an awesome facility," said St. Clair. "I look around and I like the way that the wind farm is integrated with the natural environment. I like seeing the elk, the mule deer. I feel like this is a nice way to co-exist the energy needs of the 21st century while still protecting the environment."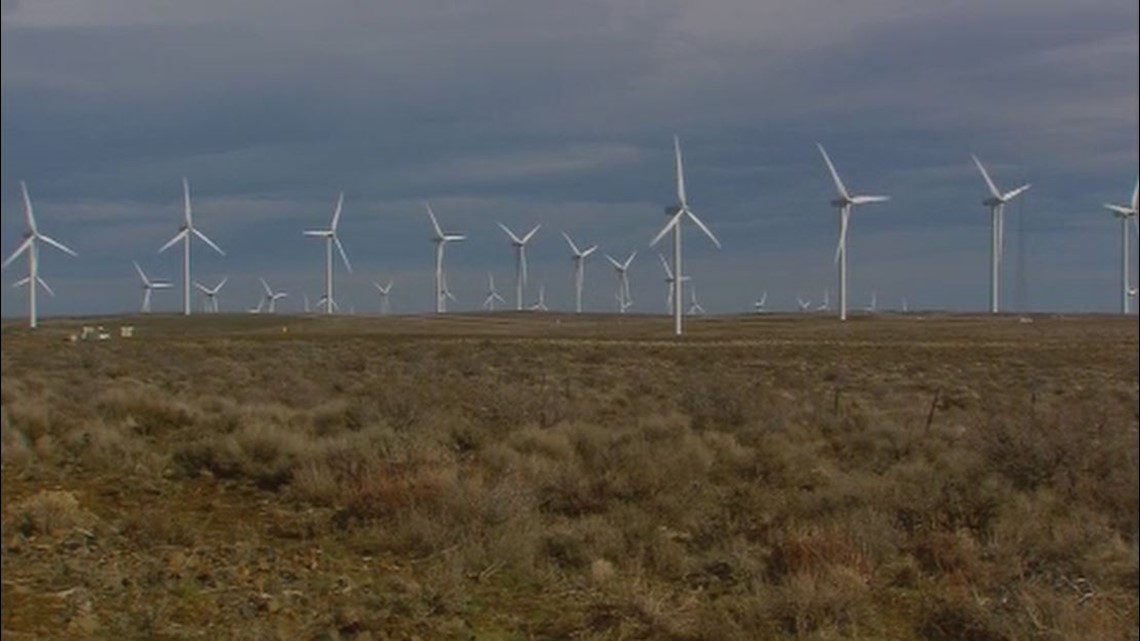 Visitors can actually get inside the base of a turbine - no climbing to the top though.
P.S.E. is proud of how they've harnessed clean, renewable energy.
"We are a leader in green power," said St. Clair. "We started in 2003 before anybody else did. That long term vision has played out in better value for our customers, and better projects for us to work in each day."
The 149 turbines are only climbed once every six months for maintenance. You can take a ladder and climb 220 feet up inside the turbine, but St. Clair and Nesbitt usually take the tiny elevator.
The next time you find yourself driving by a bunch of these behemoths, wondering what they look like up close, detour to Wild Horse, and watch the weather work for you.
"Come visit us!" said Nesbitt. "April through November, we're flexible. We'll get you on a tour, just call ahead. The only time we'll say no is if the wind's over 40 miles an hour or there's snow or rain going sideways. Come out and visit us."