These activities and places are perfect for winter in Washington
From skiing to hiking, here's a look at all the wonderful winter adventures you can have in Washington. Plus, cozy cafes and places to play. #k5evening
KING 5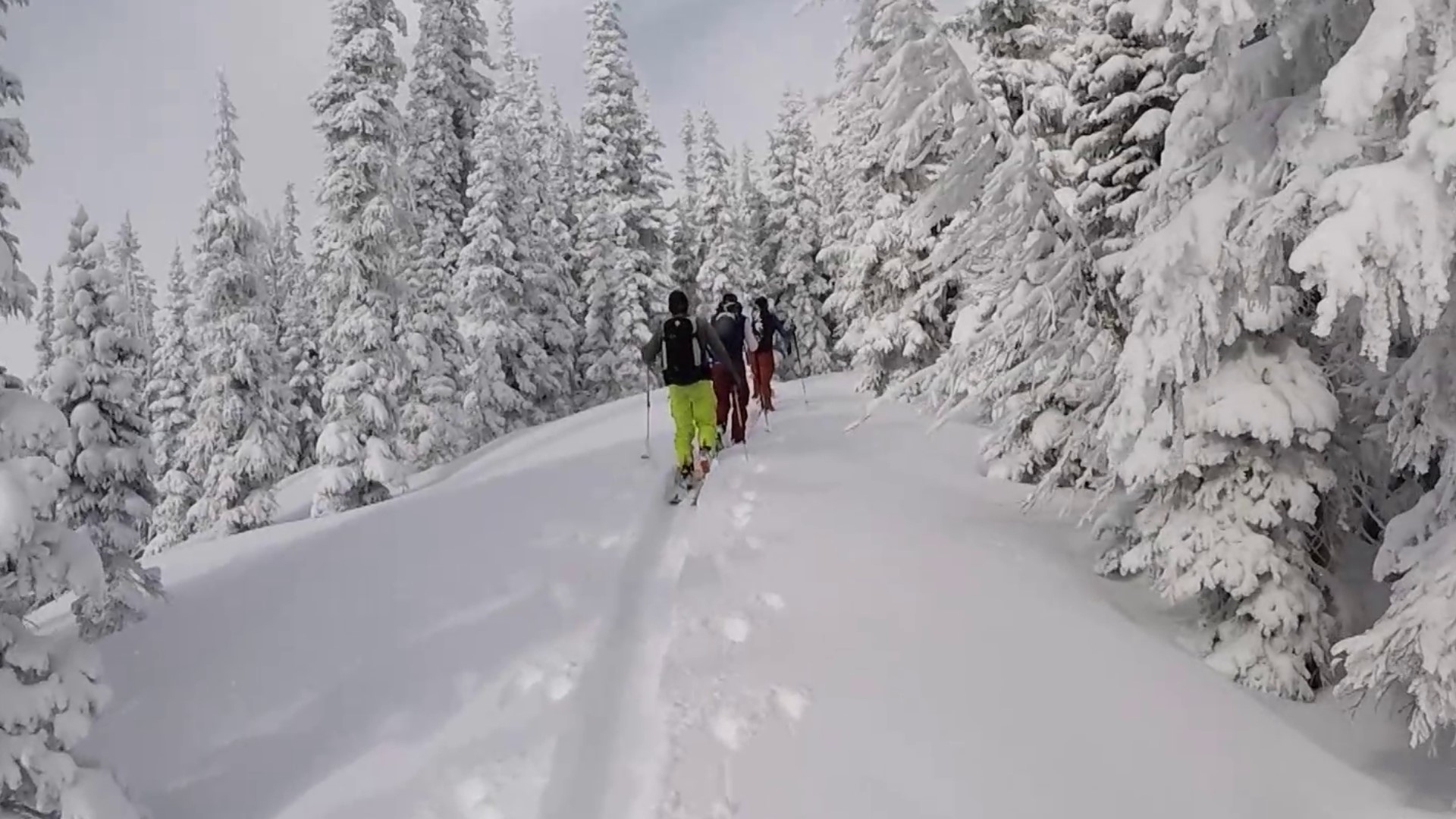 Sasquatch spotted at Wenatchee ski resort
:
EDITOR'S NOTE: This segment was shot prior to the COVID-19 pandemic.
There's a Yeti at the top of Mission Ridge. Or a Sasquatch. It depends on the weather.
Zeb Postelwait and his wife Kasey Koski visit this constantly changing sculpture often. You might say he's their big baby.
"We definitely want to take care of him, make sure he stays up here for a good long time," said Zeb.
These two, along with their friend Thad Brewer, are this creature's creators.
When Mission Ridge Ski & Snowboard Resort had its 50th birthday in 2016, the three Wenatchee artists wanted to make a present for their local ski area. So they started brainstorming about what they could make.
"It grew a little bit out of proportion in our backyard, maybe with the addition of more friends, and possibly one beer too far on the idea, but it grew larger and larger," said Kasey.
"It was pretty much always gonna be a Yeti." Said Zeb.
They come by this Mountain/Yeti thing honestly: Zeb owns Lemolo Café and Deli in downtown Wenatchee. It's named for a Mission Ridge double diamond run and the café has a Yeti of its own inside. This beast is actually a costume that was left behind at a Halloween party. Now that costume wears an aloha shirt and shades, and is suspended from the restaurant's ceiling.
The crew of artists built their big beast in a Wenatchee garage. To attach the ton of truck chains that make him hairy - Kasey learned to weld.
"There are hundreds of small welds on that Yeti so it was really essential that we all took part in attaching his furry coat," Kasey explained.
Finally, in September 2019 - the Yeti was ready to move to his permanent home in the mountains and become the 11-foot-tall monster he was always meant to be.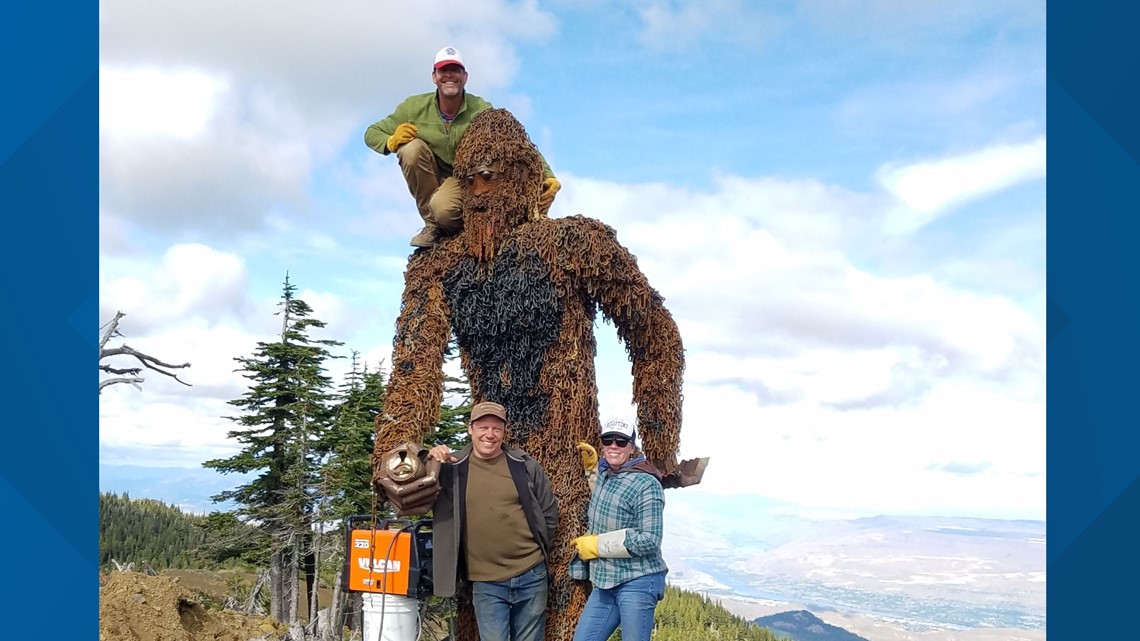 "I will say that the couple of days installing it at the top of Mission Ridge were some of the best days at the office ever," said Kasey. "Bringing this project to completion it was so rewarding, just to be up there and see him standing!"
Now that these artists are done with their work - Mother Nature continues the project.
"I think it's just very interesting to see how he changes - week to week, day to day," said Zeb. Kasey added that the snow coated trees at the top of the ridge inspired them to make a sculpture that would interact with wind, snow and sun, and be ever-changing.
The Mission Ridge Yeti looks different every day, but there's one thing about him that never changes.
"He's just, he's just a lotta fun!" said Zeb.
EDITOR'S NOTE: This segment was shot prior to the COVID-19 pandemic.
5 best winter hikes in Washington, from a PNW hiking expert
:
He's hiked over 18,000 miles in Washington...and written 10 hiking guides. Clearly, hiking expert Craig Romano knows how to have fun on the job! We hit the trail with Craig, and he revealed his top 5 Western Washington Hikes -- for winter.
"The weather's great here, very very mild and temperate winters in Washington, which gives us no excuses to stay indoors."
1. Oyster Dome --"The Pearl of the Chuckanut".
"The Oyster Dome is actually one of the finest hikes in Western Washington not only for winter but year-round. It's right between Mount Vernon and Bellingham, and it's the only place where the cascades actually meet the Salish Sea."
Craig gives hikes stars for scenery…
"Usually in my books, I rank my hikes 1-5. It's purely subjective."
And numbers for difficulty:
"I rank all my hikes also 1-5 on how strenuous, 1 being easy, 5 being most difficult."
Oyster Dome gets a 4 for difficulty, balanced out by a 4 for scenery as well.
2. The South Fork of the Skokomish on the Olympic Peninsula
This one ranks 3.5 stars for scenery and a 2 for difficulty.
"Beautiful old growth forest, usually there's elk in the valley, which is another great thing about wintertime, a lot of the elk are coming down from the high country."
3. Columbia River Gorge at Beacon Rock State Park
It's a steep hike up 2,400 foot Hamilton Mountain, which nabs it a 4 for difficulty, and a 4 for scenery as well.
4. Wallace Falls in Snohomish County
Craig gives this one a 3 for difficulty and a 4 for wild winter beauty.
Craig saved the best for last and took us on a classic Whidbey Island hike.
5. Ebey's Landing in Coupeville
The final hike starts at a historic cemetery and then passes a home and a blockhouse built in the 1800s called the Jacob Ebey House, where the hike takes its name from. Along with the history comes incredible views, scoring Ebey's Landing a 2 for difficulty and the highest mark -- a 5 -- for beauty.
You can find Craig's books on Amazon, or buy them directly from local mountaineering stores. You can also find Craig on his website, craigromano.com
Find the perfect snow backcountry skiing in Chelan Country
:
It's time for a ski adventure!
Alpine Lakes High Camp is nestled in the trees in the high country of the eastern slopes of the Cascades. There, you can find cozy cabins waiting for you to set out and explore the diverse terrain, far from the resort.
"We are up here for a couple of nights checking out new terrain, getting on the snow," said Arthur Herlitzka from Mountain Madness. "It's a good way to get out with your friends."
Located at an elevation of 5,000 feet, these 9 backcountry ski cabins and lodges are tucked up against the peaks of the Alpine Lakes Wilderness, just 15 miles east of Stevens Pass.
"Gorgeous big mountain views all the time, I love the peace and quietness of it," said Justin Donohue owner of Alpine Lakes High Camp.
Spend your time pursuing your favorite mountain activities whether it's hiking, mountain biking, skiing, or just relaxing. No camp or tent setup needed, just arrive to a fully equipped cozy cabin.
Enjoy community at the main lodge or the woodfired hot tub and sauna in an unparalleled pristine mountain setting.
"This is a special place, I am pretty in love with it right now," said Stephen Heath from Mountain Madness.
The Backcountry Skiing Fundamentals Course is designed to provide comprehensive instruction to backcountry skiing. Whether you're looking to exit out of the gates at the local resort or just seeking to expand your available ski opportunities, this course is an ideal place to start.
"The hardest part is getting up there, we are working for a simple run," said Joe Sawyer.
Topics will include, developing a tour plan, selecting appropriate terrain for uphill and downhill travel, and applying appropriate travel techniques while searching out untouched powder stashes. You'll cover the basics as well as some more complex subjects like managing complex terrain, identifying "decision points," powder skiing technique, and rescue scenarios.
"You should have at least one person to go with you, if you do get into trouble and you are solo, you in a tough situation."
Regardless, this course will give you the con­fidence to get out of bounds and into the backcountry.
"Powder skiing is one of the best feelings in the world."
Five places to play on a rainy Puget Sound day
:
1. Defy Seattle
At DEFY Seattle – as in defy gravity - kids can go all ninja warrior and fall into foam pits when at first they don't succeed. This Tukwila play space takes it far beyond trampolines. Kids - or grownups - can even fling themselves into airbags just like the ones they use for movie stunts.
2. Olympia Hands on Children's Museum
"I brought them here this summer, and we were here for five hours. I asked them if they wanted to leave for lunch and they said let's just eat in the cafe so we can keep playing. I had to drag them out!" said Vonna Madelay, who brings her grandkids to regularly. There's even a scream room where kids and adults can vent their frustration about our winter weather!
3. We Rock the Spectrum in Seattle
We Rock the Spectrum Kid's Gym is an indoor play space designed for children of all abilities. Owners Martin and Shirley Sarmiento-Blaha opened this gym - which is a franchise - on the Eastside after their twin sons were diagnosed with autism.
Kids have safe sensory experiences here, using equipment that can also be found in occupational therapy. A break from the rainy-day blues with plenty of fun and zero judgment.
4. Pacific Science Center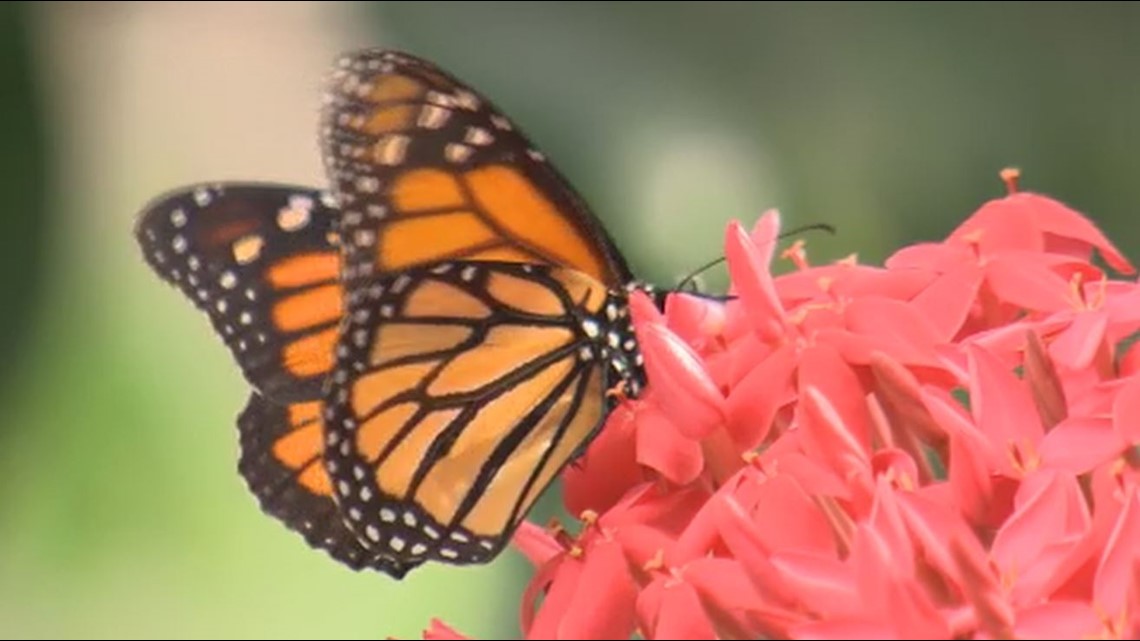 Another peaceful winter adventure for kiddos, and anyone needing a balmy tropical vibe: The Pacific Science Center's Tropical Butterfly House. Animal care supervisor Lauren Bloomenthal says humans love it for the same reasons the colorful occupants do: "The butterflies love the humidity, they love the warmth and that's what inspires them to fly around on the coldest darkest days in Seattle."
5. Get there: Seattle Monorail
Finally, in the 'getting there is all the fun' category, load those kids onto Seattle's futuristic travel mode that's a blast from the past. The completely enclosed Seattle Monorail is our favorite mid-century modern mode for defying the drizzle in Seattle. Pro-tip for anyone: sit in the front for that sweet Space Needle view as you head toward Seattle center. Pro-tip for parents: kids 5 and under ride free.
Where to find mid-winter blooms in Seattle
:
Longing for flowers in the middle of winter? There's a stroll in Seattle that will pay off with an abundance of beauty and inspiration. "The arboretums a great garden to visit any time of year, but on a rainy winter day the place I go is to the J. A. Witt Winter Garden!" Ciscoe says.
Witch hazel, with its spidery blooms, is in full bloom right now. "Hummingbirds love them and here's a secret that most people don't know about these plants, they're as fragrant as can be!"
Another classic winter bloomer: Hellebores. "Oh look at these beautiful hellebores - these are the kind we call Lenten rose, they come in so many different colors and shapes, I think they're just tremendous, and the best thing is, the flowers last for months on these things - so you plant one, you get a show till sometime in April!"
Ciscoe finds a striking bush that grows ivory-colored blossoms before it gets its leaves. "Oh cool, Edgworthia chrysantha, they call this the paper bush because they use the bark to make really beautiful paper in Japan, including the Japanese Yen, but the best thing about this plant is fragrance. It's magnificent, I don't know if you noticed but my pant leg just rolled up and down!"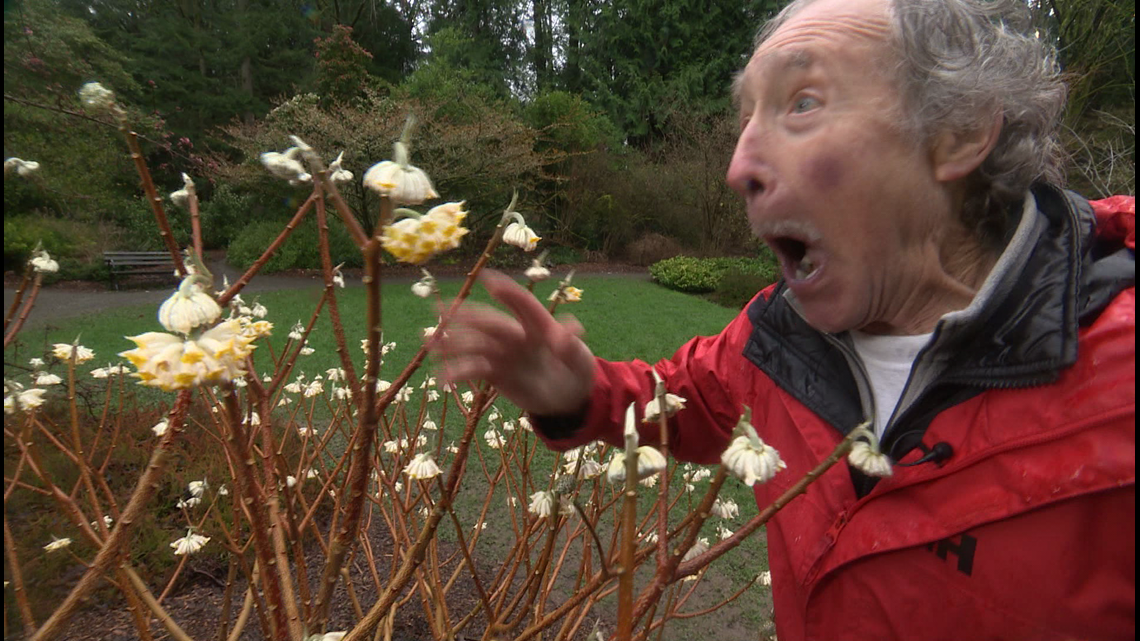 Next is a low growing mound of pink-purple blossoms:
"Here's a wonderful plant for dry shade - I feel like I am just standing in a bed of jewels right here. This is cyclamen coum," said Ciscoe. "You know who spreads these little seeds around? Ants, because the seeds have a sweet flavor, ants grab 'em and take 'em back to the nest and they always drop a few on the way. Cyclamen coum - one of the coolest plants you can get and they bloom right in the middle of winter."
Finally, Ciscoe finds a bush with twigs the color of flames. "Plants with beautiful bark can be just as beautiful as ones with flowers - this is a red twig dogwood called 'midwinter fire' look at how it starts one color and then turns this beautiful fiery orange as it goes up. Only the new growth has the spectacular color so every spring cut 'em down and you'll get a show like this over the winter. Oh la la!"
Craving something cozy? Here are 5 ways to get 'hygge' help
:
With our long stretches of gray and wet weather, we can all use a little more cozy in our lives.
Here are five ways to experience hygge (the Danish term for a cozy and comfortable lifestyle) this autumn and winter.
Cafe Hagen, Seattle's South Lake Union neighborhood
The Scandinavian and Danish-inspired café is centered around hygge. There is patio seating, and the interior is filled with house plants and minimalist design. The menu showcases Scandinavian pastries and dishes, and the locally-roasted coffee emulates the roast favored in Northern Europe. Try the deconstructed mocha - it's a flight allowing you to individually taste every element of the drink. Café Hagen is located at 1252 Thomas St and is open daily from 8 a.m. to 4 p.m.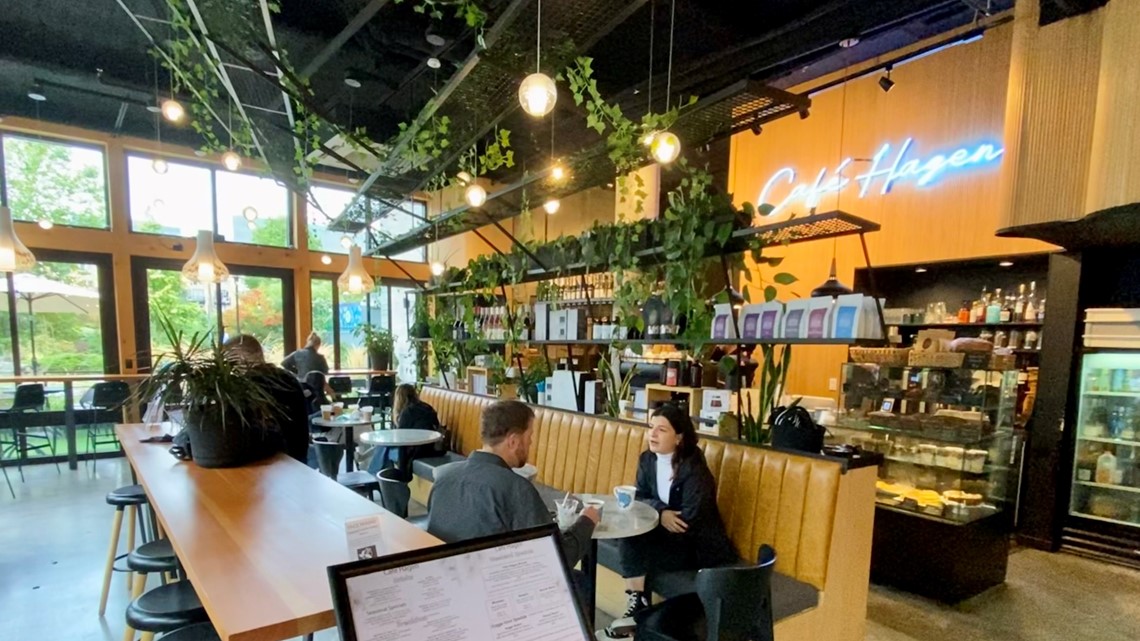 Yoroshiku, Seattle's Wallingford neighborhood
Warm up with a bowl of savory, elevated ramen at this Japanese restaurant showcasing local ingredients. The delicious broth takes up to 20 hours to prepare, using an original recipe. There are six ramens to choose from, including a gluten-free option. They also specialize in modern Izakaya. Yoroshiku is located at 1911 N 45th St and is open daily for lunch and dinner.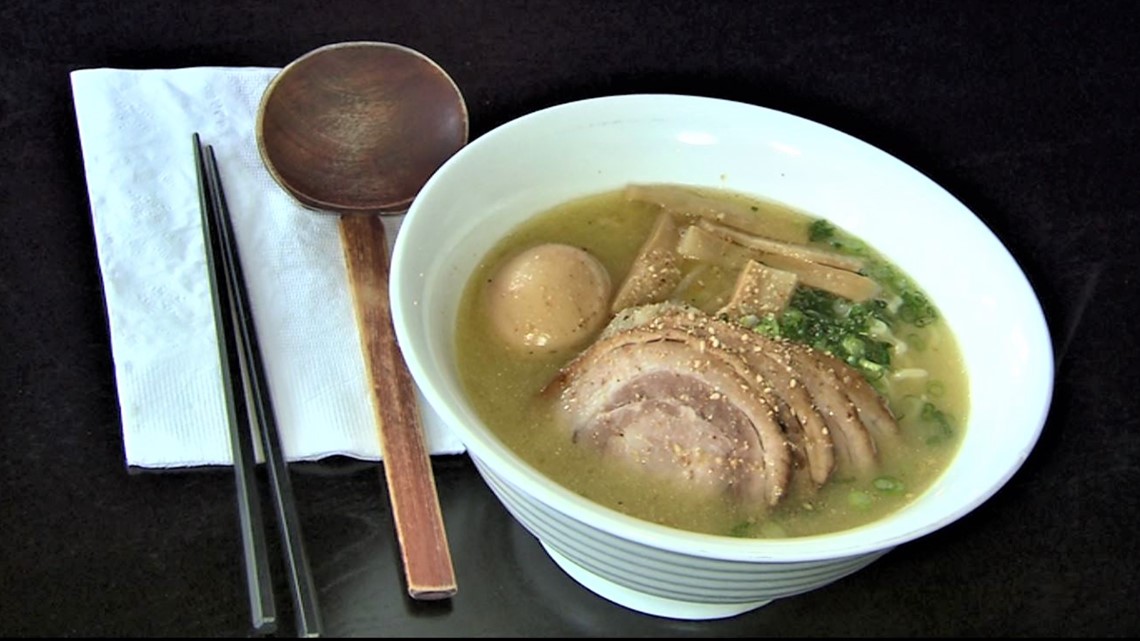 Hygge is synonymous with candles and BLK Sunflower owner Jazmin Richards infuses love and care into each one she makes. She's hand-poured and marbled more than 15,000 of them since launching BLK Sunflower 18 months ago. The most popular seller? Strawberries and Whipped Cream, a blend of strawberry and vanilla scents. The names are also noteworthy, from
"Melanin" to "Per My Last Email." The luxe candles have 75+ hour burn times and cost $36 for a 9 ounce and $42 for an 11 ounce.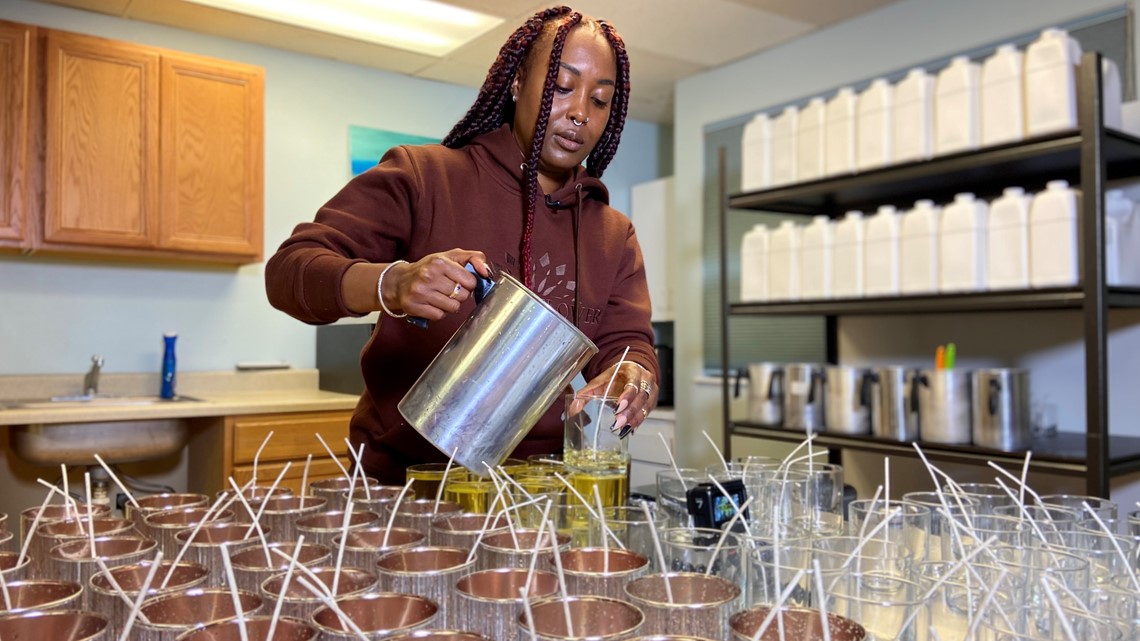 Being in nature is a big element of hygge and when you can't garden outside, this plant shop is an ideal alternative. The boutique features offer greenery of all shapes and sizes, terrarium-building, and classes for anyone interested in taking their connection to plants a step further. One popular workshop teaches the art of making Kokedama - Japanese moss ball gardens. Urban Sprouts is located at 724 S 3rd Street in Renton and is open daily.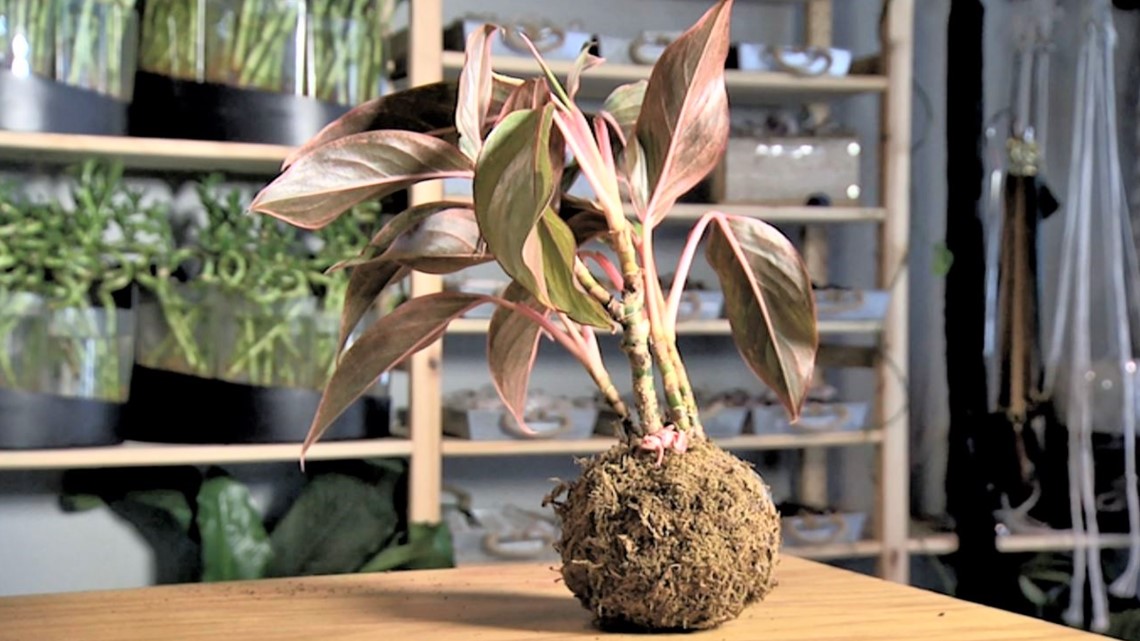 This new shop is a new go-to for turning your house or apartment into a cozy haven. Shelves are stocked with soft blankets, dishware, cleaning supplies, art and more. Most of it is imported from Scandinavia, Japan, and Northwest makers, and all the pieces highlight hygge's minimalism and harmony. Woodland Mod is located at 5330 Ballard Ave NW and is open Tuesday – Sunday.