When it comes to the crispy, crunchy, salty snack, Seattle is home to three must-try fries.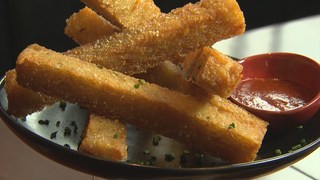 The Butcher's Table specializes in prime cut steaks, but diners can't enough of their Beef Fat Fries.
They're house-made tater tots created by Head Chef Morgan Mueller. Fresh potatoes are braised in beef fat, formed into giant French fry shapes, and deep-fried to a golden brown.
"One of the big advantages to doing our fries like that is we get to have this really audible crunch on the outside, but it's still super creamy on the inside," said owner Kurt Dammeier. "That's because the potatoes are already cooked before they go into the deep fat fryer."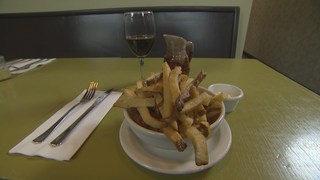 Cafe Presse takes fries back to their French roots.
The restaurant features traditional French food, and their "Pommes Frites" are prepared using a classic technique: cooking them twice.
Every morning, 200 pounds of potatoes are sliced, soaked in cold water, and blanched in peanut oil. Then, they're drained and cooled completely - and when an order comes in, they're deep fried a second time.
The frites pair well with a nice glass of wine and house-made mayonnaise.
"Even some people come in with their cup of coffee in the morning and order a bowl of frites," said Chef Jim Drohman.
Café Presse is located at 1117 12th Ave. in the Capitol Hill neighborhood.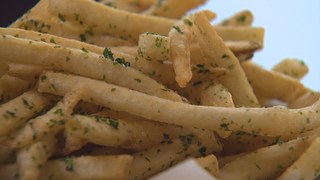 Katsu Burger is an American-Japanese fusion burger joint, with fries you won't find anywhere else.
They feature Nori Fries - shoestring potatoes sprinkled with dried seaweed flakes and sea salt.
"When you come to Katsu Burger for the first time you think, 'Seaweed on a French fry? That's kind of weird.' But if you really think about the flavor profile, it's just kind of salty," said Christopher Poetter, Media Director at Katsu Burger.
The restaurant offers seven house-made dipping sauces to choose from, including tonkatsu, spicy mayo and wasabi mayo.
Katsu Burger has four locations in Capitol Hill, Georgetown, Lynnwood and Bellevue.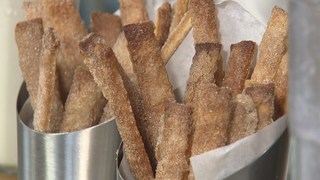 Honorable Mention: Pie Fries at A la Mode Pies.
Technically, Pie Fries are made with sliced pie dough rather than potatoes. But with flavors that are both savory and sweet, they're a must-try for anyone who believes fries are much more than fast food fare.
You can buy Pie Fries from A la Mode Pies' in their Phinney Ridge and West Seattle locations.