SNOHOMISH, Wash. — There's a farm in Snohomish where adults live out their childhood horse fantasies:
"When I was a little girl I used to have a PlayStation game, Barbie Race and Ride, and it started with Barbie standing in a barn aisle, and she'd go 'Here are our beautiful horses' and you'd pick your horse and go off on a horsey adventure. And the fact that that experience actually exists in real life, it's amazing!" said Marissa Aberg, after dismounting from a gentle white Arabian named Mija that she'd been working within the arena. A horse that doesn't belong to her, but that she treats with all the care that an owner would.
For $100 a month, members get to hang out with Ranger, Mija, Mysterio, or any of the herd's seven steeds.
Some come to ride; like Marissa, an experienced horsewoman, and Urban Herd's first member: "If I didn't have The Urban Herd my only other options would be the occasional trail ride, or once a week riding lessons. And the thing that's missing there is, you don't get to create a relationship with the horse."
Other members like Kazumi Bradley, who works at Amazon, come to commune with chickens and just do barn chores.
"I do the water buckets, and get my hands dirty, I think that toughens me up. Because I don't want to be a weak person from the city who can't do anything," laughed Kazumi, who added that she likes to get dirty, and use her hands for something other than typing.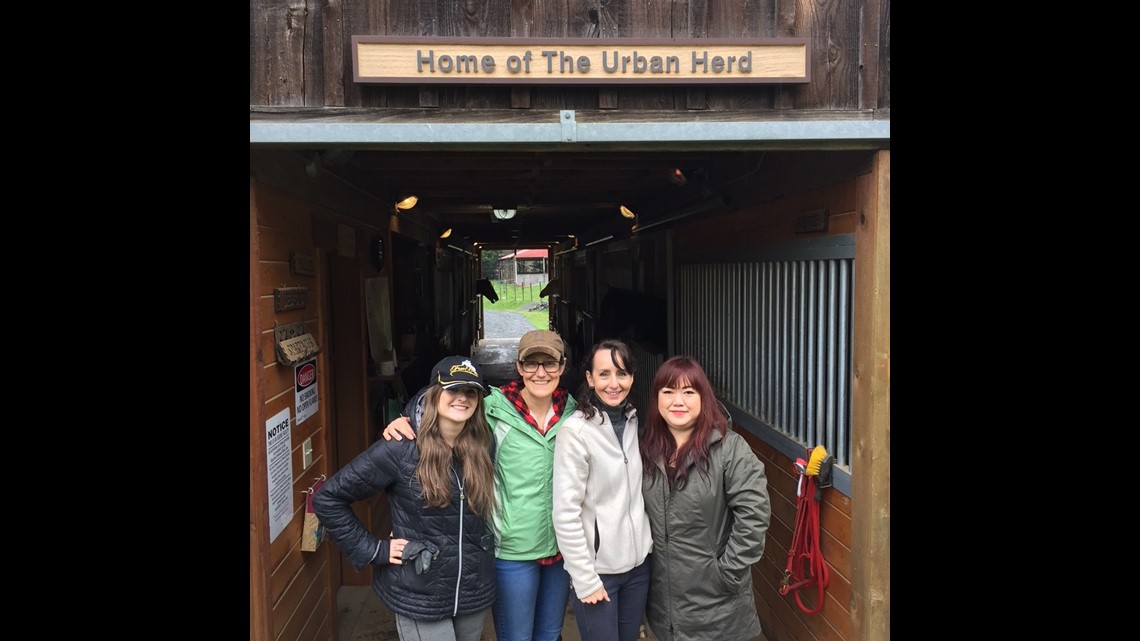 The 15-acre farm, called Lawnacres, is the dream-come-true of Jennifer and Alison Cockrill.
These sisters were raised in Eastern Washington and settled in Seattle. Both had happy memories of childhood horse riding and wanted to figure out a way to get that same feeling as city-dwelling grown-ups. The Urban Herd was their answer. "It's a community of people that cooperatively care for horses, animals, land, and each other," Alison explained.
"What we wanted was more of an opportunity to be special," Jennifer added, "[to] have the horse come out of the stall and look at you and nicker when you get here."
Which does happen, by the way.
This communal approach to horse ownership also transforms the notion of farm 'work'.
"Well if you think about it you could call it a lot of play, right?" Jennifer laughed. "Depends on how you go into it, almost never feels like work."
Ride share a horse with Urban Herd (Gallery)
There's another thing that makes this place different. Urban Herd members don't tell these horses what to do. Instead, they ask. Human-horse cooperation is the key to understanding this place.
"Having that great big strong beast working next to you as a team, and wanting to have a relationship in play is really special," explained Marissa.
The Urban Herd hasn't just found a new way to look at horse ownership. It's also onto something more fundamental. This place is finding that happy horses might be the secret to happy humans.
"They're not machines – they have their own feelings and thoughts, and if you let them express that…" Marissa explained as Mija gave her a gentle nudge with her nose, "Yeah, I love you too! They get to do that!"