Burlington, Wash. — In the farm fields near Mount Vernon, scientists are working to build better bread.
"Bread is science. It's physics, it's chemistry, it's biology - it's alive," said Dr. Stephen Jones, wheat breeder, home baker, and director of The Washington State University Bread Lab. Since 2011, this place has explored the science of tasty whole grain loaves. One of the lab's missions? Developing bread that's affordable, nutritious and delicious. Using grains grown west of the Cascades.
Bill Gates has toured the bread lab, Patagonia's food line, Patagonia Provisions, sponsors research at the lab. The Bread Lab even developed a healthier flour tortilla for Chipotle.
"They came to us a few years ago, and they wanted to do a few things. They wanted to take some of the ingredients out of their tortillas," said Jones.
"Part of coming to these classes is taking the intimidation out, and having the instructors and the assistants stand by and say, 'You know, you got this! It's gonna make beautiful bread!'" said baking instructor Juli Hammond.
The students in this Cooking with Whole Grains class will go home with whole wheat loaves, scones, gingerbread, and something more. Baking student Ann Templeton Monin explains:
"It sends me back to my childhood, actually. Sounds corny, but really, a lot of my memories, good memories, were back in Kentucky were watching my grandmother make buttermilk biscuits and pancakes and things like that. And I just keep going back to that. Being in the kitchen makes me happy."
There's more to the Bread Lab than science -- just like there's more to some bread than flour, water, and yeast.
"We work with many bakers that talk about the love in their bread. So there's some love involved, there's history and tradition, there's tremendous beauty," Jones said, "I like to say in the lab we have beauty; there's room for beauty, there's tremendous beauty in what we do.'
FRESH GINGER GINGERBREAD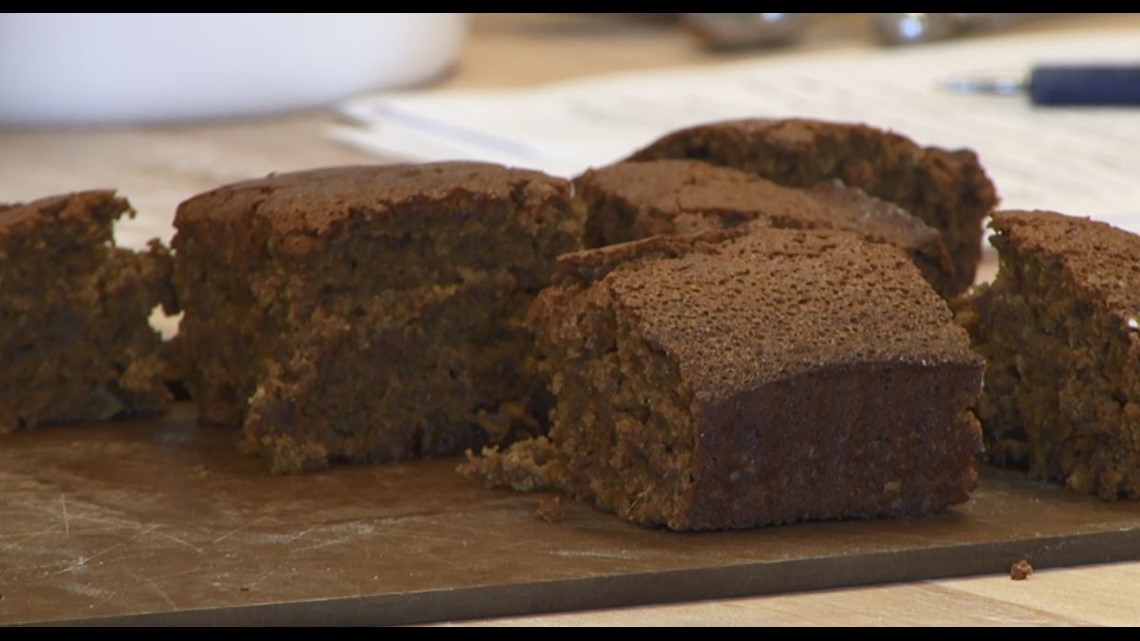 1 cup (7 1/2 ounces) brown sugar
1/4 cup (2 1/2 ounces) molasses
3/4 cup (6 ounces) water, boiling
1/4 cup (2 ounces) unsalted butter, softened 1 teaspoon baking soda
1/2 teaspoon salt
1 egg
3/4 cup (3 ounces) King Arthur Unbleached
All-Purpose Flour
1 cup (4 ounces) King Arthur Medium Rye Flour
1/2 teaspoon cinnamon
1/4 teaspoon ground cloves
2 tablespoons fresh grated ginger
1/4 cup (1 1/2 ounces) diced crystallized ginger, optional



In a large bowl, blend the brown sugar, molasses, water, and butter, stirring until the butter melts.
When the mixture is lukewarm, add the baking soda, salt, and egg.
Stir in the flour and spices to the wet ingredients. Then stir in the crystallized ginger, if using.
Pour the batter into a greased 8-inch pan, and bake the gingerbread in a preheated 350°F oven for 25 - 28 minutes, or until a toothpick inserted in the center.
(Recipe courtesy King Arthur Flour)
WHOLE WHEAT SANDWICH BREAD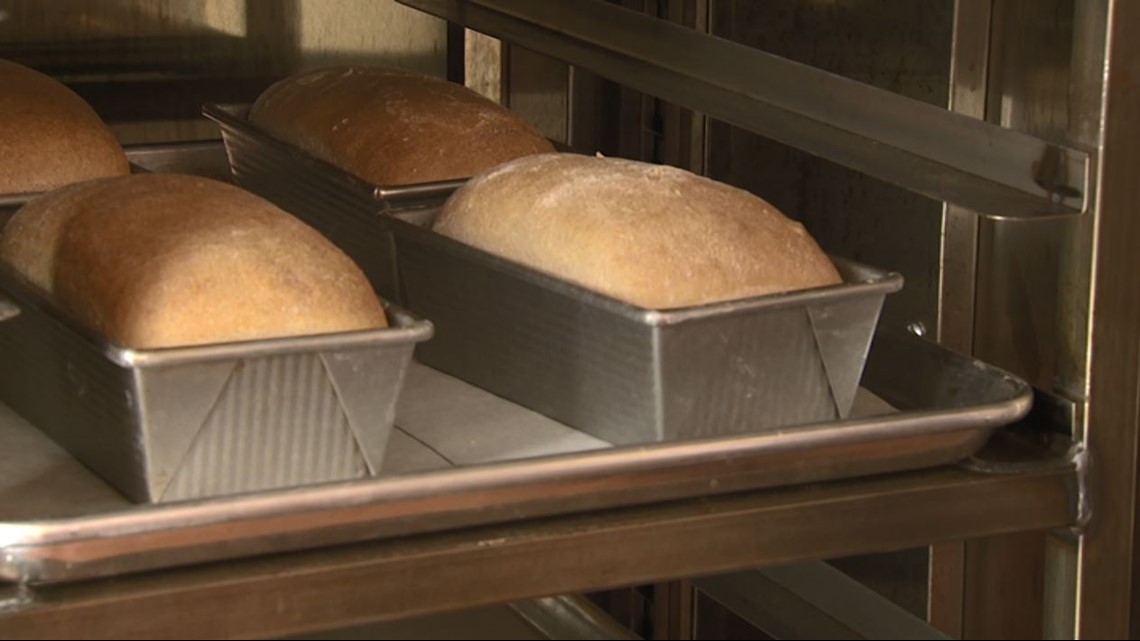 3 cups (12 ounces) King Arthur Whole Wheat Flour
1 1/2 teaspoons salt
1 1/2 teaspoons instant yeast
1 1/2 cups (12 ounces) warm water
2 tablespoons (1/2 ounce) dry milk powder
1 tablespoon honey
1 tablespoon unsalted butter, soft
1/2 cup (2 ounces) King Arthur Unbleached All-Purpose Flour
Place all of the dry ingredients except the all-purpose flour in a large bowl and stir to combine well.
Stir in the warm water, honey and butter and mix until a wet dough forms.
Cover the dough with plastic and set it aside to rest about 15 minutes.
After resting, stir in only enough of the all-purpose flour to create a soft shaggy dough.
Knead on a lightly floured surface until the dough becomes smooth and elastic.
Allow the dough to rise in a greased covered bowl for about one hour.
Turn the dough out onto a lightly floured surface. Shape into a tight log. Place the log into a greased 8 1/2 x 4 1/2-inch bread pan, cover, and allow to rise for about one hour until it has increased in volume and feels soft and airy.
Bake the loaf in a preheated 375˚F oven for about 35 minutes. When the loaf is done, the crust will be golden brown on the top and sides. The baked loaf will sound hollow when tapped, and the sides will feel firm right after removing from the oven.
Remove from baking pan and cool on a wire rack. The crust will soften some as it cools.
(Recipe Courtesy King Arthur Flour)