According to World Vision, six kilometers is the average distance those in the developing world travel to find water. And the trek, often made by women and children, is dangerous. Children miss school. And the water isn't always clean.
Sam Irungu grew up in Kenya. At age five he learned how to lug water, carrying a jug by a strap wrapped around his forehead. Now a grown man, he still has a dent under his hairline. He laughs about it now.
"Oh yeah if I clean shave, that's why I don't clean shave here," he says.
But he admits it was "excruciating" at times in the heat of Africa.
That's why World Vision holds a Global 6K, a walk/run for clean water. "Every step you take," World Vision says, "is one they (in the developing world) don't have to."
Many of the thousands of participants choose to run with that 5-gallon jerry-can, as it's called. But anyone can take part in the Seattle race Sat, May 19th at Gas Works Park.
Seattle will participate in the World Vision 6k to help bring clean water to those in need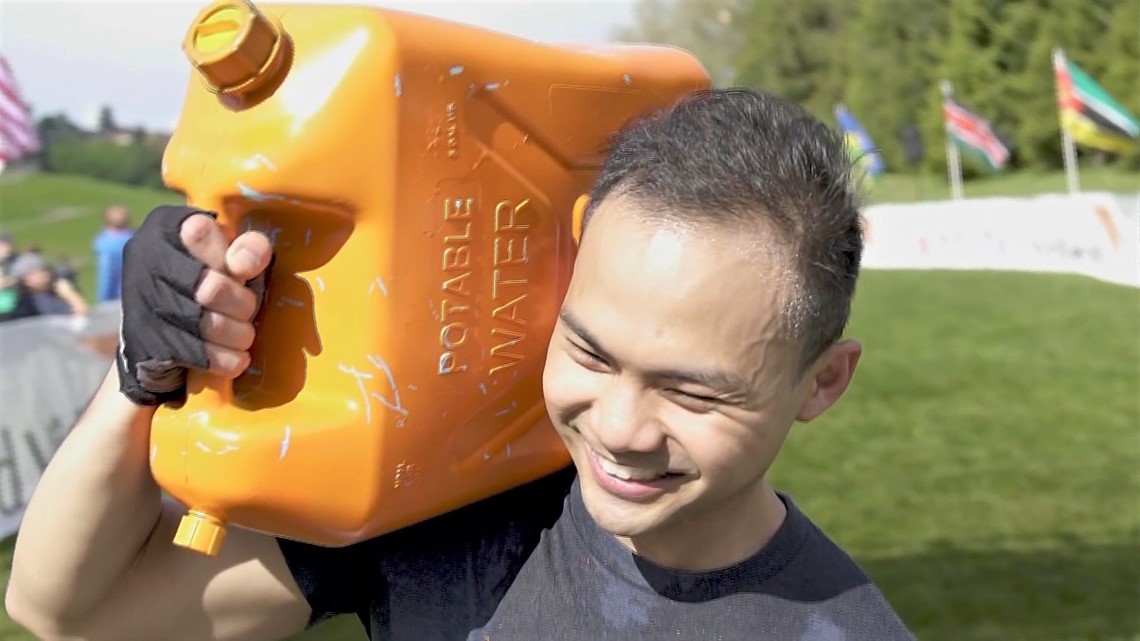 North Bend's Lyndsey Watson will run for the second year with her two kids. She says it's helped her family think of and be thankful for water every day.
"Once they do the race, they understand or at least begin to understand what families have to do in the developing world. Some of these communities have one access point. And that's if they have water in their community. So yes we take it for granted," she says.
Every $50 registration provides lasting clean water for one child. And participants each get a 6K t-shirt and a race bib featuring a photo of the child for whom you are running or walking. And what do you want, a medal? You get one of those too to commemorate the event.
Samuel says his childhood village is not the same, thanks to World Vision.
"The locals there told me, Sam you have no idea. This was a game-changer. Now there is electricity. They are able to focus on their studies. And children and families are engaging in more meaningful activities that will improve their livelihoods."
Sign up to race for clean water! WorldVision6K.org/Evening Story sponsored by World Vision.
Evening is your guide to Seattle and the Pacific Northwest. Watch it weeknights at 7:30 on KING-TV Ch. 5 or streaming live on KING5.com. Connect with Evening via Facebook, Twitter, Instagram or Email.