Fall has fallen and we LOVE IT. Lots of us believe fall is the best season in the Pacific Northwest, and we want to share 25 reasons why.
These are not listed in any specific order; we love them all equally, and recommend you make it a mission to experience them all. By no means does it cover EVERYTHING.
As always, if we missed something crucial you'd like to share, we love your feedback! Please send us an email or a message on our Facebook page. Let's fall into FALL!
25 things we love about fall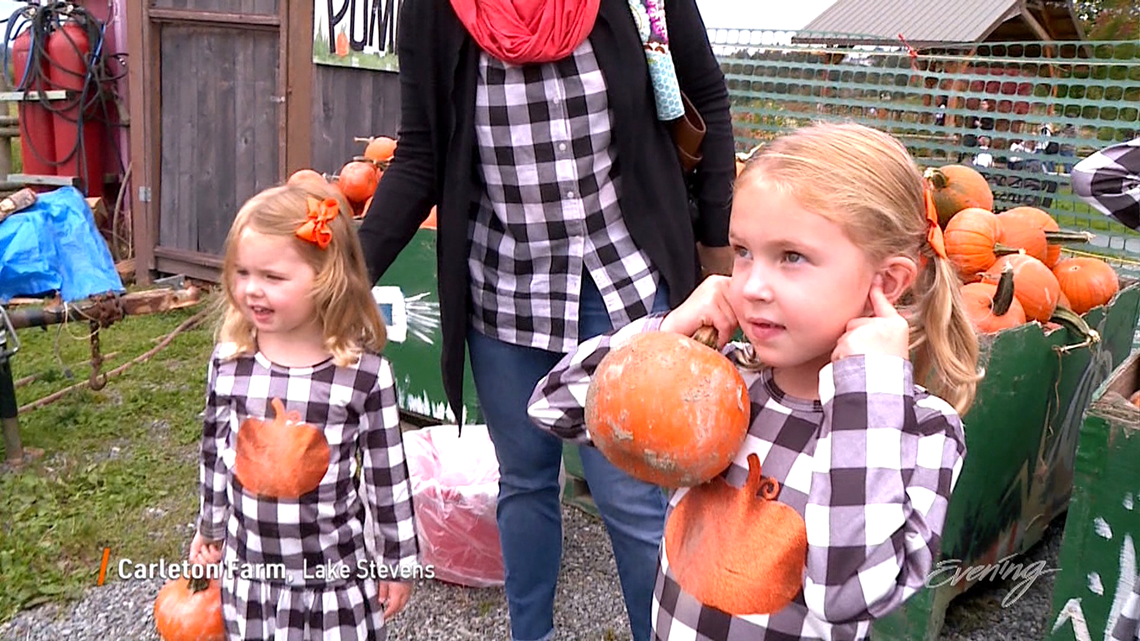 1. Get lost in Bob's 10-acre corn maze – The corn maze at Bob's Corn & Pumpkin Farm in Snohomish was just named one of the 25 best in America by Country Living. With tons of attractions for everyone to enjoy, including apple cannons and giant indoor slides, it's clear that this needs to be on your fall bucket list. Bob's Corn & Pumpkin Farm, 10917 Elliott Rd, Snohomish, WA 98296
2. Shoot the Carleton Farms pumpkin cannon – Start fall off with a bang at Carleton Farms in Lake Stevens, where you can literally fire a pumpkin out of a cannon across the pumpkin patch. There's just something so seasonal about picking out a pumpkin and hurling it as far as the eye can see. Weekends only! There's lots more activities on the farm. Check it out and plan your trip. Carleton Farms 630 Sunnyside Blvd SE, Lake Stevens, WA 98258
3. Get a pumpkin spice latte at Woods Coffee – While you can get your PSL fix at just about any coffee shop this time of year, Woods Coffee's Boulevard Park location right on Bellingham Bay gives you cushy leather chairs, a roaring fireplace and free WiFi to go with it. What more do you need for a lazy afternoon? Woods Coffee 470 Bayview Dr. Bellingham, WA 98225
4. Take a scenic hike at Tumwater Falls Park – What's the point of fall if you don't get out and enjoy the gorgeous scenery? Take a stroll at Tumwater Falls Park, where a half-mile scenic loop will take you along the Deschutes River. At the halfway point of the trail, you'll get to stand on the historic bridge depicted on cans of Olympia Beer for over a century, as well as witness thousands of salmon returning to the Falls. Tumwater Falls Park, 110 Deschutes Way SW, Tumwater, WA 98501
5. Go apple picking at BelleWood Acres – Apple picking is an ideal way to spend time in nature while stocking up on fresh produce. At BelleWood Acres in Lynden, which is just a few miles from the Canadian border, visitors have the option to hop onboard the "Apple Bin Express" or explore the 25,000 tree orchard on foot. Bellewood Acres, 6140 Guide Meridian Dr, Bellingham, WA 98264
6. Hand pick your perfect pumpkin at Hunter Farms – You can do a whole lot more than choose your jack-o'-lanterns at Hunter Farms in Union. A family tradition since 1889, the farm has plenty of attractions – farm animals, a general store, and even a pumpkin catapult contest. Hunter Farms, 1921 E State Route 106 Union,WA 98592
7. Go on a spine-tingling ghost tour – It's not October until it starts getting a little spooky. Twisted Tours in Port Townsend takes you on a historically accurate and thoroughly chilling tour of what they call "one of the most haunted cities in America." Twisted Tours, 718 Washington St. Suite E, Port Townsend, WA 98368
8. Visit a New England-esque town in the Pacific Northwest – If you haven't had the chance to experience a New England autumn, Port Gamble is the next best thing. The town was established in the mid-19th century and modeled off of the founders' hometown in Maine. Rumor also has it that this charming town is also one of the most haunted places in Washington, due to many accounts of paranormal activity at the town's Walker-Ames house.
9. Sip an autumn-inspired craft cocktail – Obviously, cocktails are a good idea any time of the year. However, West Seattle's The Nook has stepped up the cocktail game by adding a festive flair to their drinks, making it smell and taste like autumn. The Campfire Mule, garnished with roasted marshmallow and pine, is the ideal drink to cheers with this season. The Nook, 2206 California Ave. Southwest Seattle, WA 98116
10. Cruise Chuckanut Drive – Long ago, Chuckanut Drive was the only road from Burlington to Bellingham. Though times have changed, the breathtaking views from this detour have not. It's the only place where the Cascade Mountains meet the saltwater, and it looks especially magnificent when the leaves are changing.
11. "Sailgate" on the Sound – We all know fall is tailgate season. However, Husky football fans have put a unique spin on the old pre-game tradition and are taking their boats to the games instead. Even if you're not super into football, "sailgating" is still a great excuse to hit the water, meet new people, and celebrate the season.
12. Support the Seahawks and Sounders FC – There's nothing better than than being a 12 on Blue Friday in support of the Seahawks or bundling up for a march to the pitch before a home Sounder game. You just can't beat the feeling of community.
13. Get buzzed on a pumpkin martini – Pumpkin-flavored drinks are blowing up this year, and for good reason – they're delicious! The pumpkin martini at Arnie's in Edmonds – made with real pumpkin puree – is no exception. Recommended by viewer Aleen Yamaski. Thanks Aleen! Arnie's, 300 Admiral Way Edmonds, WA 98020
14. Oktoberfest in Leavenworth – When the leaves turn, the beer flows – or at least it does at Oktoberfest in Leavenworth. The festivities are in full swing the first three Fridays and Saturdays in October. If you can't make it to Munich, this local celebration is the next best thing. Oktoberfest, 1001 Front St., Leavenworth, Washington 98826
15. Learn to blow glass at Seattle Glassblowing Studio – This fun activity allows you to create something memorable and stay warm in the autumn chill while doing it. Seattle Glassblowing Studio, located downtown, is the ideal environment to work with an experienced instructor to create your very own glass ornament – or perhaps glass pumpkin. Seattle Glassblowing Studio, 2227 5th Ave, Seattle, WA 98121
16. Treat yourself to an island getaway – close to home – If you're wanting a place to retreat that is cozy, quiet and comfortable, while still being luxurious, look no further than the ideal fall getaway on Vashon Island. The Lodges on Vashon combine modern luxury with Scandinavian simplicity. Lodges on Vashon,17205 Vashon Hwy SW, Vashon, WA 98070
17. Soak in autumn's vivid colors at Kubota Garden – Located in the center of urban life, Kubota Garden has become known as one of Seattle's most Instagrammable locations. And for good reason – fall is when the garden puts on a special show of its most vibrant red, gold and orange foliage. On a crisp day, Kubota Garden is an ideal place to spend a few peaceful hours roaming the 20-acre property. Kubota Garden, 9817 55th Ave S, Seattle, WA 98118
18. Snap pictures and select gourds at Gordon Skagit Farms – Speaking of Instagram-worthy locations, Gordon Skagit Farms in Mount Vernon is a great backdrop for a family photo this fall. Chock-full of apples, pumpkins and unusual gourds, the farm offers something for everyone with a haunted barn, corn maze and an autumn market. Gordon Skagit Farms, 15598 McLean Rd,Mount Vernon WA 98273
19. Soak in the scenery on a steam train – Autumn's the perfect time to board the Washington Wine Express with some friends, sip some drinks and enjoy the scenic journey through the foothills of Mount Rainier. A catered lunch makes the experience all the more irresistible. If you're looking for an excursion the whole family can go on, The Mt. Rainier Railroad and Logging Museum Experience also has kid-friendly train rides such as "The Great Pumpkin Patch Express." Mt. Rainier Railroad and Logging Museum, 54124 Mountain Hwy E., Elbe, WA 98330
20. Bring the whole family to Stocker Farms – Another pumpkin patch!? Not exactly. Stocker Farms has the usual fun fall stuff – the corn maze, the pumpkin patch, and the campfire sites. But in this time of year, the farm transforms into "Stalker Farms" for those who are brave enough to go. Pogo's Funny Farm, Pot Shot Paintball, and of course the Slasher Family Reunion are just a few of the creepy events you'll want to get in on. Recommended by viewer Larry Kautzman. Stocker Farms, 8705 Marsh Rd, Snohomish, WA 98296
21. Curl up with a good book by the fire – Fall is the perfect time to catch up on all the reading you never got around to when the weather was nice. What better place to do this than the cozy Fireside Room at Hotel Sorrento? People line up the first Wednesday of each month for the Silent Reading Parties. It's the happiest hour in town for book lovers. Hotel Sorrento, 900 Madison St, Seattle, WA 98104
22. Slurp some savory ramen – Clearly, ramen is delicious and can – and should – be enjoyed at any time of the year. However, the colder months give us even more reason to hunker down with a steaming bowl of noodly goodness. Yoroshiku offers a modern take on the traditional Japanese favorite. Yoroshiku, 1911 N 45th St, Seattle, WA 98103
23. Indulge in a gigantic cinnamon roll – To celebrate the season of no longer having to worry about a summer body, treat yourself to one of the most delicious types of fall treats around. Maltby's Cafe in Snohomish is known far and wide for their super-sized cinnamon rolls, and Lil' John Restaurant in Bellevue offers cinnamon rolls so popular, they advise customers to get them "while they last." Maltby's Cafe, 8809 Maltby Rd, Snohomish, WA 98296. Lil' John Restaurant 3080 148th Ave SE, Bellevue, WA 98007
24. Stock up on seasonal fruits and veggies – One of the highlights of fall is enjoying the delicious gifts from nature that are in season. The Carpinito Brothers Market in Kent has something for everyone, including an area for children, fun things to buy and do, and of course locally grown produce. Recommended by viewer Kari Binner. Carpinito Brothers Market, 1148 Central Ave N, Kent, WA 98032
25. Blend a crisp autumn bike ride with a cold beer – The 25th favorite on our list brings us to Olympia, where you can get acquainted with our state's capitol while stopping at three of the area's most loved haunts. The tours are led by South Sound Adventures' Robin Knutson, an Olympia native, and are an excellent way to enjoy nature, see the sites and crack a cold one. If you're more of a morning person, bike and coffee tours are also available. Book online with South Sound Adventures.
King 5's Evening celebrates the Northwest. Contact us: Facebook, Twitter, Instagram, Email.