SNOHOMISH, Wash. — The Maltby Cafe was voted BEST BRUNCH in 2019's Best of Western Washington's viewers choice poll.
They were told the location was too remote to be successful. But that didn't stop Sandra Albright and Tana Baumler from making a life-changing decision.
"I was here one day with a friend and there was a for sale sign. I mentioned it to Tana and Tana said, 'let's buy a restaurant.'"
3 decades later, people come from far and wide to eat at the iconic, Maltby Cafe.
"If we could get things people couldn't get other places, they get taste like they couldn't get anywhere else, they would drive out here," says Baumler.
They do serve lunch here, but it's the, most important meal of the day, that keeps them coming back.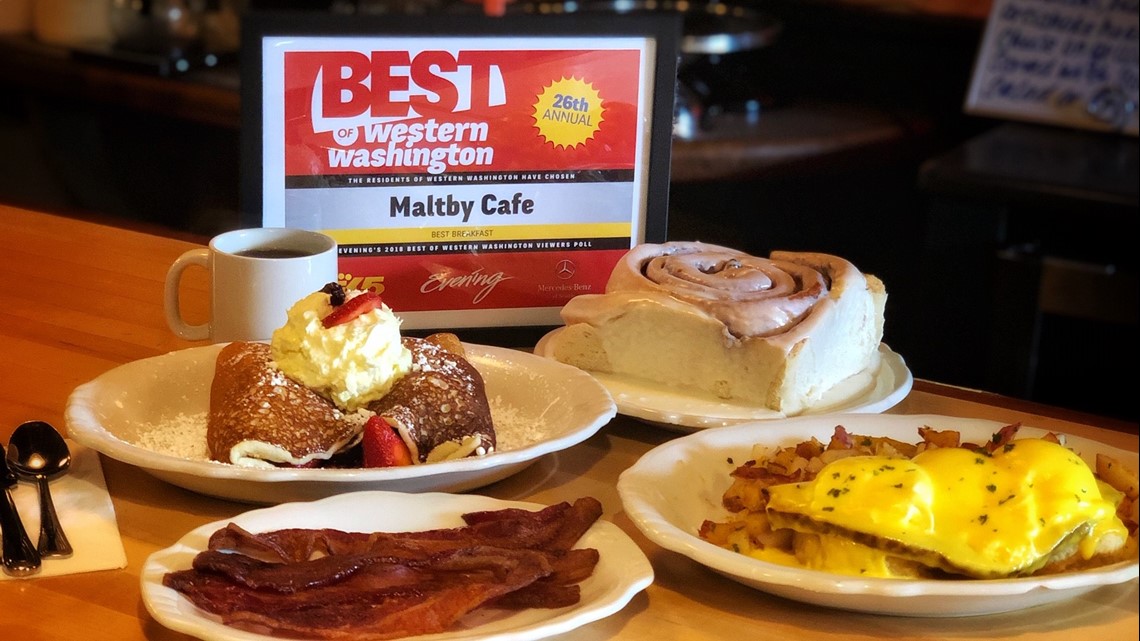 "Breakfast is the highlight of the Maltby Cafe. They eat it all day long because we serve it all day long."
"We have the Swedish-style pancakes with fresh fruit on them. Thickness wise, they're in between a buttermilk and a Swedish pancake, and they are just delicious," said Baumler. "We do an Eggs Benedict with three poached eggs. We put it over our homemade biscuits. we make homemade hollandaise."
And then, of course, there are those famous cinnamon rolls.
"They're as big as a dinner plate. Anywhere from a pound to a pound and a half. We make a frosting that goes on with a little bit of an almond paste which is different from everyone else," said Albright.
When they make the rolls, they don't measure in tablespoons. They do things in pounds and feet.
"We don't use quick yeast, it's the old fashion way of raising. It's a slow process. But everything we do here is from scratch," says Baumler.
Couple the cooking with great service from their friendly staff, and you can see why Maltby Cafe has won more Best of Western Washington awards, than any other winner. We just hope they saved room for one more.