BREMERTON, Wash — Dan Pieze is driving like a man on a mission.
High-flying dirt hits us in torrents. And somehow, I've got the best seat in all of Thunderbird Arena, which is why I'm holding on for dear life as we slide sideways around the turns.
"This is just the most redneck thing you can do," Pieze said. "This is a family event, coming out here and smashing cars."
"Dan is the big boy in the club," Port Townsend's David Heroux said. "He's got the big engine in the club. Even though that car feels like it's sliding around, he is in full control of it."
Pieze has been driving for more than 30 years. Nobody can take a curve tighter.
"Well the best strategy," he said, "is don't get hit. But sometimes you gotta be a little bit more aggressive and sometimes there's a lot of luck involved."
Of course, luck comes in two flavors: good and bad.
Among the drivers Pieze is facing this season is Dylan Ensor, a fourth-generation racer.
"Sometimes you're not expecting it and you'll get a big hit and that'll shake you pretty good," he said.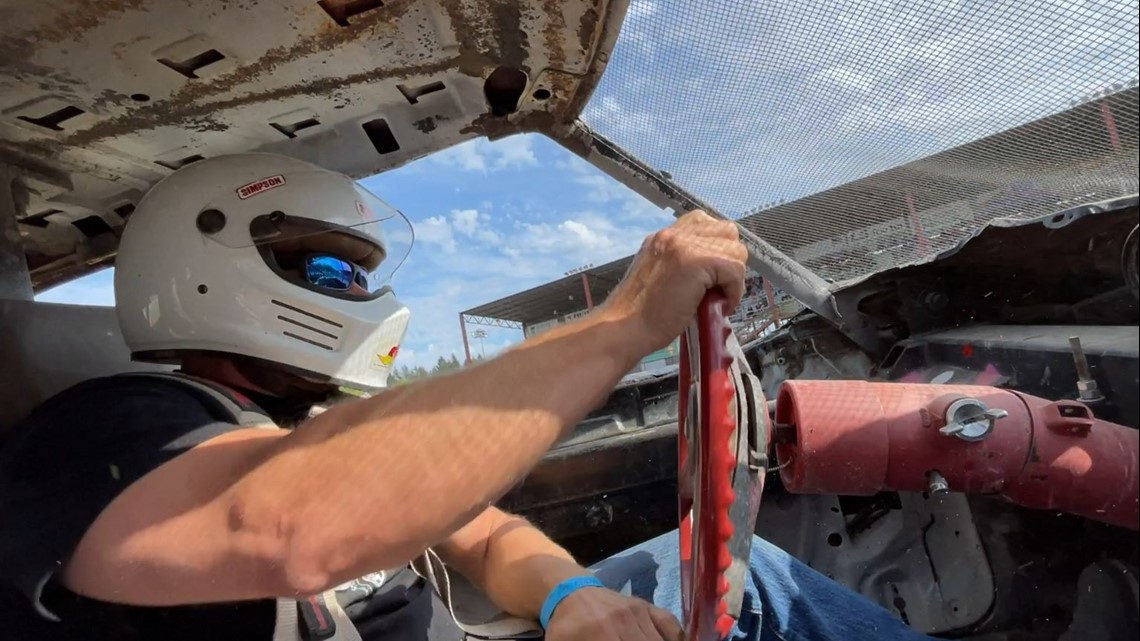 Strapped in. Helmet fastened. I first join Pieze for a solo heat race. We're just going twice around in an oval, but it takes an enormous amount of work for Pieze to make all those left turns. We get around the track in 13.81 seconds, the fastest time of the day.
My heart is still racing long after Pieze has parked the car back in pit row.
The driver with the fastest time always starts at the back. If he passes everyone, it's called a hat trick. Pieze has his strategy figured out.
"We're going to wait for everybody else to get all bottled up in the front and then we go around 'em," he said.
It's a plan that worked to perfection, as I witnessed breathlessly riding shotgun.
But remember luck can change.
Forty minutes later, Pieze lost a back tire making one of his sliding left-hand turns and Ensor plowed into him.
"So when I got spun out, that tire dug in and the other car's pushing on me just pushed it right over," Pieze said.
Pieze and his 18-year-old nephew were both OK. Pieze's Cadillac, on the other hand, was done for the day.
"Your car's pretty low so I didn't expect it to go over like that," Ensor said, apologizing to Pieze. "I feel bad about your car. Like I know you're OK and everything but your car..."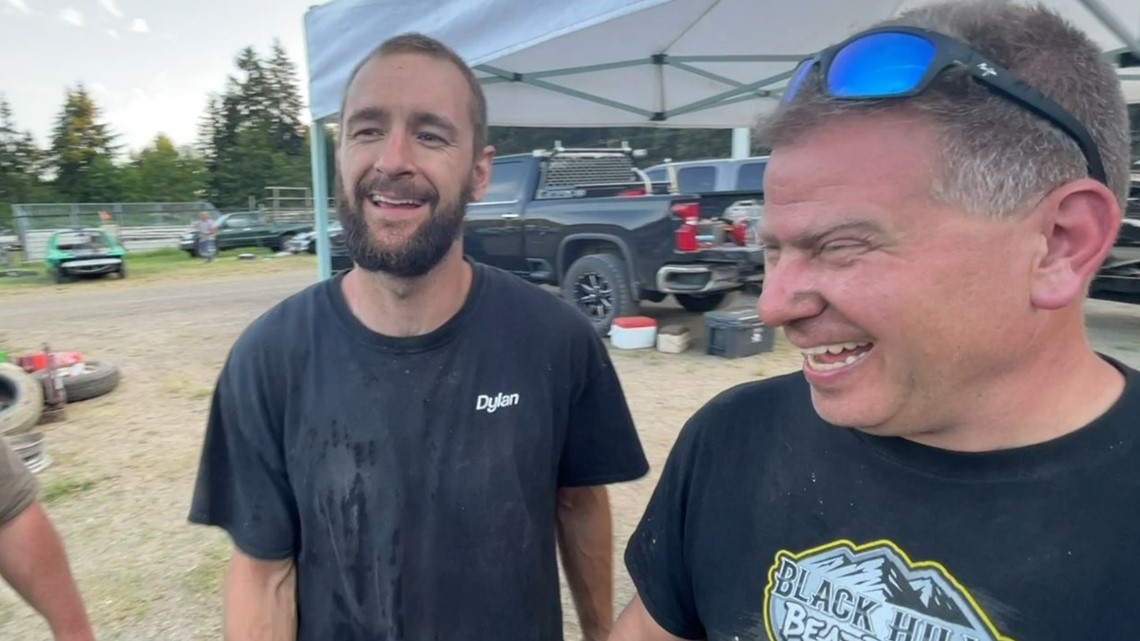 It may not look like much more than scrap metal now but you can bet Pieze's Cadillac will return for the next race, kicking up dirt on its way back to the front of the pack.
The next Kitsap Destruction Derby is Saturday, June 3 at Thunderbird Arena. There are more events on June 24, July 29 and September 23.