KITSAP COUNTY, Wash. — For nearly 15 years, Zac Steimle has been making high-end ukuleles out of reclaimed wood in his Kitsap County shop.
Each instrument can take months to make and will sell for thousands of dollars. All because Steimle takes his time.
"You don't learn about a piece of wood by pushing it through a machine," says Steimle who has a curious ability. He can "hear" wood.
"I don't like fighting with the wood," he says. "If I'm taking a piece of wood, I want to allow it to lead me into how it's going to sound. And so I kind of allow the wood to talk to me."
As a teenager surfing Washington's wildest waves and collecting skateboards, Steimle did not see this coming.
"You know as a teenager I don't think I really thought much about the future at all," he laughs.
Life took an unexpected musical turn when Steimle and his wife Melody were working with a community health project in Ecuador. Steimle walked into a music shop and met Jesus Ortega, one of South America's finest instrument builders.
"He's a very good teacher," says Steimle. "His primary concern is sound and playability."
For two years he apprenticed with Ortega, learning the craft and training his ear. Ortega had never made a ukulele before but working together, they built 200.
"We had no power tools," he says. "We did everything by hand."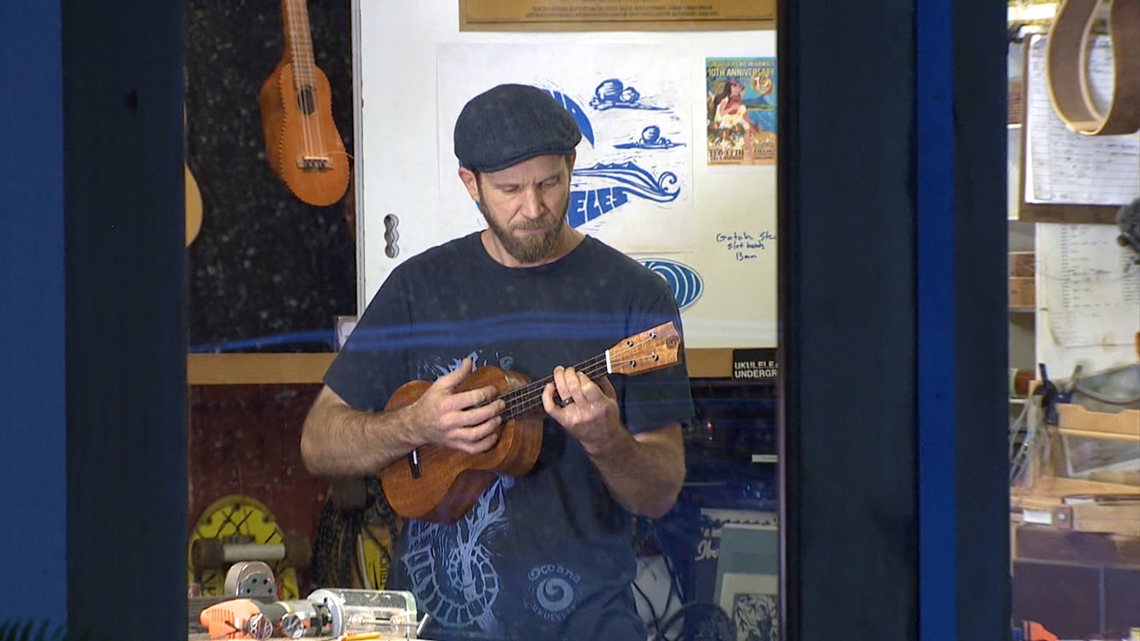 In 2008 Steimle brought what he learned back to the United States, and started Oceana Ukuleles. The timing couldn't have been better.
Since 2009, ukulele sales have quadrupled to nearly 2-million a year.
"I really love how the ukulele has put music back into the hands of the people," Steimle says. "The other thing I'm noticing is more and more women and girls are picking up the ukulele.
It really is the happiest of instruments.
"There's nothing like sitting down and playing with some friends," he says. "There's nothing like it."
In his own way, Steimle is spreading joy around the world and it's all because he stepped inside the right shop in a city 4000 miles away.
"Making instruments! Wow! What a trade!" he says.