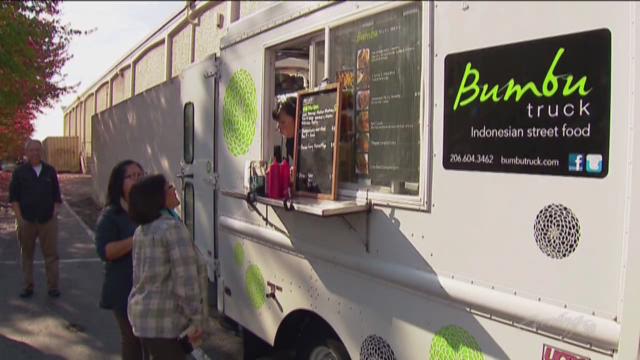 SEATTLE - The local owner of an Indonesian street food truck will make her debut on national television next week.
Hilda Hilman, owner of Bumbu Truck, will compete on the Food Network's hit cooking competition Chopped.
"It just shocked me to see all of those lights and all of those cameras following you around, and I doubted I could even cook in that condition," she laughed. "I was shivering!"
She became a contestant after producers called her out of the blue. Her episode, featuring other food truck chefs, airs October 27 at 7 pm.
Meantime, Hilman continues to work with her husband, sister and daughter inside the small kitchen of Bumbu.
The name means "seasoning" in Indonesian, and the menu includes traditional dishes like chicken satay, lumpia, fried noodles and double-steamed rice.
"We serve food that you can find easily street side in major cities in Indonesia," she said. "We really have the passion to bring Indonesian food here, because it's so rich and we have so many varieties."
Ultimately, Hilman and her family would like to open a brick and mortar location.
"That's of course our dream," she said. "But right now we're happy, we're doing this so we are mobile. The more people know about Indonesian food, the better."
Click here for a schedule of where Bumbu Truck will park each week.