SEATTLE — "I know there are certain things that I'll never be able to do," comedian Dan Hurwitz tells an audience, gesturing with a hand that is missing most of its digits. "Like use chopsticks."
"You are encouraged to laugh in fact," Hurwitz said. "Highly encouraged to laugh."
Hurwitz and longtime friend Kayla Brown, who has muscular dystrophy and scoots around in an electric wheelchair with pink wheels, have spent their entire lives using humor to put people at ease.
"I truly believe comedy is just a way to get to know people," Brown said.
Onstage she tells the story of a woman trying to be helpful by opening a door for her that leads to a staircase.
"And I thought, 'Is this a threat?'"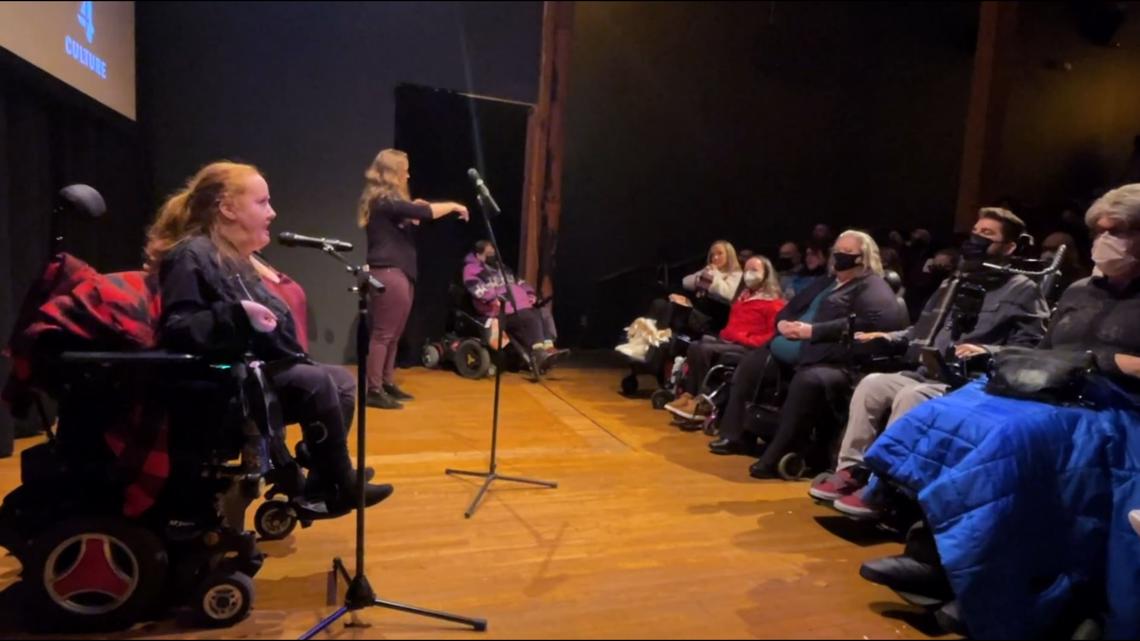 "It's kind of refreshing to have people laugh at my misery instead of, like, feeling sorry for me about my misery," Brown said. "Because honestly, I find it funny too when bad things happen."
"Anybody else in this room get tired of being told they're inspirational because they have a disability?" asked the comedian who goes by the name Gretta Gimp.
"I sit on my butt 18 hours a day and I'm supposed to be able to inspire able bodied people to get off of their butt?"
Hurwitz and Brown founded the Disabled List collective in 2018 to get more comedians with disabilities sharing their funny stories onstage.
"There is a demand for comedians of all identities," Brown said. "People want to see comedians with disabilities".
"Nobody likes to be lectured at or being scolded," Hurwitz added. "So I think that comedy is an effective way to connect with people and to share our common humanity."
The first Disabled List Comedy Fest sold out the Northwest Film Forum two nights in a row. A grant from Seattle's 4 Culture program helped make it happen.
"There are costs" Brown said. "Accessibility does come at a cost. We just want to show people that it can be done.
"But the cost of NOT being accessible is far higher," Hurwitz added.
Every laugh is a connection, a realization that like passengers on a plane, we're all just trying to make our way through life as best we can. It's just that some passengers have funnier stories to tell.
"'Sir, a young child with only one arm just got on board the airplane,'" Hurwitz recounts a flight attendant telling him. "'Maybe you would like to say something to him?'"
The Disabled List Comedy Collective will put on another show April 14 at the Northwest Film Forum.