TACOMA, Wash. — "The love of animals is universal," Kristi Martin said. "And animals bring something to your life that is super special."
At Catffeinated visitors can get a dose of caffeine and a serving of kittens all in one place.
"Every day is Caturday here at Catffeinated," said Martin who, along with business partner Melanie Weaver, brought Tacoma's first cat café to Sixth Avenue in December 2019.
As you may have guessed, they both like puns. We saw Meow-cahs and Cat-puccionos served up to thirsty customers.
"If we can find the perfect cat pun we're probably going to use it," Martin admitted.
When the owners saw how well cat cafes were doing in Seattle they thought Tacoma would be open to the same kind of thing. In a room filled with cat toys, people can interact with adoptable cats and kittens provided by the Auburn Valley Humane Society. Each one has been neutered or spayed, micro-chipped, vaccinated, and treated for worms and fleas. The cafe has helped nearly 300 cats find homes.
"We've been getting new cats in every week and by the end of the week they've been all getting adopted," Martin said.
Love connections are made here every single day. Julianne Jennings was filling out paperwork to adopt Earl Grey, a big cat with blue eyes. She's not sure if she'll change his name.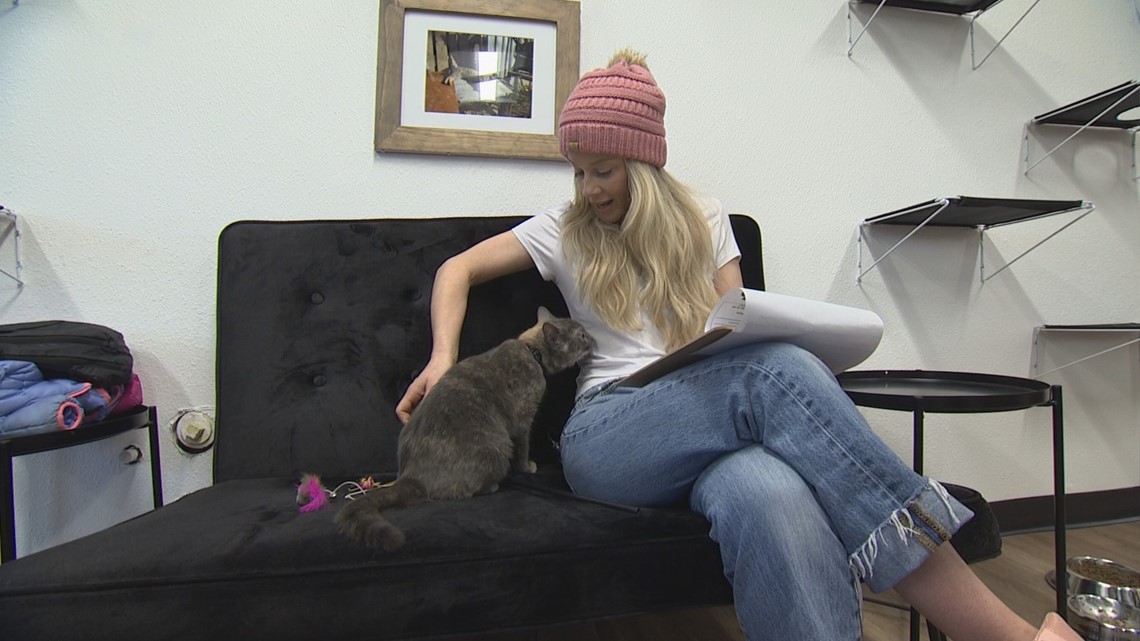 "Most likely, I'll just call him handsome," she said.
"I'm excited for those new families," Martin said. "I'm excited that people are looking at shelter cats and interacting with them in such a positive way."
At Catffeinated you can do more than just drop by for a cup of coffee and find a new family member. You can also participate in Kitty Yoga on Sunday mornings in the Cat Lounge, and children can build their reading confidence by reading to the cats during Kitty Book Blub.
Catffeinated is located at 2515 Sixth Ave. in Tacoma and is open every day of the week except Monday and Tuesday. Reservations are required and can be made online. A one-hour session costs $15.