SEATTLE — Years before music videos showed off her magnetic voice and personality and she sold out cross-country tours, Sierra Ferrell made her living busking in places like Pike Place Market.
" I always think about the noises of the market and the smells of the market," she said. "Good and bad."
A few hours before playing to a sold-out crowd at the Neptune Theatre, Ferrell wanted to visit her old stomping grounds where, six years earlier, she played her first "gig" in Seattle.
"When I first got to town and I had my backpack and my dog and I wasn't sure what to do or where I was going, I just kind of posted up over here on this musical note, set down my backpack and played," she said. "Made about $300 that day."
Walking through the market she spied Jonny Hahn and his piano, and memories flooded in.
"Being on the streets busking is very humbling," she said. "The people that see you, they're not expecting to see you so, therefore, you're not always going to have someone's attention."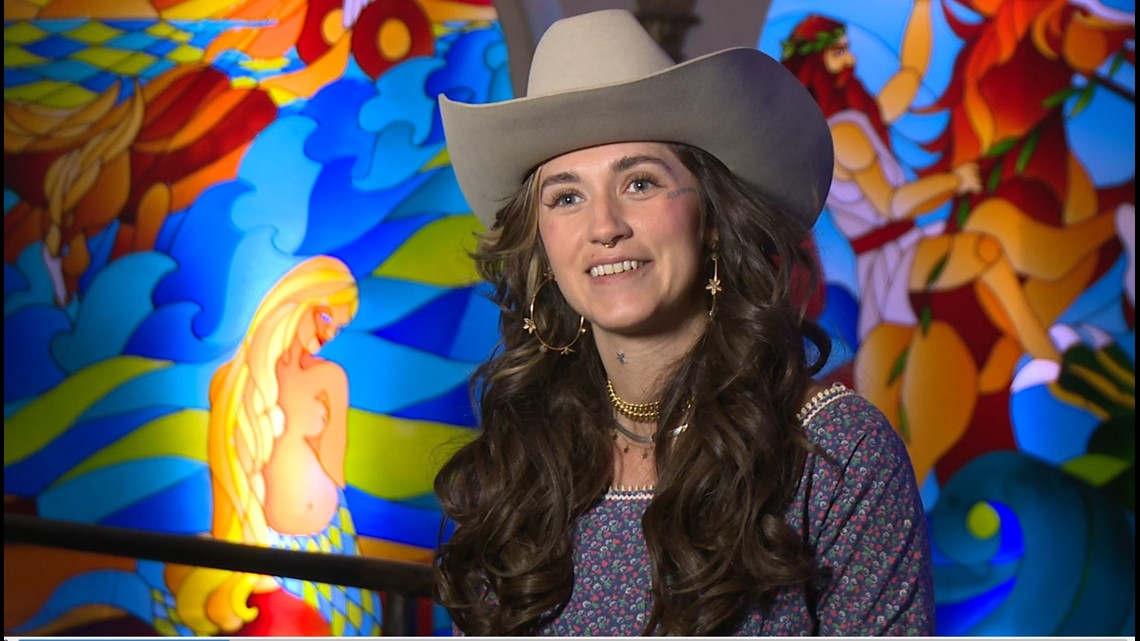 These days Ferrell is very much the center of attention. With vintage looks that have made her a fashion icon, Ferrell performs songs that run the gamut from country to Appalachian folk to swing and beyond.
"I feel like just as human beings we gravitate towards things that speak to us and I feel like that's where I get a lot of my music interest," she said. "I also feel like our DNA has memory. I'm not a scientist. I don't know this stuff, but I just feel like as human beings, we have a lot of data inside of us from generations. I feel like music that comes through me is not just from me. It's from maybe my ancestors."
Ferrell has learned she has ancestry from Spain, the Balkans and Persia. Though she has traveled all over the country, famously riding boxcars in her early days, Ferrell now lives in Nashville. Her latest album, Long Time Coming, was released by Rounder Records in 2021.
She's already played the Grand Ole Opry. But don't expect Ferrell to go all out country. She always wants to surprise her audience and make them feel welcome, the way Seattle made her feel so many years ago.
"I want people to just love themselves," she said. "In a world full of hate the most rebellious thing you can do is love yourself and love other people. And I want people to feel emotional. I want people to cry. It's OK to cry. And I just want people to be free."