Bird watching is increasing in Washington. Here's why
Whether you're new to the hobby, or a longtime enthusiast, we have the most important things to know about birding in the state

Washingtonians picked up multitudes of new hobbies during the pandemic.
Some went through an intense puzzle phase, and others learned an instrument or picked up painting. But hundreds turned to birding.
We break down why birding became so popular and share ways that you can try it yourself in Washington.
Bird watching increases in PNW
:
According to the U.S. Fish and Wildlife Service, around 45 million Americans are birders, many of whom got started during the COVID-19 lockdown.
Joshua Morris, from Birds Connect Seattle, said birding became so popular during COVID-19 due to the isolation and increased time in nature.
"I think that the pandemic forced us into a moment of social isolation and quiet," said Morris. "During that time we heard bird songs louder and I think that got more people interested in the birds that were making those songs."
During the COVID-19 pandemic, a study funded by the Natural Sciences and Engineering Research Council of Canada, found 80% of the 82 bird species in the study were impacted by the decrease in human activities and were 14 times more likely to be seen. Birds were more active in urban areas, especially along usually busy roads and airports. The beginning of the lockdown coordinated with the start of migration season for birds, further increasing the apparent influx of birds during 2020.
Even though the pandemic is over, there are still a slew of reasons to get into birding.
Read more about the growth of birding here.

Benefits of bird watching
:
Birding can positively affect people's physical, mental, and emotional well-being. According to the Princeton University Press, bird watching can help decrease anxiety, fight isolation and loneliness, act as a form of mindfulness, and a way to enhance focus.
The immediate effects from birding can last up to eight hours, according to Nature.
Birds to see at Woodland Park Zoo
:
One man at Woodland Park Zoo knows firsthand how spending time around birds can impact people's overall wellbeing.
John Samaras, a lead animal keeper at the Woodland Park Zoo, is responsible for taking care of the Humboldt penguins.
Samaras feeds the penguins, ensuring they get enough proteins, vitamins and nurturance. He also watches over incubating eggs and their habitat.
"The first time I met a penguin and started taking care of them, it was just instant love," said Samaras. "Each one is just unique in just its little penguinality."

Penguins aren't the only birds visitors will find at the zoo. Woodland Park Zoo has over 50 species of birds that can be seen throughout the zoo, including the African savanna, tropical rain forest, and raptor center.
The zoo also uses birds as part of its educational programming. Visitors can meet the birds during programs at the zoo's theater. Twelve different birds are currently used in the programs, including a turkey vulture, a red-tailed hawk, and a spectacled owl.
Although penguins are not native to Washington, there are a plethora of birds local to the state.
Read more about Samaras and his penguins here.
Birds of Washington
:
Over 500 species of birds are found in Washington. Some common birds to see around western Washington are Anna's hummingbirds, Northern Flicker, Steller's Jay, American Robin, and Black-capped chickadees.
One of the most recognizable – and beloved – birds in the region is the bald eagle. Bald eagles are easy to spot, with their large bodies, yellow beaks, and distinctive white heads. While bald eagles can be seen throughout most of the state, they are most common in the Cascades and near bodies of water.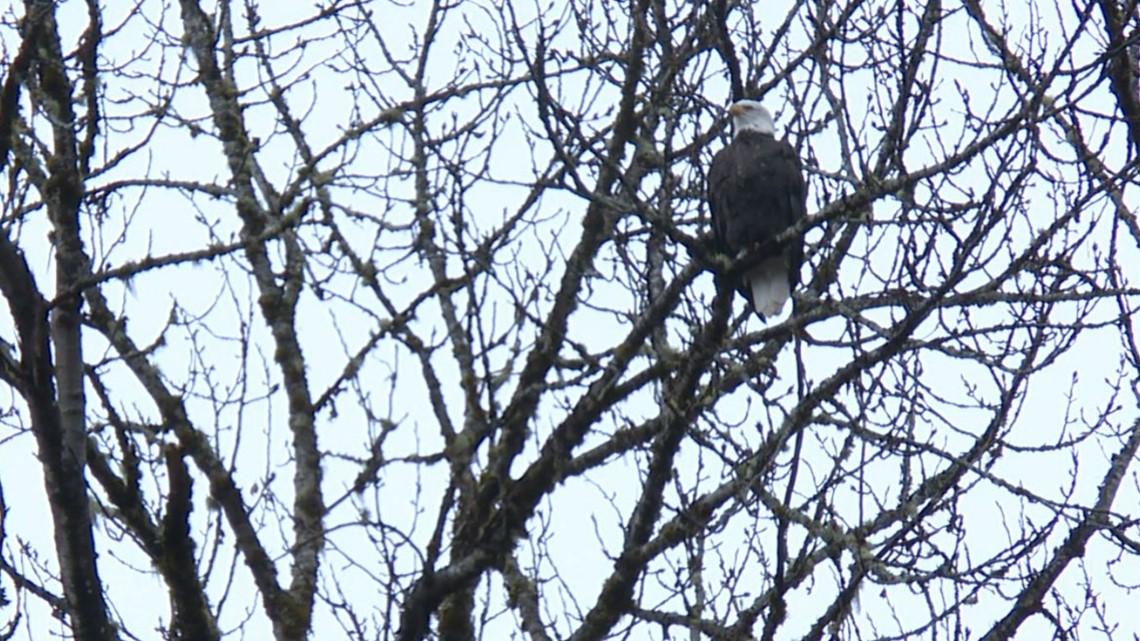 The Skagit River Bald Eagle Interpretive Center offers a guided hike to help birders spot the eagles. One of the guides, Joe Ordonez, has been helping hikers spot the birds for over 35 years.
"For me, the eagle is a charismatic bird," Ordonez said. "Everybody wants to see it. And then it can be the lead-in to the story of nature and how things sort of fit together."
Read more about the Skagit River Bald Eagle Interpretive Center here.
Annual migrations in Washington
:
While some birds stay in Washington year-round, other species migrate to or through the state every year.
Shorebirds migrate from Argentina to Alaska each spring, making a stop in Hoquiam to rest and feed.
"They are one of the wonders of nature," said Wildlife Biologist Marian Bailey. "[They] can migrate such huge, huge distances from Central America, South America, all the way to Alaska to breed."
North America is home to over 50 types of shorebirds, although the Grays Harbor National Wildlife Refuge said the birds who migrate through Hoquiam are mostly Dunlin and Western Sandpipers.
"They have a heck of a journey ahead of them, and they have a lot of perils," said Bailey. "There's a lot of threats and habitat loss all along the coast. Thankfully, this area is available to them to stop over and eat."
Other birds that migrate to Washington in the spring include Western tanagers, black-headed grosbeaks, Wilson's warblers, the Western grebe, and waterfowls.
Read more about the shorebirds' migration to Hoquiam here.

Breaking the birdwatching record
:
With so many species of birds in the state, it can be a large task trying to see them all. In 2021, recent college graduate Will Brooks broke the state record for most bird species seen in a year.
After a job fell through, Brooks set out for a "big year" in birding. The record for the most bird species seen in a year was 370. Brooks saw 376.
"It's sort of like collecting," Brooks said. "You're trying to see as many species as you can."

Peter Wimberger, a biology professor at Brooks' alma mater, the University of Puget Sound, said that Brooks had the sharp eyes and good ears necessary to distinguish between hundreds of species.
Brooks described his big year as a rush.
"I think a lot of people think of birding as a meditation or a way to let your mind wander, but I am often really completely zeroed in on birds so it can be intense," Brooks said.
On some occasions, Brooks drove four or five hours across the state to see a specific species.
"If you decide that you're going to go for a record like that it ends up becoming a job," Wimberger said. "And it takes some serious commitment to do that."
The previous record was set in 2012, by Sherry and Arden Hagen. The couple traveled a total of 31,531 miles during their big year of birding.
Read more about Brooks' record-breaking year here.
Bringing people together
:
Brooks is not the only bird enthusiast in Washington. A couple in Lewis County is a modern-day love story with large birds thrown in.
After meeting on a dating app, Tony Citrhyn and Janean Parker decided to move to Chehalis together in 2009. Once they moved in together, the couple started raising emus.
"I blame him," said Parker. "I tell everybody I didn't know what an emu was when I met him."
Citrhyn and Parker raise the flightless birds from eggs and sell skincare goods made from emu fat.
"It was not something we expected," said Citrhyn. "But it happened and we love it and it's been marvelous."
Read more about Citrhyn and Parker's love story and emu ranch here.