BELLINGHAM, Wash. — Disclaimer: This is an encore presentation of this program.
Update: In response to COVID-19, Camber has decided to temporarily close its cafe.
Got a day to spend in Bellingham?
We've got you covered, morning tonight!
"Yeah, Food and Wine gave us that recognition a couple of years back which was really humbling," said Camber co-founder David Yake.
They've been roasting beans since 2015 and offer 5 or more different varieties every day.
"We take pride in being able to guide every guest towards the right kind of coffee, it really just depends on your taste," said Yake.
Purists love the pour-overs, and if your taste tends towards adventurous, try a 'Rushmore', a seasonal espresso drink with lemon rosemary-infused syrup, served in a stemmed glass.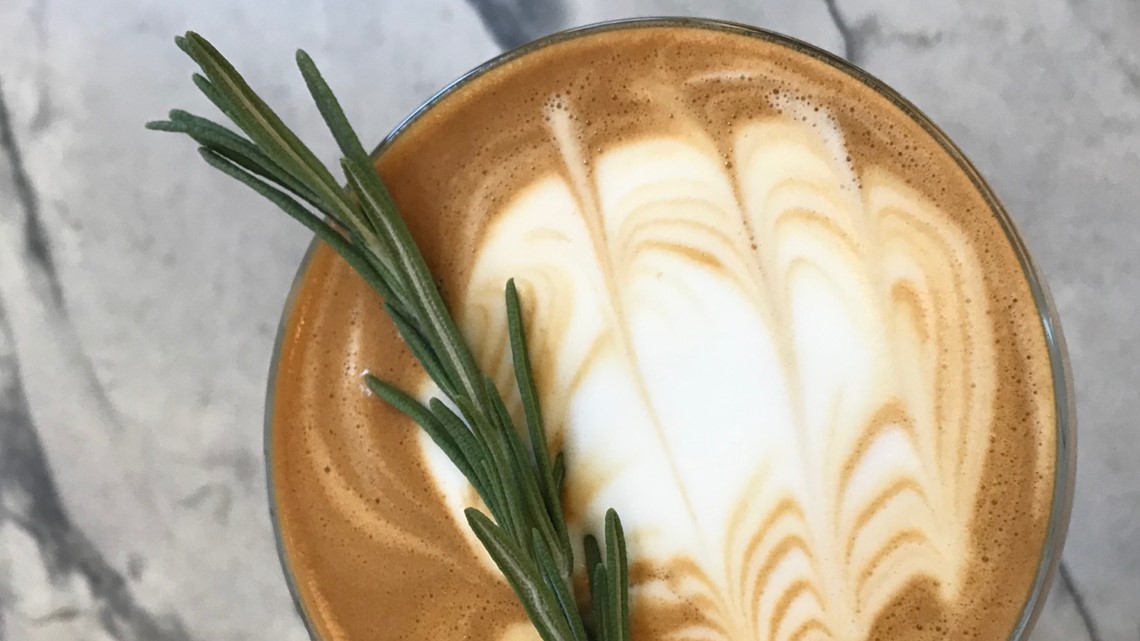 Camber's most popular breakfast is their rosti – Swiss-style fried potatoes piled with tasty stuff, ours had arugula, avocado, a fried egg, and house-made pickled pepper sauce. The German pancake with fresh berries is another must-try if you like sweet instead of savory to start your day.
And there's another reason (besides caffeine) Camber's the best place to kick off a Bellingham tasting tour: "We're just so excited about what's happening in downtown Bellingham. If someone comes in from out of town, one thing that we love doing is talking about Bellingham and sending folks off to have a great day up here," said Yake.
Right down Holly Street from camber is Saltadena: a cake shop run by a woman so devoted to her craft, she has a stick of butter tattooed on her arm.
"I take a lot of care to make sure things are not too sweet, and we also go the extra mile to make it look really pretty," said Nancy Stuart, who makes towering cakes with flavors like 'Sweet Corn and Salted Honey' and 'Salt and Pepper'.
"And it ends up being not as weird as you think when you first hear about it, it's just a little after taste of pepper," said Stuart, regarding the buttercream dotted with pepper that she's spreading on a chocolate cake.
And Saltadena has a solution to the tragedy of cake waste: Stuart slices off the domed tops of her cakes prior to frosting, as all bakers do. But instead of throwing the crispy goodness away, as is often done, she cuts it into chunks, packs the pieces into a container along with scoops of frosting, and sells the concoction for 5 dollars a pop. They're called 'Scrappies', and they are the best leftovers you will ever eat. "You can have these on the go, they're a cheaper price point, and we're also eliminating food waste, so it's a win/win," said Stuart.
Just a couple of blocks away from Saltadena is a new Bellingham dinner hot-spot, Bantam 46. Their sign says 'Chicken. Drinks.' They do both well, and the cozy interior with an upstairs bar feels like you're in your cool rich uncle's library.
"If you're doing something simple you should try to aim for perfection," said owner Ben Scholtz, who should know, he's the person behind Mallard Ice Cream, right next door to Bantam 46. Mallard is a Bellingham institution that's been making ice cream for years in small batches, by hand, mostly in single flavors that are intense, pure, and sometimes unusual. Their jalapeno ice cream is green and has flecks of peppers in it and it's hot, cold, and delicious.
Scholtz wanted to do for chicken what he's done for ice cream. Bantam 46's fried chicken is fantastic, and the sharable servings are not chicken little.
"I think it should be perfectly cooked. Tender and juicy. Where the breading is crisp and the seasoning is perfect," said Scholtz. Their rotisserie chicken (which spins over a flame and is visible from the dining area) is also sublime and Scholtz said he and his staff cooked many chickens to perfect the recipe.
Also, the team at Bantam 46 is paid a living wage, so the restaurant is tip-free.
Restaurants like these are solidifying Bellingham's reputation as a destination for lovers of great food and creative local flavor.
Disclaimer: This is an encore presentation of this program.
Update: In response to COVID-19, Camber has decided to temporarily close its cafe.