SEATTLE — Sarah Reinecke looks like Wonder Woman. Juan Rodriguez is compared to the Greek god of beauty, Apollo. Yet they eat more hot dogs in five minutes than most of us eat in a year.
"People think people like us shouldn't be able to throw down the amount of food that we do," Rodriguez says. But throw down food is what they do. Reinecke is ranked 29th in the MLE (Major League Eating). Juan "More Bite," as he's known, is number 11.
Reinecke powered down 70 peeps in her first eating competition...in five minutes. She ate 117 potstickers in ten minutes...24 or 25 slices of pizza in eight minutes (who's counting).
"I know if I did my best, my hands are on my knees and I feel like I'm going to die," she says. Rodriguez' stats are equally hard to stomach: 181 potstickers in 10 minutes...7.2 pounds of ribs also in 10 minutes...156 wings in 12...and two gallons of ice cream in six minutes. " He calls the ice cream feat "hands down, my best performance."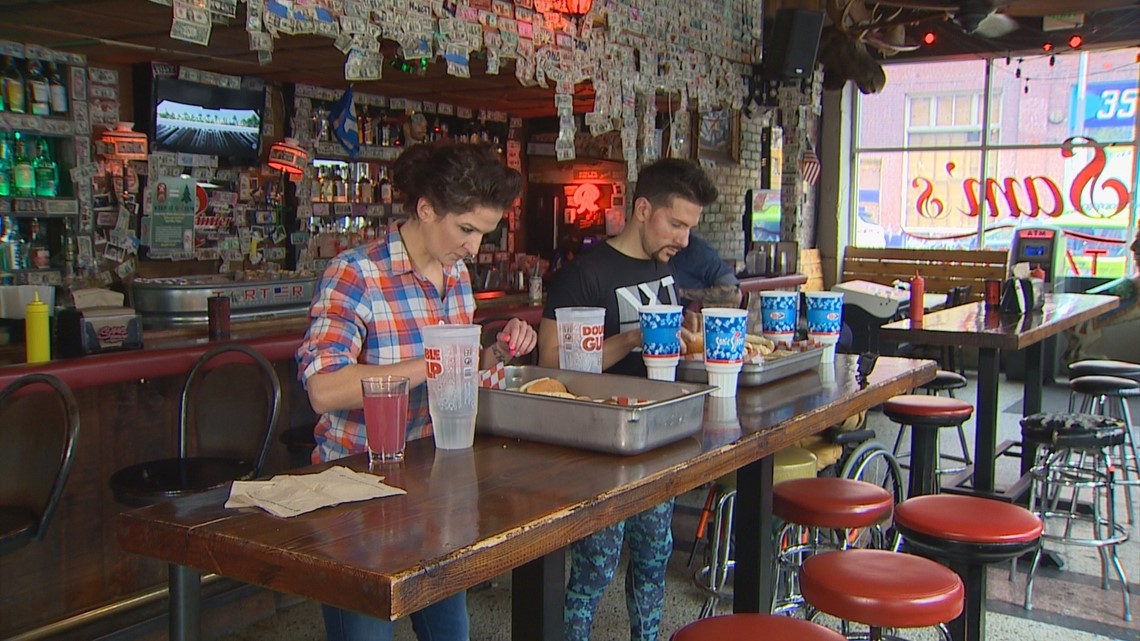 The Ballard couple let us in on a training session at Sam's Tavern on Capitol Hill. Right in front of us, Reinecke inhales 18 hot dogs, Rodriguez downs 20...in our five minute time period. "I'm really happy with that. I feel bad. Yeah. But I don't feel that bad," Reinecke says.
She is, ironically, a nutritionist who runs her own company, Whatever it Takes Health." And while she doesn't lead with the competitive eating side of her life, "I'm always very cautious about what I tell people about it because I don't want people to be like what the hell?" But it can be a strength. "A lotta people trust me because I'm not telling you starve yourself."
Rodriguez has an equally ironic occupation. He is a personal trainer at F45 Training on Capitol Hill. He says competitive eating is very much an athletic pursuit. "We can go toe to toe with, our endurance is up there with soccer players, fighters...because it's that same mentality."
Reinecke says their physiques are not unusual in their world. "If you look at any of the top eaters, you know the ones that are better than us? They're all very trim lean people."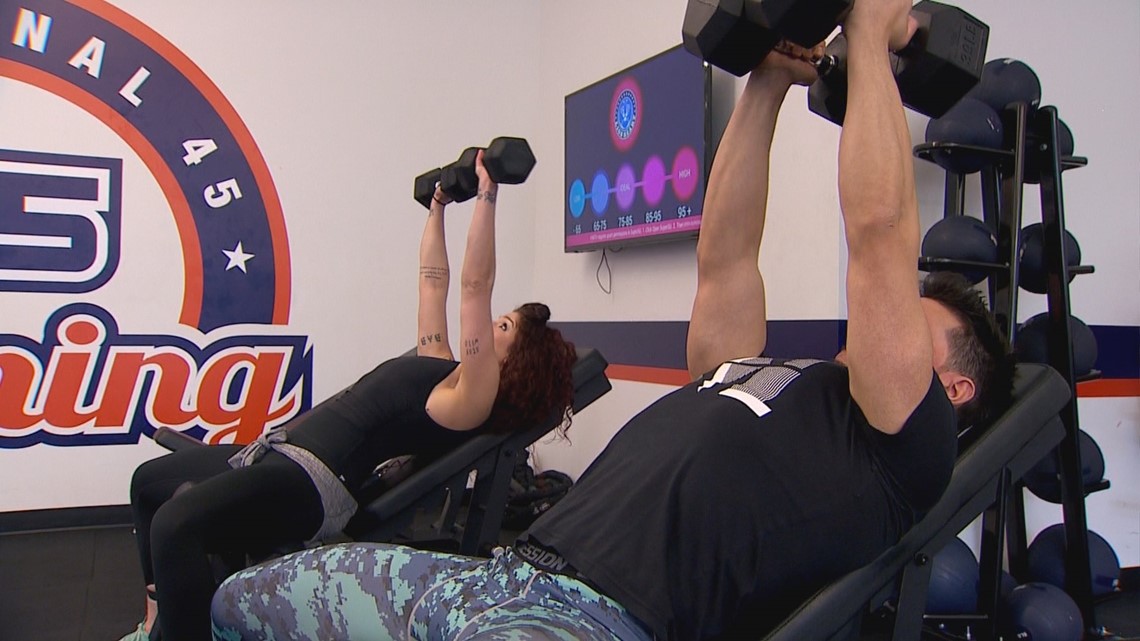 They met, as one might expect, at Nathan's International Hot Dog Eating Contest, at which they've both competed. "Coney Island on the Fourth of July? I mean there's 50,000 people all shoulder to shoulder standing in 90-degree weather to watch you eat hot dogs. You can feel that energy. It's insane," Reinecke says.
They plan to compete at a qualifier May 11th in Denver. If they win there...and they say they will...they get to go back to the Nathan's competition, the Super Bowl of eating. Reinecke's goal is 27 dogs, buns included. "My best hotdog number is 21. That is getting destroyed this year." Rodriguez is goin' for 43! "There's only a small group of guys that who've done 40-plus. And I want to be there. I know I'm capable of it."
They acknowledge eating so much food so fast can be dangerous. "Unfortunately like 4 to 5 people a year die from competitive eating," Reinecke says. But they "stretch" regularly. "You need to actually have the space to put in the food you're going to put down. So you have to work on expanding your stomach. If you want to be good, it takes a lot of effort, a lot of practice. And you have to take very good care of your body." Reinecke says.
Rodriguez trains by chugging gallons of water. Reinecke prefers salads, vegetables, and fruit. "We push ourselves to extreme measures, just like would at the gym. We push ourselves to train for these contests," Rodriguez says.
When others see how fit they are, the most common response? "Where does it all go?" says Reinecke. But before a competition or training session, they fast for up to 24 hours to empty their system. "It sounds very silly to talk about it so methodically. But it's like anything. If you want to get better, you have to put in the time."
They don't describe their sport as pleasant. In fact, it's hard to articulate why they love it so much. "It's just an excruciating, horrible, you-gave-everything-you've-got kind of feeling. It's doesn't sound very appealing when I'm saying it," Reinecke says. But Rodriguez is quick to joke, "It's a real high. I'm not going to lie."