SEATTLE — His songs are all over rock and roll radio and streamed millions of times. He's toured the globe, even opening for the Rolling Stones last summer in Paris. So what, we wondered, is it like to be Ayron Jones these days?
"Man I don't know," he laughed. "That's a hard one to answer really."
We met for coffee at Easy Street Records and Cafe's upstairs lounge. It has been ten years since we last got together and Jones has grown into his rock and roll look.
But like most Seattle rockers, he remains humble.
"Looking at myself in the mirror at times keeps me grounded," he said. "It makes me realize you're not where you want to be yet and you're not going to get there if you live in the space of your success as it is right now because then you're just telling the universe, 'I've already made it.'"
"I knew what I wanted to sound like," Jones said. " I knew how to sound that way, and I just got with the right person to make that happen."
We took a break from the interview to talk influences as we thumbed through Easy Street's vinyl section. Jones shows us Chris Cornell's Audioslave, The Sonics, and of course, Jimi Hendrix who attended some of the same Central District schools Jones did growing up.
"That's my guitar idol," Jones said. "That's gonna be my guitar idol because we came from the same place, carry the same spirit and I'm only continuing the work that he laid down."
When he was known around Seattle as "The Kid," Jones was all about the music. Not anymore. He's the father of four, including the little rock star you see here.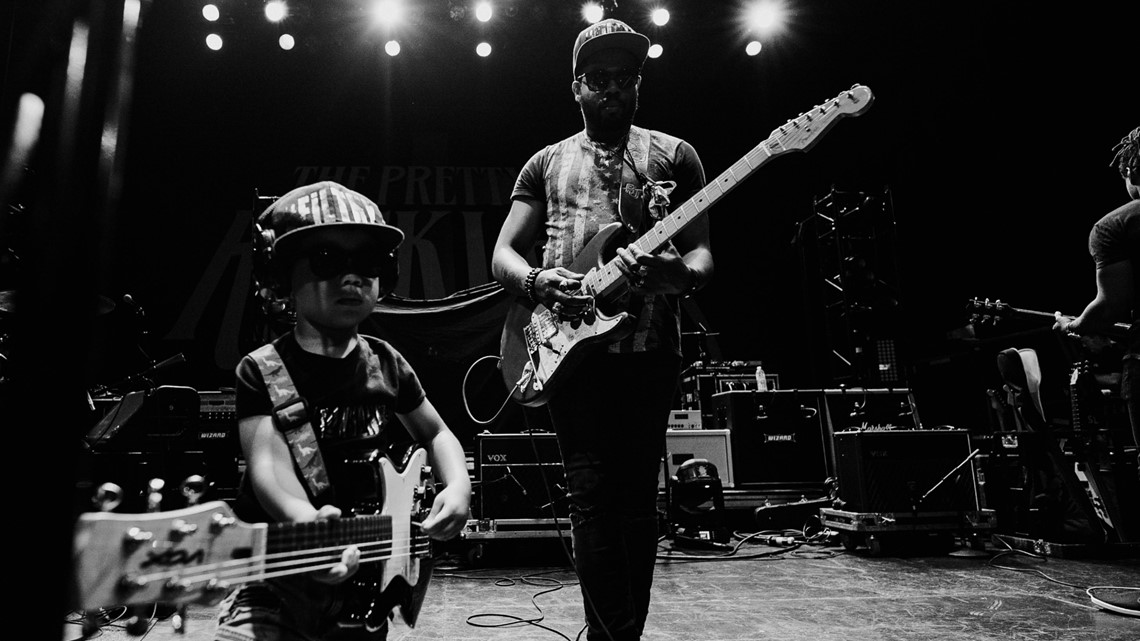 Jones's own mom and dad struggled with alcohol and drug addiction. They dropped out of his life when he was in second grade.
"I don't ever want my kids to go through that," Jones said. " Not knowing who their dad is. Not knowing where their mom is, so that's the kind of stuff that keeps me going, you know?"
"This thing with your mom really seems to have haunted you," we said. "You hear it in the lyrics. You see it in the 'Filthy' video. Are you at an age when you're ready to come to terms with all of that?"
"I don't think I ever will you know?" Jones said. "Honestly I don't think I ever can be. But it also fuels the fire to keep what I'm doing going."
Before things got too heavy, we wanted to watch the story we did with Jones ten years ago. He is a bit skinnier, has fewer tattoos but he's the same humble, honest man sitting in front of us.
"Once I picked up the guitar I finally had a vessel to express myself," he told us in 2013.
"That's crazy," Jones laughed. "It's just good to see I'm still doing the thing I talked about."
In the same story we pointed out Jones could sound like Hendrix one moment and your favorite grunge guitarist the next.
"I'm still working on the sound that I dreamt about bringing forth and it's finally my time," he said, nodding. "Ten years in the making man, yeah."
Look for a new Ayron Jones album in 2023.