Here's the complete list of the places and things featured on Evening's 2018 Northwest Gift Guide.
1. Mesmerizing PNW-themed color changing mugs - Sunkiss Mugs is a Seattle-based brand that uses a thermochromic ink, which activates when hot liquid is poured into the mug and reveals a beautiful design.
2. Sasquatch stickers, PNW pride and mountain-themed merch - Stickers Northwest, Inc. sells apparel, hats and stickers that show the world why you're proud to be from the beautiful PNW.
Also see | Stickers Northwest - A Seattle company helping locals show their state pride
3. Trendy apparel with PNW-specific slogans - Wish You Were Northwest is a local clothing brand that has taken off on Instagram. Started by two outdoorsy sisters from Western Washington, the sweatshirts, tees, tanks and much more feature fun slogans like "it's not you, it's trees" and "let's drive around with dogs and eat cookies."
Also see | Wander in style with clothing from Wish You Were Northwest
4. Luxury collegiate jewelry for dedicated alumni - Take your school spirit to a new level with a piece of high-end jewelry from Allison Claire Fine Jewelry. Allison Bobrow, a UW alum, designs silver, gold, diamond and gemstone pieces for the UW, WSU, Gonzaga and Virginia Tech.
Also see | Seattle jewelry company makes luxury pieces for Husky fans
5. Unique neckties for women inspired by influential women from history - Stylish neckties by Seattle-based brand andieanderin are a modern statement piece. The company offers multiple collections, each based on an influential woman from history--Oprah Winfrey, Michelle Obama and Amelia Earhart, to name a few. A portion of proceeds goes to Step Up, an organization pairing young girls with mentors.
Also see | Neckties for women are the ultimate statement piece
6. Local chefs' cookbooks offer unique ideas for amazing food - Julien Perry's "Seattle Cooks" compiles 80 of the most popular recipes from renowned Seattle chefs. Linda Miller Nicholson's "Pasta, Pretty Please" shows us how to make vibrant pasta using natural dyes found in superfoods. Hsiao-Ching Chou's "Chinese Soul Food" shares traditional Chinese comfort food recipes that will delight any foodie.
Also see | New cookbook compiles popular recipes from top Seattle chefs
Also see | Salty Seattle makes incredible pasta art with all-natural ingredients
Also see | 'Chinese Soul Food' translates traditional dishes for home cooks
7. Find something special for everyone on your list - At University Village, you can create a handmade gift at Paint the Town, stock up on goodies for the chocoholic in your life at The Confectionery, or pick out a handmade piece of jewelry at Something Silver.
Also see | Holiday gift ideas from University Village's one-of-a-kind stores
8. Get the perfect gift for the NBA fan in your life at the Sonics Store - Inside Simply Seattle in Pioneer Square is the unique one-stop shopping experience for all things Seattle Sonics. They carry jerseys, hats, jackets, T-shirts and much more, including a throwback rack with vintage pieces.
Also see | Check out the new Sonics team store in Seattle's Pioneer Square
2018 Northwest Gift Guide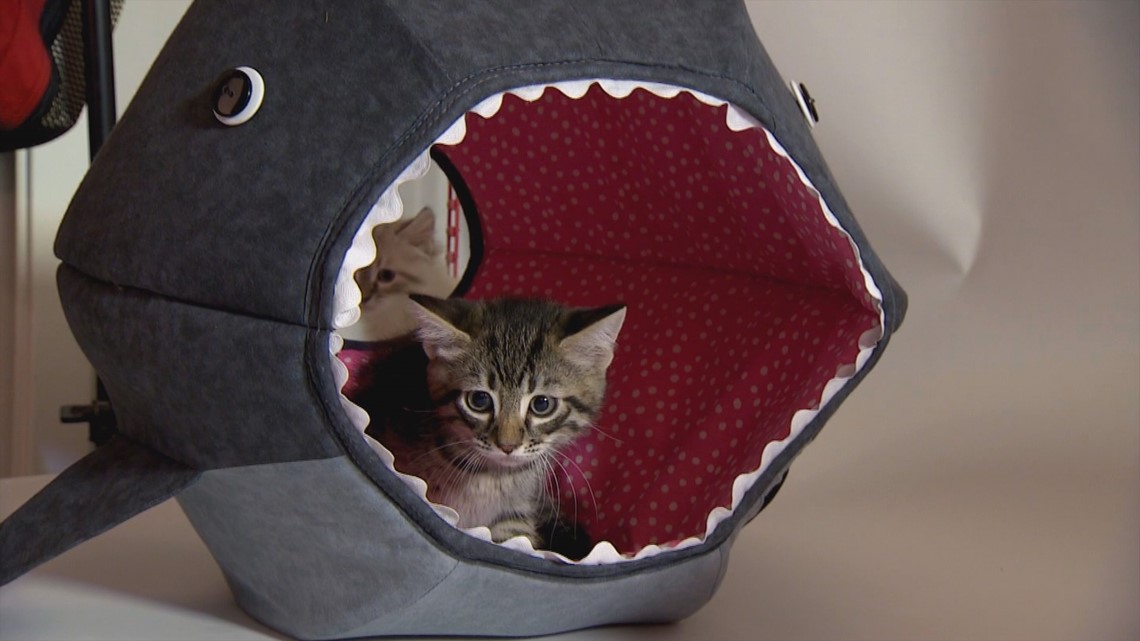 9. Light up the season with a hand-poured and humorous candle - Malicious Women, a Lake Stevens candle company, sells handmade candles "infused with sass." Each soy candle smells great and features an unapologetically bold and funny phrase on its label. They even have Christmas-themed candles perfect for this time of year.
Also see | These snarky candles from Lake Stevens are worth obsessing over
10. An outdoorsy work of art for the hiker in your life - The quintessential Northwest accessory can be found at Tacoma Walking Sticks. The sticks are harvested from old logging sites and are cut and shaped by hand, then are hand-painted using colored pencils.
Also see | Hand-carved walking sticks are artistic hiking companions
11. Unique cat beds for your favorite feline fanatic - The Cat Ball, invented by a Bellevue-based company, is made of collapsible foam and comes in fun designs and prints that every kitty will love.
Also see | The Bellevue-based Cat Ball is on-trend right meow
12. Pick up an adorable stuffed "pastry pet" - The Seattle couple behind the brand MarninSaylor hand sews adorable plush toys. Eclair bears, donut cats, and honey bun bunnies that will delight any kid, or any kid at heart.
Also see | Pike Place Market's Pastry Pets: handmade Donut cats, eclair bears, and honey buns, oh my!
13. Give a fun and futuristic gift that combines sports and technology - The Play Impossible Gameball, invented by a Seattle dad, is a video game and ball in one. You connect it to the free smart phone app and it can become ten different games in one. Kids and adults alike will enjoy getting active while staying connected.
Also see | Startup develops Gameballs for tech-savvy kids
14. Upgrade your smart phone photos with an attachable lens - Seattle company Moment is making professional-quality photos on-the-go a reality with a smartphone lens attachment.
Also see | Seattle startup Moment making phones into better cameras
15. Be visible in traffic with bike lights of the future - With the nights being the longest at this time of year, the biker in your life needs protection from being accidentally hit. The Orfos flare gives you 360 degrees of visibility and is assembled right here in in Washington.
Also see | Bike Lights of the Future...now.
16. Gift the award-winning toy that kids and parents alike rave about - Seattle company Fort Boards has the ideal gift for the holidays. Their toys are designed to allow for custom fort building in any shape imaginable. Fort Boards will provide endless hours of entertainment and interactive learning for kids. The company has also released a new product called Blaster Boards, where kids can build bunkers, battle armor, tunnels and more.
Also see | Seattle-made Fort Boards is a way for kids to put their imagination to work
University Village sponsored portions of this story. Evening Celebrates the Northwest! Contact: Facebook, Twitter, Instagram or Email. Weeknights at 7:30 on KING 5 & streaming live on KING5.com.