San Francisco 49ers fans have upped the ante in their rivalry with the 12th Man of the Seattle Seahawks, with plans to put a billboard in Seattle boasting about the team's five Super Bowl victories.
A Seahawks fan wants to do the same thing in San Francisco, but to promote Seattle Children's hospital and Seahawks quarterback Russell Wilson.

Niners fans raised money through the fundraising site gofundme.com. They have raised over $8,700 so far, $7,000 of which will pay for the billboard. The rest will go to charity.
In its advertisement for the fundraiser, a photo shows a 49ers player obscured by five Vince Lombardi trophies with the phrase, "How many do you have?"
The Seahawks have no Super Bowl victories.

The group says it plans to have the billboard up for part of December and January. It says on its Facebook page that the image being used to raise the money won't necessarily be the same one that appears on the billboard.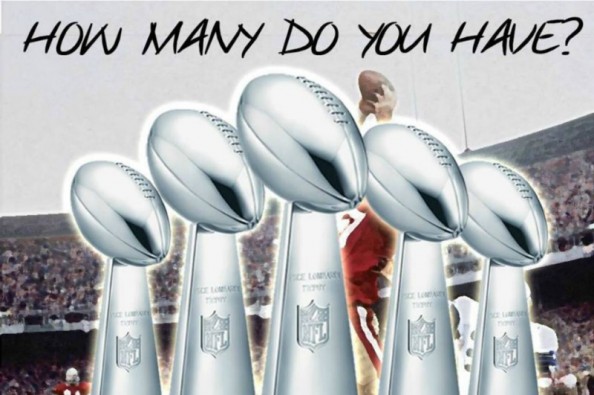 In response, a Monroe woman has launched fundraiser for Seattle Children's hospital. Kyna Moore says in a post on Indiegogo.com that she wants to raise $120,000 for the hospital. Russell Wilson visits children there every Tuesday.
Moore says she hopes a corporate sponsor will then step forward and pay for a billboard to be placed in San Francisco to promote Seattle Children's, featuring Wilson and with the caption "Thank you 12th Man for your support." But, she says none of the money from her fundraiser would go to that billboard.
In response to both of these, an Auburn man and self-professed 49ers fan has launched another gofundme.com campaign, calling on all 49ers and Seahawks fans to raise $10,000 for Seattle Children's. But with this one, Alex Carson wants to do away with the billboards, airplanes, bricks and other gimmicks.

"49ers and Seahawks fans: Let's unite. Join me in showing the fans, teams and media watching that we are above such petty causes and can get along in the name of good," writes Carson.

These are the latest volleys in the back-and-forth among fans of the NFL's newest heated rivalry.

Two weeks ago, Seahawks fans raised money to have a banner flown over Candlestick Park before the Seahawks-49ers game.

Seahawks fans have also raised enough money to have a Seahawks brick placed at the new 49ers stadium which opens next season.

Earlier this year, a pair of 49ers fans complained in a letter to the editor of the San Francisco Chronicle that the 12th Man was too loud, equating their effect to performance enhancing drugs. They suggested new penalties for teams whose fans create noise over a certain decibel level.
The Seahawks defeated the 49ers 29-3 in Week 2 in Seattle. The Niners got payback in Week 14 with a 19-17 win over the Seahawks. There is good chance the two teams could meet in the playoffs, with Seattle likely being the home team.
Print
Email
|