SEATTLE - Russell Wilson threw for 272 yards and a touchdown, and caught a 15-yard touchdown pass from Doug Baldwin as the Seahawks rolled past the Philadelphia Eagles 26-15 on Sunday.
Wilson became the first quarterback in franchise history to catch a touchdown. The third quarter score gave Seattle a 23-7 lead.
VIDEO: Baldwin and Wilson talk about their TD connection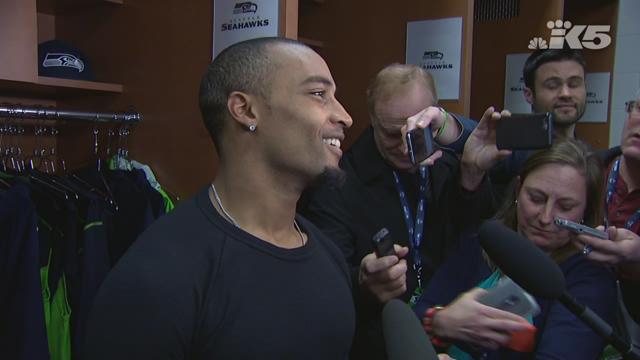 Earlier in the game, Wilson scrambled and threw across his body to find Jimmy Graham on a 35-yard catch-and-run touchdown in the second quarter as Seattle built a 16-7 halftime lead.
Rookie C.J. Prosise had a 72-yard touchdown run on Seattle's fifth offensive play - the longest run ever by a Seattle player since CenturyLink Field opened in 2002.
Wilson completed 18 of 31 passes with four of them going to Baldwin for 104 yards, along with the first touchdown pass of his career.
PHOTOS: Eagles at Seahawks
Philadelphia lost its fifth straight road game as rookie quarterback Carson Wentz was provided an education on facing one of the best defenses in the NFL. Wentz was 23 of 45 for 218 yards, two touchdowns and two interceptions.
Prosise injured his shoulder and Seahawks cornerback DeShawn Shead hurt his hamstring in the first half. Neither returned. Head coach Pete Carroll said after the game Prosise would be out for a while.
The biggest loss could turn out to be Seattle safety Earl Thomas, who grabbed at his left hamstring in the third quarter running in coverage downfield on Wentz's pass that was intercepted by Richard Sherman. Thomas was examined on the sideline for several minutes and taken to the locker room.
Thomas Rawls carried the ball 14 times for 57 yards in his first action since Week 2.
Copyright 2016 KING