Hillary Clinton's campaign manager Robby Mook, the strategist behind her national presidential campaign, stopped in Seattle Thursday afternoon for a fundraising event and meet and greet with local Democratic leaders.
Washington's not a swing state, so why is one of her top people in town?
"Washington is a really important part of that math to get to 270 electoral votes, so we're not taking any votes for granted. We're running an aggressive campaign here," Mook told KING 5 Thursday.
"We're running like we're 20 points behind here in Washington and everywhere else. That's why we're in all 50 states," said Mook, referencing the campaign's 50 state strategy that includes an office and staff in all 50 states.
Seattle's office, located in the Madrona neighborhood, houses the State Democratic Party's coordinated campaign that includes organizing efforts from top of the ticket to key statewide races, such as the Governor's race.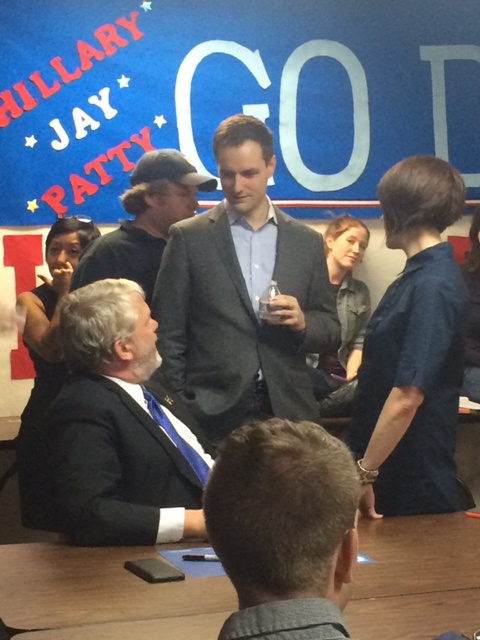 The Clinton campaign has said presidential phone banks and other events are held at the office weekly. Mook indicated it's possible that local volunteers will soon beginning calling swing states, as well as in-state voters.
"We've got a lot of voters who will be voting early or voting by mail just like here in Washington. Colorado will be voting all by mail for the first time ever, so sometimes it's actually really helpful to have voters here in Washington who are used to that calling into Colorado and other states," said Mook.
His visit comes as polls show a tightening race, nationally. A new New York Times/CBS poll gives Clinton a narrow edge, 46 to 44 among likely voters.
"It's going to be a close race. This is going to be hard. We're trying to make history, elect the first women president," said Mook.
Clinton returned to the campaign trail Thursday, after taking a few days off following her pneumonia diagnosis and abrupt exit at Sunday's 9/11 memorial due to illness.
When asked whether voters should be worried about Clinton's health, Mook said: "I think voters should ask these questions, and Secretary Clinton has now released a health letter both years she's been a candidate. She released a full history of her health record last year and released an update just yesterday. Donald Trump has released nothing. He went on Doctor Oz, handed him a piece of paper. We don't have any facts."
Related: Trump on Doctor Oz
Copyright 2016 KING