If you are reading this story on the KING 5 app, click here.
President Trump's proposed budget takes a cleaver to domestic programs, with many agencies taking percentage spending cuts in the double digits.
But for dozens of smaller agencies and programs, the cut is 100 percent.
While many agencies are alarmed by proposed wide spread cuts, NBC political director Chuck Todd cautioned people to see the proposal as final.
"I wouldn't focus too much on the details, because I don't think any of these details are going to make it through," Todd said. "Are we really going to see 19 agencies killed? Are we really going to see Meals on Wheels gone? No. Think of Donald Trump as art of deal negotiator. Well then you ask for your most extreme position first. Instead of 19 agencies, it's three agencies. Well if you start at 19, if you start at three, you may not get any. I would tend to look at this budget proposal through that prism."
Listed below are some of the proposed impacts locally:
Capital Investment Program
Proposed cuts to the Capital Investment Program would limit funding to projects with existing, signed agreements for full funding. That puts seven local projects in jeopardy across the state.
- Sound Transit: Lynnwood Link Extension, $1.17 billion federal investment
- Sound Transit: Federal Way Link Extension, $500 million
- Sound Transit: Tacoma Link Expansion
- Seattle DOT: Streetcar Center City Connector
- Seattle DOT: Madison Street bus rapid transit project
- Community Transit: Everett Swift II bus rapid transit project
- Spokane Transit Authority: Central City Line bus rapid transit project
"We did have a little bit of a kick to the gut this morning when the new administration released its Transportation Department budget for the coming year," said Sound Transit CEO Peter Rogoff.
Despite the potential budget cuts, Rogoff said Sound Transit would work to finish those projects in a timeline that works for voters.
Washington State Department of Transportation has declined comment.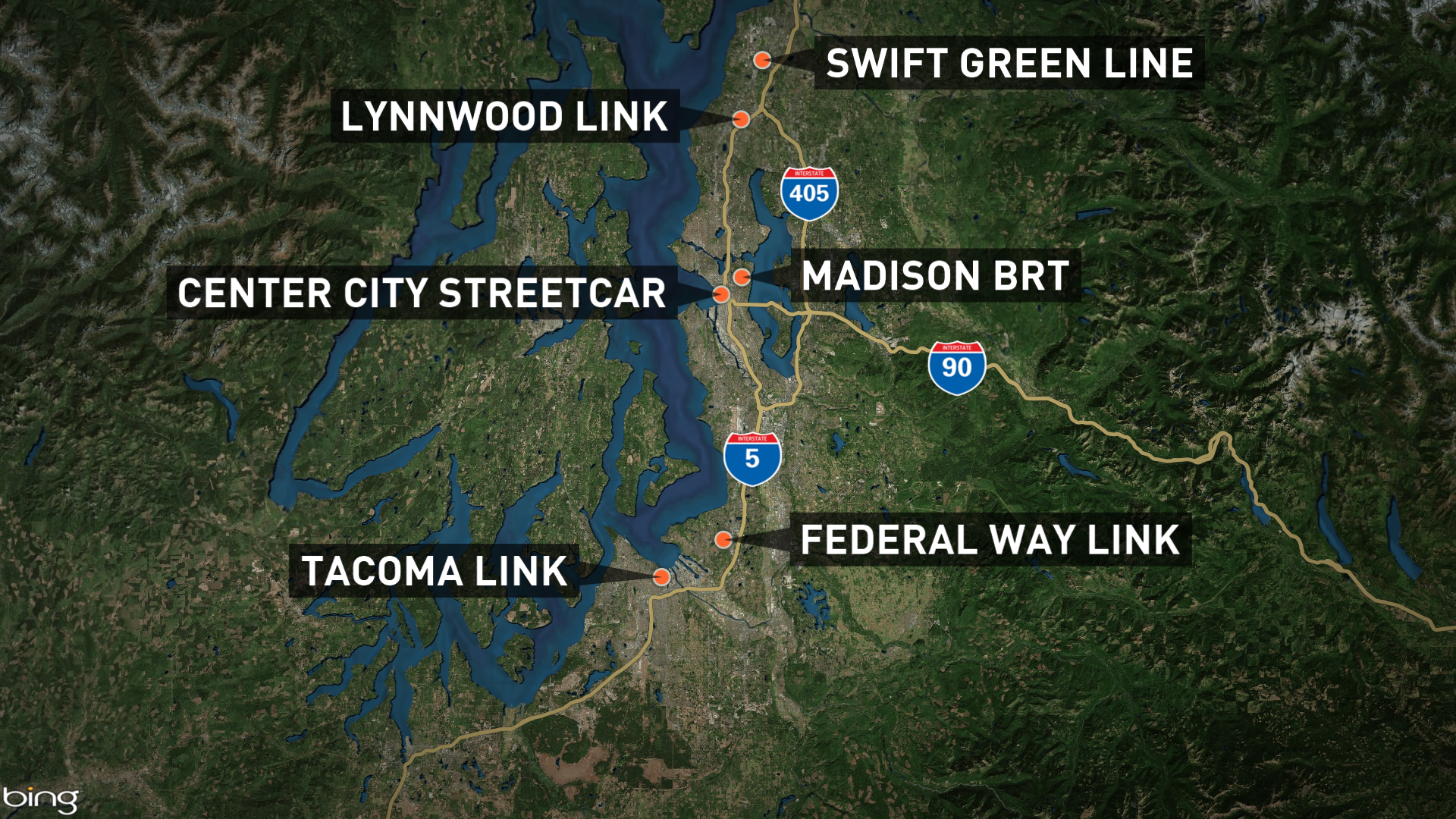 TIGER Grant Program
The President's budget proposal calls for the elimination of the TIGER grant program, which has funded 16 WA projects.
Current projects are safe, but the proposal would cease funding for future grants.
TIGER is the grant project, championed by Sen. Murray in 2009, alongside President Obama's economic stimulus package.
Environmental Cuts
The President's budget proposes a 31 percent reduction in funding for the EPA, which translates into a cut of $2.6 billion. That discontinues funding for the "Clean Power Plan," as well as climate change research programs. It also eliminates funding for specific regional programs, such as Puget Sound restoration efforts.
The Department of Energy would also see a cut of $1.7 billion under the proposal. However, it's unknown how that would affect clean-up efforts at the Hanford Nuclear site, according to Sen. Murray's Office.
Defense spending boost
According to Sen. Patty Murray's office, impacts to local bases, such as JBLM, are unknown.
National Institutes of Health
The Fred Hutchinson Cancer Research Center says the proposed budget would prompt drastic cuts in cancer research.
"Patient lives are at stake," said Fred Hutchinson president and director Gary Gilliland.
He said the president's budget calls for an 18 percent cut to the National Institutes of Health. Fred Hutch receives more NIH grants than any other cancer research center in the country.
In fact, 85 percent of the center's total sponsored funding for research comes from the federal government.
"The proposed cuts are indefensible and would severely impede our progress," said Gilliland, insisting that industry and charitable donations could not make up for the lost funding.
Additional budget proposal details are expected to come in mid-May.
Department of Housing and Urban Development
The budget proposal calls for a 13 percent decrease, or $6.2 billion cut to the Department of Housing and Urban Development.
According to the Seattle Housing Authority, that could translate into $24 million less to provide housing and services to people in Seattle.
Video: Interview with Washington Low Income Housing Alliance Executive Director Rachael Myers
Legal Aid
The President's Budget proposal eliminates funding for the Legal Services Corp., one of 19 agencies on the chopping block in the initial budget document.
The Northwest Justice Project that provides legal aid for low-income families could stand to lose $6.5 million, according to Executive Director César Torres.
That would translate into about 41 attorneys statewide who provide legal aid for civil cases ranging from loss of housing to domestic violence.
Reaction from Washington's delegation
Sen. Patty Murray, D-Wash.
"This budget is a direct attack on workers, families, women, seniors, and the middle class—and it represents just the latest of the many broken promises from President Trump.
"By slashing investments in jobs and middle class priorities while saying he will cut taxes for millionaires, billionaires, and massive corporations—President Trump is making it clear who he stands with and who he fights for. But families in Washington state and across the country want a budget that invests in them, their communities, and their futures—and Democrats are going to be fighting by their side and against this Trump budget, along with any Republican willing to put people above politics and join us.
"Speaker Ryan and I worked together in 2013 on a bipartisan budget deal that increased investments in health care, education, jobs, and defense investments and set the framework for continued bipartisan work to write budgets and avoid government shutdowns. We made it clear that the path forward on bipartisan budgets includes the principle of parity—restoring investments equally across defense and domestic priorities. Today, President Trump ran away from that bipartisan deal and put us back on the path of budget gridlock, partisanship, and crises. Democrats are ready to get to work on a fair budget that invests in our workers and families and doesn't include poison pill riders—but this partisan Trump budget is an absolute non-starter."
Rep. Suzan DelBene, D-1st District
"Working families need certainty and stability to plan and invest for the future. Unfortunately, the President's budget is just another example of how this administration has been long on rhetoric and short on specifics," DelBene said. "However, previous reports and the framework of this budget suggest it would present enormous setbacks in nearly every area affecting our economy. It would have a negative impact on critical research, our environment, affordable housing programs and the arts, to name a few. It's time to stop budgeting from one manufactured crisis to the next, and work on bipartisan compromises that will set the country on the right course through strategic investments in education, research, clean energy and infrastructure."
Rep. Rick Larsen, D-2nd District
"Key Pacific Northwest transportation and environmental projects are in jeopardy under President Trump's proposed budget – including Sound Transit's plans to provide light rail service to Lynnwood and Federal Way, areas facing some of the worst congestion in Washington state.
"$1.1 billion in funds currently set aside for the Lynnwood Link Extension as well as $500 million for the Federal Way extension would be eliminated under Trump's budget blueprint as part of changes to the Federal Transit Administration's Capital Investment Grant Program.
"In the Pacific Northwest transportation means jobs, and a healthy American economy cannot exist without the efficient movement of goods and people," said Larsen, a senior Member of the House Committee on Transportation and Infrastructure. "The President is taking a sledgehammer to America's infrastructure, something that is particularly baffling in light of last weeks' report from the American Society of Engineers which showed that U.S. infrastructure is on life support. When considered with the deep cuts to environmental protection, labor and diplomacy – the President's budget is a disgrace."
Rep. Dan Newhouse, R-4th District
"I am encouraged by the defense and defense nuclear cleanup numbers in the President's proposed budget, but I am concerned by some proposed cuts to other critical programs at the Department of Energy, National Labs, Agriculture, Interior, and other agencies important to western communities. I look forward to working with the administration through the congressional budget and appropriations processes to address these issues."
Rep. Cathy McMorris Rodgers, R-5th District
"We'll take a look at it," McMorris Rodgers told the Fox Business Network. "The President has offered his blueprint and clearly he is prioritizing defense and national security, and then we'll go to work and do our job in the House and the Senate. One thing about President Trump is that he is going to rethink the federal government from top to bottom and really reimagine the way we do business, and I think through that we can find efficiencies; rethink programs and agencies in a way that will make them more effective, more efficient, and make sure that we are spending those taxpayer dollars –those hard-earned taxpayer dollars – as well as we possibly can. I think Americans have been hungry for us to do that kind of a review, and that's what he's initiating in this process."
Rep. Derek Kilmer, D-6th District
"This proposal is irresponsible and unserious," said Kilmer. "It's irresponsible because of the damage it would do to the folks I represent and to our economy. I'm all about jobs. But the Trump budget would hurt our ability to prepare folks for the workforce -- cutting financial aid, job training programs, and funding to help kids make it to graduation. His budget blueprint undermines key tools for business growth, cutting the Small Business Administration's small business loan programs and investments in roads, bridges, and wastewater that help our competitiveness. The 3,200 people in our region who work in the shellfish industry will be impacted by cuts to Puget Sound funding and clean water programs. Folks on the Olympic Peninsula would be hurt by cuts to the rural ag extension office and by the complete elimination of funding for coastal assistance and support for small, rural airports that are important to our economy."
Rep. Pramila Jayapal, D-7th District
"The Trump budget proposal is a real punch in the gut to the American people. It makes abundantly clear that every critical domestic program important to working families is on the chopping block.
"The $54 billion in proposed cuts would put the health, safety and security of our communities at risk, as well as seize innovation that powers job growth and economic opportunity.
"Our nation's budget represents our moral values and our commitment to the future of our country. The Trump budget is a clear betrayal of those values. No lawmaker, Democrat or Republican, can say they support their constituents and vote for this proposal."
Rep. Dave Reichert, R-8th District
"The President's requests will be reviewed carefully, but ultimately the power of the purse lies with Congress. While I appreciate the Administration's support for the military and goal of reducing the federal budget, I do not agree with many of the proposed cuts. I have been a consistent supporter of robust funding for the National Institutes of Health, environmental stewardship, global health and education programs, public broadcasting, and initiatives to support law enforcement and keep our communities safe. I will continue to support these causes and numerous other programs important to Washington."
Rep. Adam Smith, D-9th District
"The economic vision presented today by the President ignores the budget realities that real Americans face. The President supports dramatic cuts to critical programs that help working American's build a better life for their families, while erroneously stating we spend too much on international affairs. Cutting programs that protect our planet for future generations, in order to unnecessarily increase our nuclear weapons capability, shows how painfully disconnected this 'skinny' budget is from the needs of everyday Americans.
"National security encompasses much more than defense. Increasing the defense budget at the expense of nondefense spending is unacceptable. The three pillars of diplomacy, development, and defense are absolutely essential to protecting the American people and our interests at home and abroad. These requested cuts to our foreign affairs budget show a profound lack of understanding of our approach to international engagement that has protected America and our allies, and are based on an isolationist worldview. Gutting diplomacy and development, while relying solely on military power abroad, would be devastating to our national security. Development programs that have been funded on a bipartisan basis for years are critical to our country's national security interests," said Smith, ranking Democrat on the House Armed Services Committee."
Copyright 2017 KING