REPUBLIC, WASH. - The familiar views of North Cascades peaks and Methow Valley plains along Highway 20 are a welcome sight after the biggest wildfires in Washington history closed stretches of this road in the summer of 2015.
Just over a year later, this recreational paradise has rebounded.
At the crack of dawn, in the eastern reaches of what's considered Okanogan country, actually in Ferry County, it's just business as usual at K Diamond K Guest Ranch, as Kathy McKay and her guests feed the animals that call this place home.
Anyone who shows up here becomes family -- including a yearling mule deer, Buckley, and a baby white tail deer, Faline, both of whom are ranch regulars.
"They were both abandoned, orphaned," McKay explains, scratching Buckley's ears.
McKay's parents started this ranch in 1961 -- the name is a partnership: Mom's maiden name started with a K, as did Dad's, which was Konz.
"They put their two K's together which formed a diamond in the middle and then they did proceed to name their daughters Kathy, Kristen and Karen, all with K's!" laughs McKay.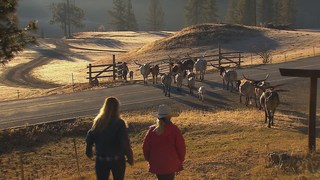 At K Diamond K, you can get your coffee cream straight from the cow, and then help drive the longhorns out to pasture.
All before breakfast.
The ranch routine feels special today, because in August of 2015, Washington's biggest wildfire threatened to end it:
"We got a level one evacuation, just kinda 'beware, it's on its way,'" said McKay. As the Okanogan Complex fire grew, skies around the ranch filled with smoke. Then came the level 3 evacuation order: McKay chronicled the experience on the ranch's Facebook page.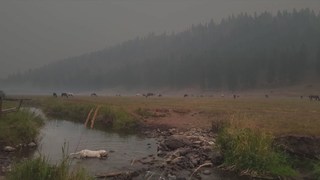 "My kids and parents left, everybody, everybody left except for my husband and I," recalled McKay. "We had a lot of family and friends come aboard, and fire trucks and tankers and-- they said it was unstoppable."
The McKays didn't leave. They waited.
"We were prepared, we were prepared to fight!"
The fire came within a mile. And the 18 hundred acres of the K Diamond K were spared. Decades of ranching had kept this land clear of fire fuel, and therefore easily defensible.
The ranch essentially saved itself.
Since the fire, things have returned to normal at the K Diamond K.
"Nothing has changed for the ranch at all. And today, blue skies not a cloud in the sky," McKay smiles.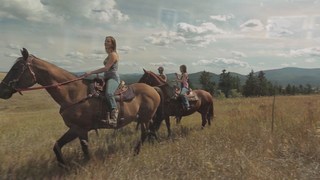 As guests help drive the horses into the barn, then saddle up for a ride, every employee here is grateful to keep working every day at the best part of this ranch's routine -- turning strangers into family.
McKay sums it up:
"Love the ranch, our way of life, and I think, sharing it with others is why we're here."
K Diamond K Guest Ranch
15661 WA-21
Republic, WA 99166
(509) 775-3511