KIRKLAND, WASH. - From the very beginning, artist Keegan Hall has been using his talents to help others.
"I felt from day one that it was my duty to give back," said Hall.
Through his #KEEGAN200 project, the artist has partnered with various local stars to raise money for their charity of choice. His first collaboration with Richard Sherman raised $40,000 for Sherman's family foundation, Blanket Coverage. Keegan made 200 copies of his drawing for Sherman, "The Huddle" and sold them for $200 each. Each copy was signed by the star cornerback and Keegan, and completely sold out in the first day.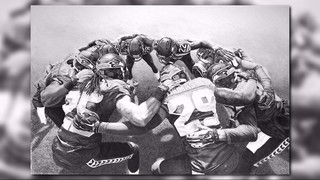 Keegan also partnered with Michael Bennett to raise money for The Bennett Foundation.
His collaboration with Macklemore and Ryan Lewis, benefits the M&RL Equity Fund.
"We just want to help people and use our platforms to do good," said Keegan. "I think sharing that commonality transcends money or fame or any of that stuff. And people genuinely want to help other people so if we can team up and make that happen why wouldn't we?"
While being a full time artist was always Keegan's dream, his gift did go unused for some time. He got his MBA and worked for the Seattle Sonics. It was after Keegan's mother lost her battle to cancer that he discovered the path to charitable art.
"I was thinking about her and how much joy my art brought to her," remembered Keegan. "I just sat down, drew a picture and didn't know what to draw. I ended up drawing Michael Jordan of all people, he's one of my favorite athletes and I posted it online."
From there, someone reached out and asked for a drawing of Kam Chancellor, which Keegan says was the drawing that opened the doors to working with the Seahawks.
"To see where's it's gone now, it's just totally mind blowing."
If you'd like to purchase one of Keegan's drawings, you can click here. 100 percent of the proceeds from any of the #KEEGAN200 charity projects, are donated.
Evening is your guide to Seattle and the Pacific Northwest. Watch it weeknights at 7:30 on KING 5 TV or streaming live on KING5.com. Connect with Evening via Facebook, Twitter, Instagram or email: eveningtips@king5.com.
© 2017 KING-TV