Sunday was a scorcher in Seattle and other cities around Puget Sound!
Summer's first weekend saw record-breaking temperatures in Seattle, which hit 96 degrees, breaking the old record of 88 degrees set in 2006.
Other cities in Western Washington also broke or tied their heat records: Olympia hit a whopping 98 degrees, breaking their record of 90 set in 2015.
Bellingham and Hoquiam tied their heat records of 83 and 82 degrees, respectively.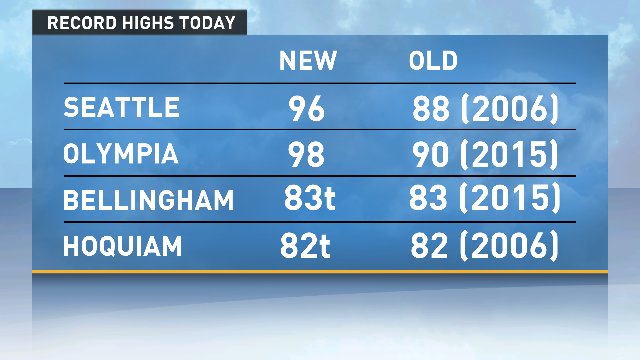 Further south, temperatures climbed to 92 in Tacoma and 97 in Puyallup. In the north sound, temperatures were milder in the 80s.
Relief is in sight, however, if the heat's too much for you.
"It's going to get cooler tomorrow and by the middle of the week, you're going to feel much more comfortable," said KING 5 Meteorologist Jim Guy.
Air from the ocean will help cool us back into the 70s as we kick off the new work week.
It looks like temperatures will remain in the 70s through the week. We're likely going to see some marine layer clouds in the morning, with some clearing in the afternoon each day. Temps will pop back up into the mid to upper 70s by Thursday and Friday.