Good news for those who like water! We should have plenty of it as the dry season approaches! A wet spring and above average mountain snowfall means our water reservoirs will be filling up.
The recent snowpack report looks good. In fact, most observing locations show snowpack well above average for this time of year. White Pass is currently 159% of normal (100% would be on par with normal).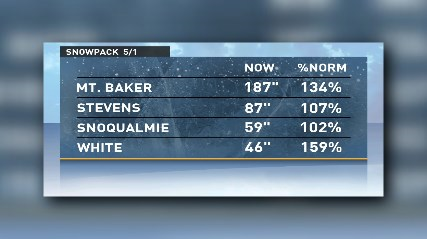 A recent Seattle Public Utilities Water System Synopsis shows we are in great shape. Mountain snow has started to show signs of melting as we enter the spring reservoir refill season.
We won't be running out of water anytime soon.
Check out how the previous few years have fared. We have a larger snowpack now versus this time in 2016, and miles ahead of where we were this time in 2015. Also, it's nice to see we're still getting some accumulating snow.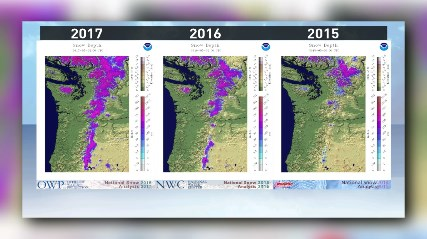 Speaking of spring snow, you can still get your final runs in at Alpental which will be open this Friday, Saturday, and Sunday. Despite the high snowpack, it's the only resort in the state still open.