Wednesday was finally the day Seattle hit 70 degrees for the first time in 2017.
The National Weather Service recorded 70 degrees at Paine Field at 2:05 p.m.
Our predicted high for Sea-Tac Airport, where the official records for Seattle are obtained, is 71 degrees. Thursday is expected to reach at least 73-75 degrees. However, some stations east of Interstate 5 may approach 80 on Thursday. But this will be short-lived. The temperatures fall back into the 50s and 60s on Friday and over the weekend.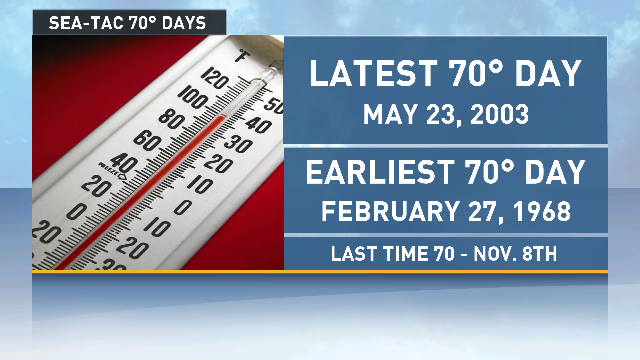 The last time we officially hit 70 or above was last November 8.
The latest in the year Sea-Tac Airport has ever recorded 70 was May 23, 2003. The earliest was February 27, in 1968. On average, Sea-Tac typically hits 70 around mid-April.