The smoke rolled last Monday and it has refused to leave – until now.
We are seeing a major shift in the weather pattern that has been sitting over the Pacific Northwest in one form or another for almost two months.
This pattern has been dominated by a huge ridge of high pressure off the coast in the Pacific. Through July it was positioned farther west and gave us the sunny and warm weather we had for most of July with highs in the 70's and low 80's.
Towards the end of July, the high shifted a little and gave us our 13 straight days of 80 degrees or warmer through Thursday. It also shifted the winds so that we suddenly were getting the smoke from the British Columbia fires about 11 days ago.
Yesterday the high moved east of us and is weakening as we develop increasing southwest winds. These slowly began to clear the smoke haze out Friday, and it should totally disappear on Saturday.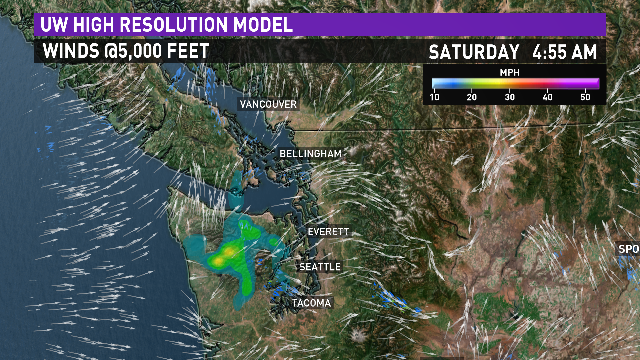 The UW high-resolution model shows these winds clearly, and it also shows that we will start to see some showers brush by beginning later Friday. There a decent chance early on Saturday as another system moves in from the southwest. These could produce more thunderstorms in the mountains and some of those could drift out over the lowland for some thunder and lightning early Saturday morning.
These end later Saturday morning, and we should have a sunny afternoon Saturday with highs in the mid to upper 70's. We will probably end our streak of 80 degree or warmer days at 14.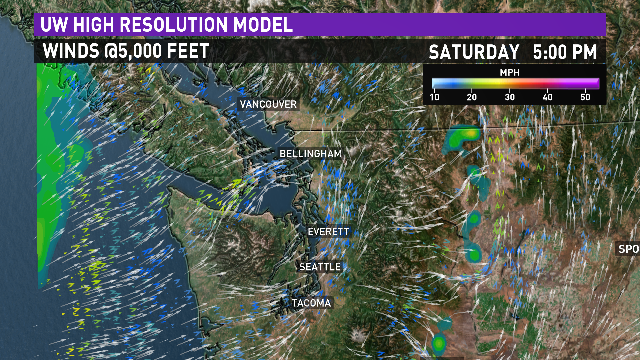 By late Saturday the model shows the band of rain associated with the approaching front off the coast. This will be moving in late Saturday night and early Sunday for a round of showers that will probably end our streak of dry days at 56 and will wash out any trace of smoke that might be left.
We should dry out by early Monday and go back to more typical Northwest summer weather with morning clouds, afternoon sun, and highs in the 70's.