Editor's Note: If you are viewing this story on the KING 5 app, click here.
"A wild ride" would be an understatement.
Western Washington got slammed with several severe thunderstorms between Thursday afternoon and Friday morning which brought hail, cloud-to-ground lightning, damaging wind gusts that brought trees and power poles down, and more than an inch of rain in some areas.
Even the National Weather Service said this is one of the most prolific thunderstorm systems they've seen in a long time.
"We haven't issued a single severe thunderstorm warning in the last 3-5 years, and today we issued several," said a spokesperson at the Seattle National Weather Bureau. "In fact, I can count on my hand only a couple of severe thunderstorm warnings we've ever issued since I've been here, and I'm pushing 30 years at this office."
Radar | Futurecast | Webcams
Several viewers have been asking about a possible tornado that may have struck Olympia and Lacy; however, most of the chaotic weather was brought to us by a microburst. A microburst happens within large thunderstorms. It's technically a sudden powerful localized air current such as a downdraft.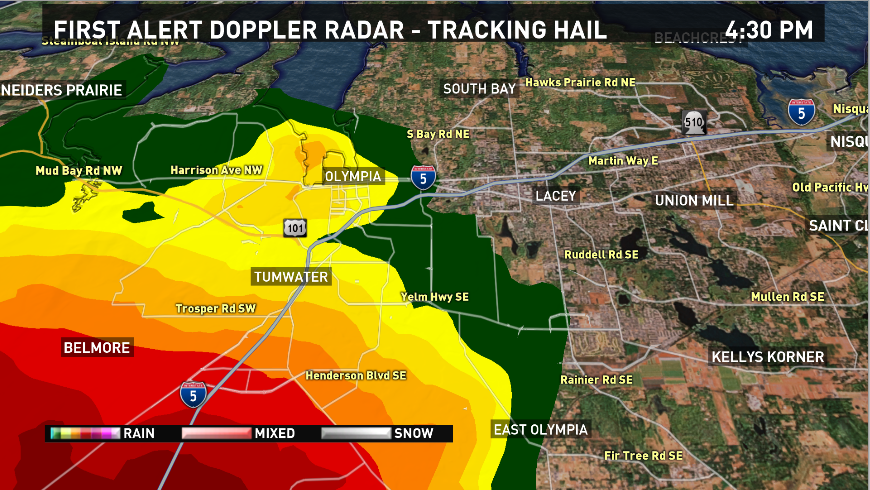 Thousands without power
The thunderstorms knocked out power to tens of thousands of people. The majority of outages were in and around Olympia. Other power outages were scattered around Western Washington as far north as Ferndale.
Related: Power utility companies links, contact info
Related: Crews rescue drivers trapped in cars by power lines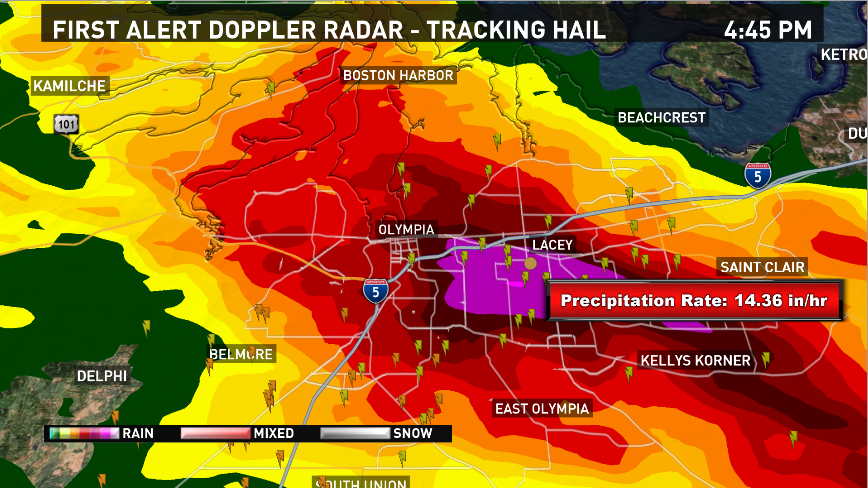 Thunderstorms and lightning in Western Washington
Taken looking southwest from Myrtle Edwards Park at 4pm Thursday, May 4. (Photo: Steve Heinke)
Taken looking southwest from Myrtle Edwards Park at 4pm Thursday, May 4. (Photo: Steve Heinke)