After record winter rainfall for the second year in a row, we all felt we deserved a break. And after dropping more than four feet of rain on us - Mother Nature seems to have heard us and turned off the spigot on June 17.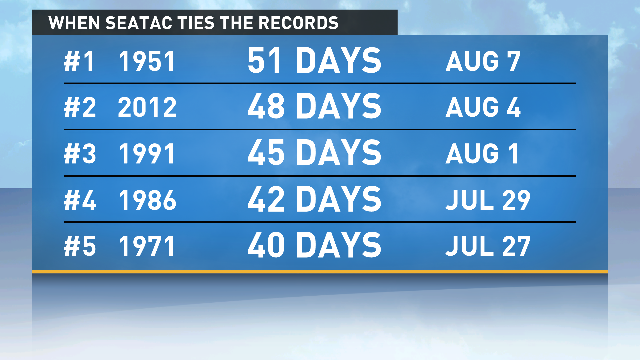 Not a drop of rain has fallen at Sea-Tac since.
Of course, we did see some rain last Friday, but it didn't make it into the gauge at Sea-Tac. So, officially, we continue to add to the dry streak.
Through Tuesday, we have had 38 consecutive dry days -- the eighth longest dry streak in the 72-year history of Sea-Tac. One more day and we'll be tied for seventh place. We should be in the top five by the end of the week.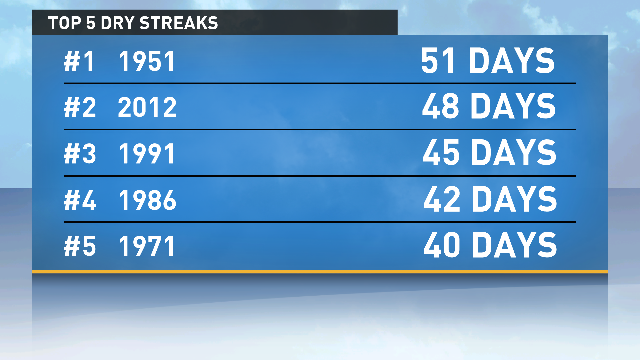 What are the chances of beating the 51-day record? Good. Nothing in the long range computer models looks like rain. The last week of July and the first two weeks of August are climatologically the driest time of our year! We have to make it to Aug. 8 to tie the record, and the Aug. 9 to break it, which could happen.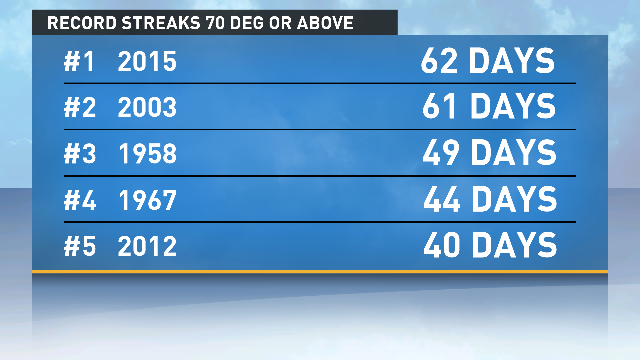 Of course, it hasn't just been dry - it's been warm.
We have had 27 days (beginning June 29) where Sea-Tac's high has been 70 or warmer. And it has been comfortable with highs mostly in the mid-70s to mid-80s. We should stay warm and get into the top ten longest warm streaks by the weekend.
It is interesting to note that climate change models have predicted that overall we will have warmer and drier summers, and wetter and warmer winters. It looks like that may be happening.
Regardless, it's feeling like paradise this summer - until we get the water bills for keeping our plants alive!