If viewing in the app, click here to see full story
It has been a long run of dry, warm weather. In the last week, we have added in 90-degree plus temperatures and smoke, but there's an end in sight to our current weather pattern.
First, let's take a look at the numbers.
Dryness Record: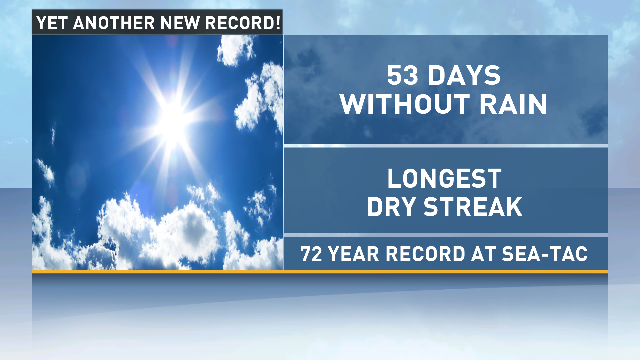 There's been no measurable rain at Sea-Tac for 53 days (although they received a trace on July 20 the amount was not "measurable").
Temperature records:
We've had 42 consecutive days with highs of 70 or warmer at Sea-Tac. Currently the fifth longest streak.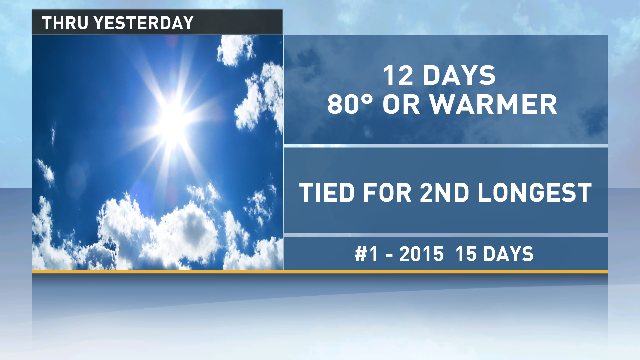 There have been 12 consecutive days with highs of 80 or warmer. This is tied for the second longest streak.
Overall, it is significant to break so many records. It underscores how consistent our summer weather has been. The atmosphere has been locked into variations of the same weather pattern for almost two months.
However, we did see a little change a little over a week ago when the winds shifted and brought in huge amounts of smoke from the wildfires in British Columbia. The smoke mixed through most of the atmosphere below 10,000-12,000 feet and this has made it hard to get rid of it. The winds have been light and from the north and east. With such a deep layer of smoke, we can't mix it out vertically.
You can see from our UW High-resolution Model that our winds finally change direction and increase as we head into Friday. This will bring clean ocean air into western Washington at all levels gradually clearing the smoke during the day on Friday and probably back to blue skies on Saturday.
Additionally, there is an upper-level disturbance over Northern California that will rotate moisture up our way Friday afternoon into Saturday for a chance of showers or maybe a thunderstorm in the mountains.
Clearing out the smoke is the first sign of a shift in our weather pattern as our ridge of high pressure moves off to the east. It will also open us up to be brushed by a couple of weak weather systems. The first passes by on Saturday and may give us some higher clouds (maybe affecting the viewing of the Perseid Meteor showers Saturday night). A slightly stronger system will push in on Sunday and should give us clouds and a chance of lowland showers over the interior.
With this change, our streaks may be coming to an end.
The showers on Sunday could give us measurable rain at Sea-Tac, which would end our dry streak at 56 days. Saturday will be cooler and could come in a little below 80 which would end our 80 and warmer streak at 14 days (but that would be 2nd longest). And finally, Sunday and or Monday might end up a little below 70, which would end our 70 and warmer streak at 46 or 47 days (either one would be the 4th longest streak).
Whether we end our streaks or not, the weather for Tuesday and Wednesday will feel a lot more like the Northwest with a few morning clouds, otherwise sunshine and highs in the 70s.